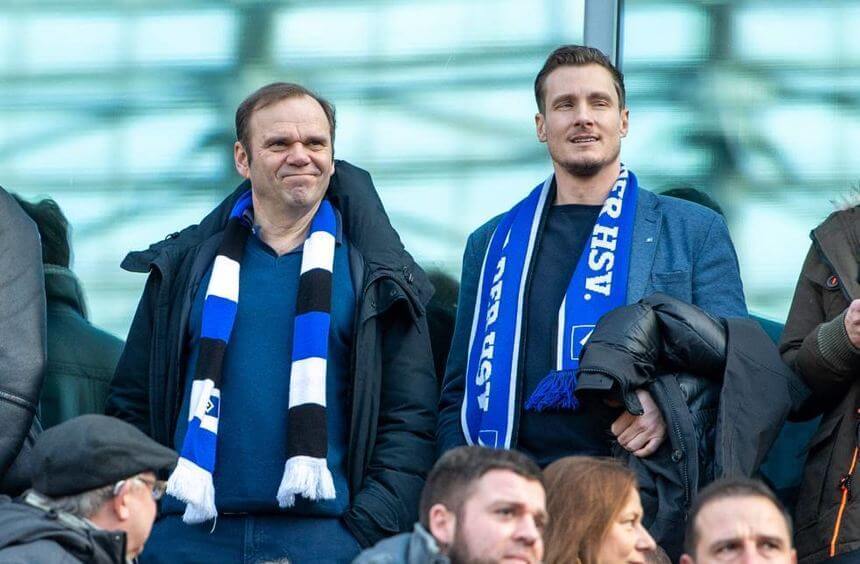 Hamburg – The CEO kicked out, the Chairman of the Supervisory Board resigned – in the middle of the Corona crisis, the balance of power at Hamburger SV has completely shifted. After Bernd Hoffmann's leadership at the top and the departure of his advocate Max-Arnold Kottgen as head of the control committee, Marcell Jansen has become the new strong man of the second division football team.
In addition to his office as president of the overall club, the 34-year-old former international is now the powerful chairman of the supervisory board. Good news for investor Klaus-Michael Kuhne, since Jansen is considered a man he can trust. "In this most difficult time of professional football as a whole, we cannot afford to lose energy or compromise trust," said Jansen on Saturday, explaining the decision of the supervisory board against Hoffmann and for his board colleagues Jonas Boldt (sport) and Frank Wettstein (finance). "The full focus must be on HSV interests."
According to media reports, the vote among the seven members of the Supervisory Board in the more than four-hour session was 5-2 against 57-year-old Hoffmann. Kottgen and Thomas Schulz, who is also considered a Hoffmann friend, took the consequences and stepped down from the control committee.
Hoffmanns Aus after almost two years in office, there had been a long-smoldering dispute between him and his colleagues Boldt (38) and Wettstein (46). The remaining board members now run the business as a duo.
Good connections to Kuhne
The outcome of the – in a double sense – extraordinary meeting of the supervisory board in the HSV campus also had a winner who was far from the action: Klaus-Michael Kuhne. The billionaire resident in Switzerland holds 20.6 percent of HSV Fussball AG. And the 82-year-old logistics entrepreneur had never concealed what he thought of Hoffmann: little to nothing. He only made it clear a few days ago that he wanted a change at the top of the board.
Hoffmann had tried to reduce the association's dependence on the keen bold and to prevent an increase in its share in the AG. In contrast, Jansen and Wettstein are said to have good connections to the investor. Most recently, this ex-professional had brought Jansen into play as CEO. However, he had rejected this ambition.
The fact that the club had a leadership dispute in this situation, which threatened its existence and professional football, met with a lack of understanding among many. But the disagreement on the board had begun long before the virus pandemic and had become public in the past week.
Hoffmann's second retirement as CEO appears to him even more bitter than that of 2011. "I would have loved to have led HSV through this crisis, but I have to accept that the Supervisory Board decided to take a different route," Hoffmann said. After all, despite his resignation, he maintained an attitude. "I am proud that I was allowed to run the HSV for a total of ten years and will, of course, continue to stay connected to the HSV as a lifelong member," he said in his statement. (TEH)