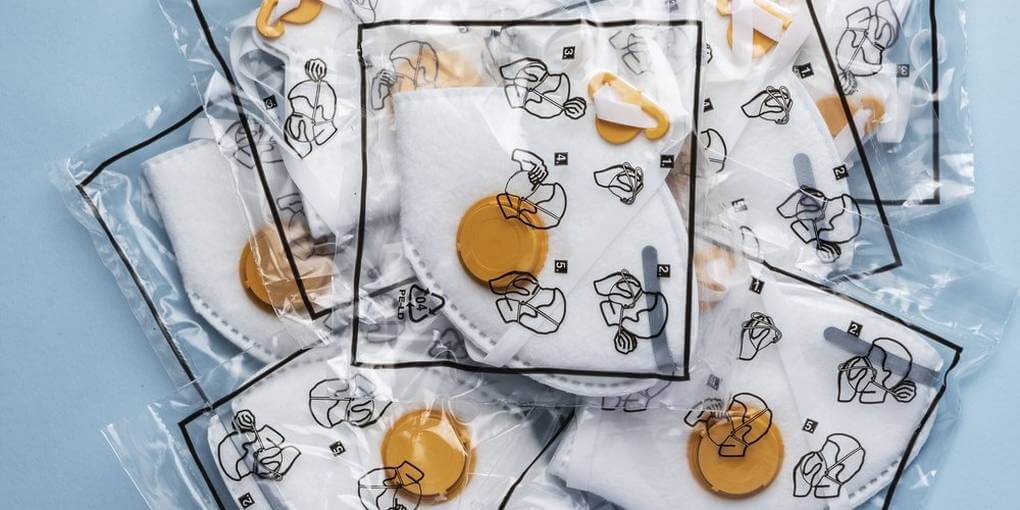 Jena – The large Thuringian city of Jena is planning to wear a mask in the fight against the coronavirus pandemic – but no such measure is currently to be implemented nationwide.
According to the Jena city administration, wearing mouth and nose protection in sales outlets, local public transport and buildings with public traffic should be mandatory "in a week". Vice-Chancellor Olaf Scholz (SPD) and Bavaria's Prime Minister Markus Soder (CSU), however, are currently opposed to a general obligation to wear a mask or face mask. Federal Interior Minister Horst Seehofer appealed to the industry to help manufacture urgently needed medical devices.
The university town of Jena with around 110,000 inhabitants is considered a focal point in the spread of lung disease in Thuringia and has now more than 100 confirmed infections. Mayor Thomas Nitzsche (FDP) told the German press agency that the mask requirement should be implemented step by step. It is not about self-protection, but the protection of others such as salespeople, bus drivers, and carers. After Jena, the Thuringian district of Nordhausen also announced a corresponding ruling.
Both municipalities follow Austria: The government there had announced a mouth protection obligation for purchases in supermarkets on Monday, among other things. The use of masks is controversial: the World Health Organization (WHO) sees no benefit in wearing a face mask. Rather, there are risks if people remove the masks incorrectly and possibly become infected.
CSU boss Soder said about a possible mouthguard obligation like in Austria: "You can't rule out anything." But it is now important to be patient and to do everything possible to reduce social contacts. With good masks, there is currently a bottleneck. A general obligation could lead to hamster purchases again.
Vice-Chancellor Scholz said after consulting with the Bavarian cabinet in Munich that far-reaching measures to contain the virus had been decided. Now you have to make sure that these are observed and work. The masks you need are for medical personnel and those of other critical areas. You have to make sure that there are enough numbers for that.
Scholz announced the production of corona protective masks in Germany. "We need our own productions in this country, which we have to get on the way for this time," he said. There are a number of manufacturers who are ready to produce masks. "This can now happen very quickly, and we are in the process of implementing it with great emphasis." In return, the federal government gives "financial commitments that are necessary so that companies are now at a certain risk, convert their production and manufacture things that they may not produce forever".
Soder had called for "national emergency production" of protective masks in the ARD "Morgenmagazin". "What we urgently need is more masks, namely the high-quality masks for all our staff in hospitals and doctor's offices," he said. The German economy must now switch to this.
Federal Minister of the Interior Seehofer (CSU) appealed to the German industry to help manufacture urgently needed medical devices in an emergency. It was true that "we are using the power of our national economy to remedy the deficiency," said Seehofer in "Bild Live". As a lesson from the pandemic, it should be regulated by law that medication must always be sufficiently available in Germany.
The FDP parliamentary group deputy Michael Theurer called for the federal government to assume more leadership responsibility and to organize the emergency production of protective masks in a dialogue with the business community. He spoke of the lack of a billion masks.
The Greens member of the Bundestag Franziska Brantner criticized Soder's push as "unrealistic" and "un solidarity". Suppliers from abroad are needed to manufacture protective equipment as quickly and as quickly as possible. "European state coordination helps more than national solo efforts."