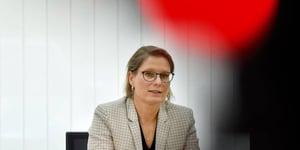 Mainz – The Rhineland-Palatinate state government has called for patience with regard to the limitations of public life in the Corona crisis. No easing is currently indicated, said Prime Minister Malu Dreyer (SPD) in Mainz on Tuesday. On Wednesday there would be a conference call of the Prime Ministers with Chancellor Angela Merkel (CDU) on the current status. For the Easter holidays beginning on Maundy Thursday, there is emergency care for children whose parents cannot take care of their children for professional reasons in the Corona crisis.
"We hope that the schools will open again after the Easter holidays," said a spokeswoman for the Ministry of Education in Mainz. "At the moment we cannot say that for sure."
The school inspectorate of the ADD called on teaching and pedagogical staff to volunteer for emergency care during the holidays, as the Ministry of Education announced in Mainz on Tuesday. This decision had been coordinated with all parties involved. Anyone who takes care of emergency care on a daily basis during the Easter holidays can apply for lesson-free days off to the same extent in the coming school year.
"I would like to expressly thank all of those who are currently keeping our society going," said Education Minister Stefanie Hubig (SPD). Those who provide emergency care at schools and daycare centers make "a very decisive contribution to our community in coping with the current crisis".
The teachers' union GEW supported the Minister of Education's call to volunteer for emergency care during the Easter holidays. Relatives of risk groups and employees who have to take care of children themselves or have to take care of relatives should be exempt, said GEW state chairman Klaus-Peter Hammer.
According to the Ministry of Education, the time limit for school closings until April 19 is also the basis for "that, given the special situation, grades are currently not available". This does not apply to some schools that have been evaluating online performance for years and are prepared accordingly. The school law basically allows a grading of digitally rendered achievements, however it provides that there must be equal opportunities within the learning group. In addition, it must be ensured that the service can be assigned individually, i.e. independently and without outside help.
"We are currently experiencing an exceptional situation in which we have decided to suspend the grading," said the spokeswoman for the ministry. The primary goal is to ensure that no pupil suffers from this situation through no fault of his own.
Copyright © 2023 The Eastern Herald.