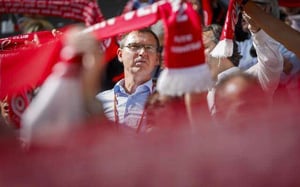 MAINZ – Mainz 05 is reacting to the crisis: The Bundesliga club wants to save at least ten million euros. "The coronavirus puts us as humans and society to the test in a way that most of us have never known before. This also applies to Mainz 05. In order to be prepared for potential revenue losses in the current season, we have to turn the club completely left, "said FSV chairman Stefan Hofmann. The measures include, for example, players, coaches, as well as athletic and commercial executives, waive part of their salary in the months from April to June, and honorary members of the Supervisory Board do not receive their allowances. Around 75 percent of permanent employees in all areas will go on short-time work from April.
"We have found that the sense of short-time work applies exactly to our administration: By interrupting the game operation, the temporary loss of work for our employees can be compensated for," said Jan Lehman, commercial director of the association. In order to identify the savings potential, the club has adopted different scenarios of how the situation for the Bundesliga and thus the 05er can develop. The savings potential could also add up to over ten million euros, according to Lehmann.
The Bundesliga pauses until at least the end of April. Then the season could be over with ghost games.
Copyright © 2023 The Eastern Herald.