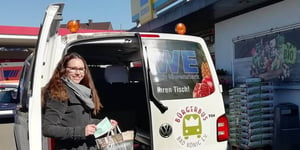 BAD KONIG – With a call supported by Mayor Axel Muhn, the Bad Koniger trade association around its new chairman Christoph Knerr addressed the residents: "Help each other in need. Buy here, because this is where we live, "is the title of the appeal that encourages businesses to support the Bad Koniger business during the Corona crisis.
"Make a conscious purchase in the shop around the corner. All grocery stores, bakeries, butchers, fruit and vegetable shops and garden centers are still open for you, "it says. The restaurants are closed, but often offer a pick-up and delivery service, and also with the purchase of vouchers (available at www.gewerbeverein-bad-koenig.de) you can support your favorite business.
Citizens could help ensure that business continued to exist after the crisis. Because: "A lively city without trade, without hotels, without catering, without service, without personal advice is not possible." In addition, owners of commercial premises are asked to consider rent reductions: "Because an empty shop or an empty restaurant creates no income. (…) There will also be a time afterward. "
Until this is achieved, people in need in Bad Konig and its districts can also rely on the support of committed citizens: For a week now, the helpers of the shopping service, the generational help, and the citizens' bus association have been running errands for the elderly and people with reduced mobility. As the citizens' bus has stopped transporting passengers, for the time being, drivers have agreed to deliver ordered purchases in the city area, reports Michael Voigt for the team.
If you want to use the service, you can register the need with the generational help and place the order by phone. The lists go to the city's retailers, who assemble the goods and prepare them for collection; Thankfully, several stores took part in the campaign, the organizers said.
The volunteers pick up the orders and deliver them. The customer will be informed in advance by phone of the invoice amount before the shopping bag is placed at the front door and the money is taken away in an envelope. "In this way, the currently applicable safety regulations are complied with, and there are also face masks and disposable gloves on the bus," explains Voigt the procedure. He is responsible for driver deployment at the Burgerbusverein, Erika Volk from Generationshilfe takes the orders and also takes care of further help requests. Jugendpfleger Lutz Schroder organizes the processes and updates the list of many helpers.
Copyright © 2023 The Eastern Herald.