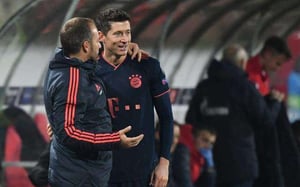 Munich – Bayern coach Hansi Flick trusts goalie Robert Lewandowski to attack Gerd Muller's goal record in the Bundesliga again as the season continues.
Lewandowski tops the scorer list in the season currently interrupted due to the corona pandemic with 25 goals ahead of Leipzig's Timo Werner, who comes to 21 goals after 25 match days.
"Everything is possible," answered Flick of the German Press Agency when asked whether the 31-year-old Lewandowski could still break Muller's 40-goal mark from the 1971/72 season. The 55-year-old coach justified this with the fact that the recently injured Bayern striker could now "play two more Bundesliga matches" due to the season break. The 31-year-old Pole would normally have missed the games against Union Berlin and Eintracht Frankfurt canceled in March due to the Corona crisis.
Lewandowski suffered a fracture of the tibia at the left knee joint at the end of February in Bayern's 3-0 win in the Champions League round of 16 against Chelsea. This Saturday he would have wanted to celebrate his comeback in the Bundesliga top game of the league leaders at Borussia Dortmund. But that would have made it tight, Flick reported.
"From the goal rate Robert was sensational," said the Bayern coach to Lewandowski's "top form" this season. This applies not only to the Bundesliga but also to the Champions League, Flick said. In the European premiere class, Lewandowski also tops the list of goalscorers in the middle of the round of 16 with the season's personal best of 11 goals. In the 39 competitive games for Bayern this season, the Pole has scored 33 times.
Copyright © 2023 The Eastern Herald.