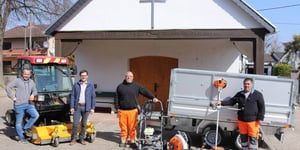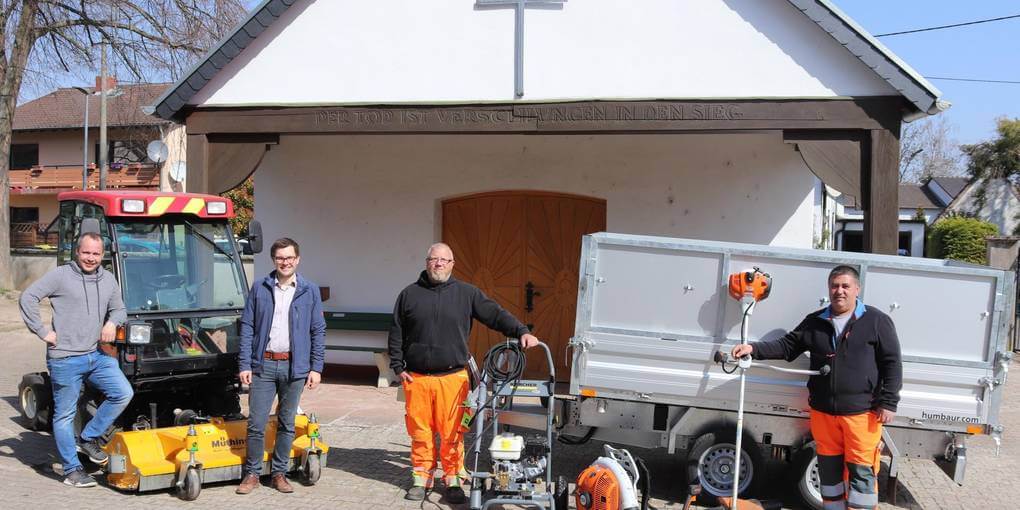 MONSHEIM – For necessary new purchases at the community building yard, the Monsheim town council had budgeted 12,000 euros this year. After a new mulcher had already been purchased in mid-2019, the municipal fleet was now supplemented by a three-way tipping trailer. Its large loading area enables the safe transport of equipment as well as the efficient removal of leaves and green cuttings, where the small platform area of ​​the VW bus has so far required many individual trips to the shredder.
In addition, the tipping function makes it possible, among other things, to collect gravel and gravel material for cemeteries and municipal places directly from the building materials trade, which means that delivery costs previously incurred can be saved.
Another acquisition is a winter service spreader, which is attached to the mulcher as an add-on part and replaces the previously time-consuming manual spreading of pedestrian crossings and sidewalks in front of municipal buildings. If necessary, larger areas can also be strewn in the future. The equipment of the building yard is completed by a new portable blower and a powerful high-pressure cleaner. With a total cost of just under 8,500 euros, the four purchases even remained somewhat below the estimated budget of 12,000 euros.
Mayor Kevin Zakostelny and the deputy Eike Milch, who is responsible for the building yard, are convinced that the new acquisitions can further improve work processes and make them more efficient.
The next step is the purchase of a commercial vehicle, since the VW bus, which is now 18 years old, has significant defects and only passed the TUV test with a repair. In its most recent meeting, the municipal council asked the administration to alternatively consider the acquisition of new vehicles and the conclusion of a leasing contract for a new vehicle.
Copyright © 2023 The Eastern Herald.