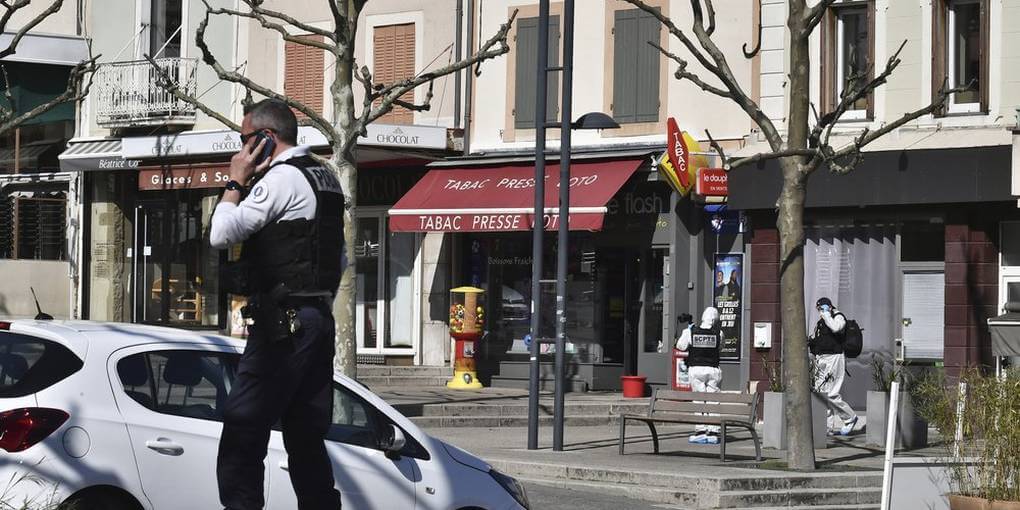 Romans-sur-Isere – The anti-terrorist prosecutor has taken the case after a fatal knife attack with two deaths and several injuries in Romans-sur-Isere near Valence.
Because of murder and attempted murder in connection with a criminal, terrorist organization, the attacker is now being investigated, who according to the French anti-terrorist investigators is a Sudanese born in 1987.
The drama occurred on Saturday around 10:45 a.m. According to initial findings, the perpetrator is said to have first attacked the owner of a tobacco shop and then obtained a new knife from a butcher's shop, where he stabbed a person. Then he attacked other people on the street. A total of two people died, five were injured, two of them are still in mortal danger. According to eyewitnesses, the man is said to have called "Allahu akbar" (God is great) while he was doing this.
When the detainee's home was searched, the investigators found documents with religious content, in which the author complained, among other things, that he lived in a country of unbelievers. The French news agency AFP, citing investigative circles, reported that the man had been recognized as a refugee on June 29, 2017, and received a ten-year residence permit. He was previously unknown to the police.
Romans-sur-Isere has around 35,000 inhabitants and is located around 20 kilometers south of Valence in southeastern France. In 2015, the city was one of the municipalities that refused to accept asylum seekers. At that time, the conservative mayor Marie-Helene Thoraval wrote in a statement that the city did not have the means to ensure adequate reception conditions for Syrian refugees. In her view, a massive uptake would worsen the social balance in the city.
The security forces are said to have arrested the attacker when he was kneeling on the pavement, praying in Arabic. He is said not to have resisted. The police also detained two other Sudanese people on Saturday. It is said to be a man from the detainee's acquaintance and a Sudanese from his household.
After the bloody attack on Twitter, French President Emmanuel Macron had assured that everything will be done to clear up the act that grieved France. France has been haunted by an Islamist terror series for years, in which more than 250 people lost their lives.