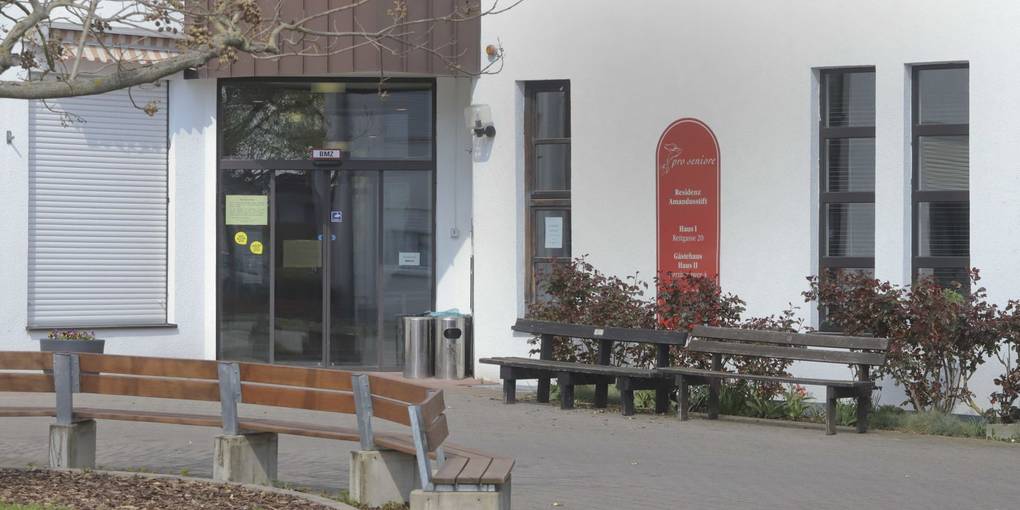 WORMS – The corona outbreak in the Amandusstift retirement and nursing home in the Weinheim district of Worms continues to spread. It has been clear since late Friday evening: A total of 26 people, including ten residents and 16 employees, tested positive for the coronavirus. Against this background, the responsible health authority Alzey-Worms decided on Saturday that cuts should be made immediately by all employees of the Amandus Abbey. On Friday evening it was said that all employees should only be tested for the virus on Monday. According to the operator of the Amandus Foundation, the Pro Senior company, the retirement and nursing home employs 120 people. The employees look after and care for 150 senior citizens. A large number of these seniors are dementia patients who cannot be isolated easily. You need special care.
The corona outbreak has been widening for a week. On March 29, a resident of the Amandus Abbey died in the Worms Clinic. In the hospital, it turned out that the older man had been infected with the new virus. Then those employees and residents who had contact with the man or showed symptoms were tested. The first test results showed that another resident and five employees had contracted Corona. The bad news came from the health department late on Friday evening. Now that around 70 residents and employees have been tested, the results of the smear show that around 20 other residents and employees have been infected with the virus.
Residents without symptoms are not tested
Accordingly, two people are treated in the hospital. The infected office, which currently shows only mild to no symptoms of an illness, is housed in a separate part of the Amandus pen, strictly separated from the non-infected, reports the health office.
The employees who have contracted Corona are in-home quarantine and are out of service. For self-protection and external protection, the nursing staff looks after the infected residents of the home with protective equipment and masks. "Other residents who have no symptoms do not need to be tested, they are protected from infection by the nurses' masks," reports Dr. Bernd Stauf.
According to the health department, there are sufficient disinfectants in the facility. The disinfectants would be added next week. The health department is in the process of determining the contact persons of the infected people. Around 20 employees of the Alzey-Worms district administration support the health department with this task.