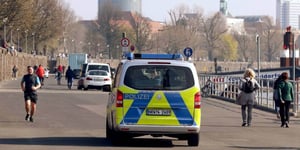 Berlin – Despite the spring weather, most citizens followed the exit restrictions due to the Corona pandemic on Saturday. «The situation is calm. The citizens are very prudent and follow the instructions, »said a police spokeswoman in Schleswig-Holstein.
The police in Mecklenburg-Western Pomerania said that it was very quiet on the access roads into the country and to the destinations on the Baltic Sea coast.
And also in Bavaria, people have largely followed the exit restrictions. Interior Minister Joachim Herrmann (CSU) said: "The police find that the vast majority of citizens adhere very well to the regulations." There was no major excursion traffic to the Bavarian Oberland and very few day-trippers and tourists.
Nevertheless, the police registered several violations of the Infection Protection Act, for example in Munich. There she reported more than 230 violations between Friday and Saturday mornings.
In North Rhine-Westphalia, tens of thousands of people walked in parks and city centers, along rivers and lakes in the sunshine and spring-like temperatures. Most of them adhered to the stipulations that a maximum of two should meet in public and keep their distance. Police and law enforcement officers monitored the action with a large amount of personnel – in Dusseldorf also with a drone from the air. «There is a lot going on – people run up and down the Rhine. But violations have so far been rare, and when they do, people respond sympathetically to the address, »said a police spokesman.
The cities had made provision for particularly popular local recreational destinations. The city of Dortmund asked its citizens to only move around the lake clockwise around Phoenix Lake to avoid close encounters. Despite the beginning of the Easter holidays, the traffic on the streets ran almost without disruption. Nationwide, the WDR reported just one kilometer of traffic jam at 3:25 p.m.
Copyright © 2023 The Eastern Herald.