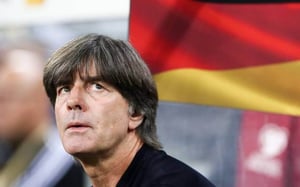 Munich – After the European Football Union had to postpone the international matches planned for June due to the coronavirus pandemic "until further notice", the 2019/20 season has ended prematurely for the German national team.
The next international match is only scheduled for September 3 in the Nations League against Spain.
National coach Joachim Low could only play six games in the DFB selection this season, which was supposed to end with the European Championship as the highlight in the summer. There should have been at least 13 and – depending on the course of the European Championship – up to 17. The German Press Agency takes stock of the shortened international match year.
BALANCE SHEET: Four wins, one draw, and one defeat saw Low with the national team in this mini-season. The goal difference is 19: 7. The only defeat was at the start on September 6, 2019, in Hamburg with the 2: 4 in the European Championship qualification against the Netherlands. The highest victory was the final 6-1 against Northern Ireland on November 19, 2019, in Frankfurt, with which the DFB team secured group victory over the Dutch in the elimination for the European Championship finals, which have now been moved to summer 2021.
PLAYERS: Low deployed a total of 25 players, including goalkeeper Manuel Neuer (4 games) from FC Bayern Munich and Marc-Andre ter Stegen (FC Barcelona / 2 games). Five field players made their debut in the A team. In addition to Freiburg's Robin Koch and Luca Waldschmidt, Nadiem Amiri from Leverkusen, Schalke's Suat Serdar and Niklas Stark from Hertha BSC played their first international matches.
CONTINUOUS BURNER: Bayern professional Joshua Kimmich was the only DFB kicker to spend the full 540 international minutes on the pitch. Leipzig midfielder Lukas Klostermann (514 minutes) and Bayern striker Serge Gnabry (413 minutes) follow behind the midfielder. In addition to Kimmich and Klostermann, only the third player, Julian Brandt from Dortmund, was used in all six games. Sebastian Rudy, a substitute with two substitutes, had the shortest time of nine minutes.
GOALS: The 19 goals are spread over nine players. The most successful shooter was Bayern striker Serge Gnabry with six goals. The 24-year-old has an outstanding quota in the national jersey: Gnabry has scored 13 times in 13 international matches so far. In the 6-1 win against Northern Ireland, he managed his second triple pack in an international match.
Gnabry is followed by Toni Kroos (Real Madrid) and Leon Goretzka (FC Bayern) with three goals each. Ilkay Gundogan (Manchester City) scored twice. Leverkusen's Kai Havertz cheered his premier goal, as did Marcel Halstenberg (RB Leipzig) and Matthias Ginter (Borussia Monchengladbach). The other goal scorers were Timo Werner (RB Leipzig) and Julian Brandt (Borussia Dortmund).
Copyright © 2023 The Eastern Herald.