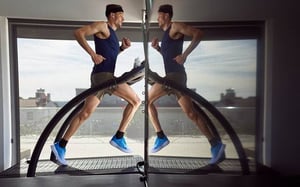 Girona – Ironman world champion Jan Frodeno wants to donate the proceeds of his "Tri @ home" to aid campaigns in Germany and in his adopted country Spain.
The greater part was destined for Girona, the 38-year-old three-time Ironman champion said in an interview with the "Frankfurter Allgemeine Sonntagsnewspaper", "Because there is a great need here, the football stadium is being prepared here as an emergency room".
Frodeno also receives information on the situation in the city in the fight against the coronavirus from the "nanny who worked for us and who is actually a nurse". She had volunteered at the hospital recently. "Everything is missing, even the food for the helpers, for the doctors and nurses, who don't even have time to go across to the supermarket to get something to eat," said Frodeno. He is already involved with a food truck owner and has the helpers brought lunch.
There are also "really blatant horror stories," Frodeno reported. People over the age of 75 were no longer ventilated due to a lack of equipment, and they were given morphine to relieve the pain. "They die in quarantine, they die alone, because for the sisters, also for our nanny, it's not just about medical care, but also about pastoral care," said Frodeno.
With his action next Saturday, he also wants to encourage people. He wants to do an Ironman distance at home – also because there is a curfew in Spain. After swimming 3.8 kilometers in the nine-meter pool with a counter-current system, he will cycle 180.2 kilometers on a roll and then complete a marathon on the treadmill.
Other athletes should be able to switch to it via an online platform, among other things. «We want to create a shared experience and combine it with a charitable cause. We want to help, »stressed Frodeno.
Copyright © 2023 The Eastern Herald.