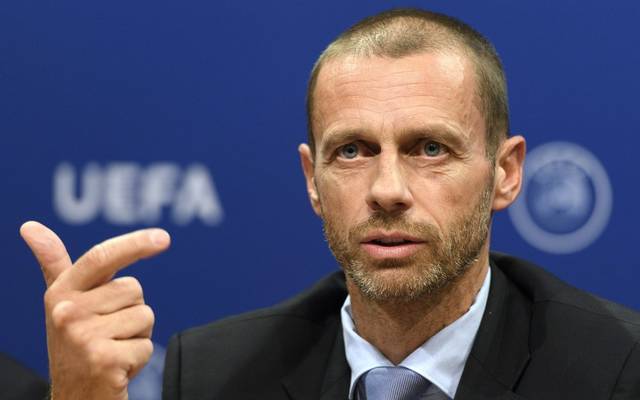 Nyon – With clear words and warnings, UEFA chief Aleksander Ceferin vows European football to join forces in the coronavirus pandemic.
The Champions League should be finished in August at the latest, if the league operation is prematurely interrupted, the European Cup is threatened, and in the ongoing dispute with FIFA, there is the next criticism.
The head of the European Football Union rejects plans to distribute a planned amount of financial aid for associations, clubs, and players by the world association. "FIFA's explanation was that they want to use it for those who need it urgently. We should agree to this so that the FIFA administration can then decide who gets how much money. In my opinion and that of a few other people, this is a bit strange, »said Ceferin in the« Current Sports Studio », which was broadcast on ZDF on Saturday. FIFA had previously announced the relief effort without mentioning specific sums and details.
Nobody could control who the sums go to, criticized Ceferin, who has publicly opposed FIFA boss Gianni Infantino on several occasions. "Strict regulations are needed for this, and you can't just leave it to the FIFA administration to find out who needs the most help. That is too simple. »
With a working group that also includes the confederations, FIFA is also currently trying to create the much-needed clarity for guidelines on the transfer market. It is still unclear what will happen to contracts and bills of exchange as of June 30 if the seasons that are currently almost worldwide interrupted should be extended beyond this date.
This is also a scenario for the European Cup: To crown the winners in the Champions League and Europa League, Ceferin sees August as the ultimate deadline. "We cannot play this out in September or October," emphasized the Slovenian.
The 52-year-old is keen to prevent other leagues from ending their season on their own initiative after Belgium. This is "not the right way", stressed Ceferin and warned that taking this step would risk participating in the European Cup next season. Belgian football tried to appease at the weekend: Association president Mehdi Bayat had met Ceferin and discussed all possibilities with him, the national association said on Saturday. A constructive solution is in sight.
The German clubs, however, continue to hope for a fresh start. Ceferin described the plan of the Bundesliga, from May again to play games without spectators, as correct. "Every path is the right one if the health of the players is paramount," he said. In the corona crisis, it was "definitely a consideration" to loosen UEFA's financial fair play rules in the longer term. "We have to be flexible, many clubs are in difficult situations," he said. "We'll put that off now and see how the season ends."