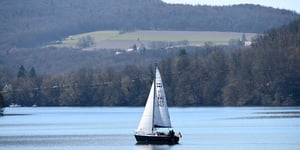 Offenbach / Frankfurt – Despite the sunshine, cloudless skies and temperatures up to 16 degrees, many people follow the invitation to stay at home. Until Saturday noon, the police in Hesse reported that it was quiet in many places. Only when approaching the Grosser Feldberg in the Taunus was the car traffic regulated due to the heavy traffic.
In view of the spring-like temperatures and the good weather, the police in Frankfurt had appealed to all Hesse to continue to comply with the regulation to contain the coronavirus and to stay mainly at home. The parking lots of many local recreation areas and excursion destinations should be closed at the weekend in Hesse. The police had set up two checkpoints on Saturday's Edersee in Hesse. A sign on the Edersee barrier wall indicated the rules of conduct.
As the German Weather Service (DWD) in Offenbach predicted on Saturday, it will be cooler again in the night to Sunday with low temperatures between 4 and 0 degrees, in the mountains and in northern Hesse it should even be down to minus 2 degrees. But on Sunday it remains spring-like, sunny and dry. The temperature rises to 20 degrees, in the higher mountains it is 15 degrees.
Copyright © 2023 The Eastern Herald.