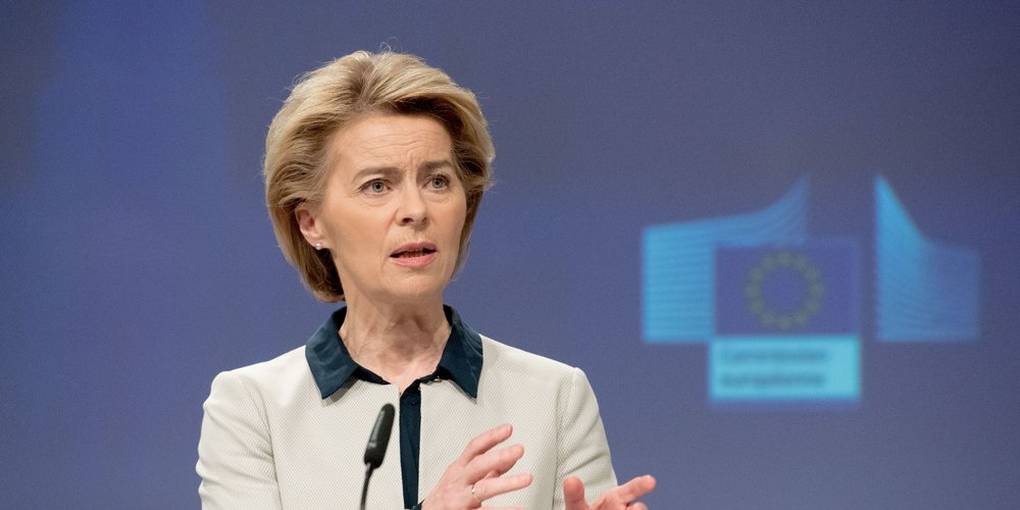 Berlin – Despite all the aid measures, Europe has to spend more money in the aftermath of the Corona crisis. For this reason, EU Commission President Ursula von der Leyen advocated massive investments in the EU budget.
"We need a Marshall Plan for Europe," she wrote in a guest post for "Welt am Sonntag". The EU budget was accepted in all member states as an instrument of solidarity-based compensation and had to be adjusted accordingly to the crisis.
The Marshall Plan was a multi-billion dollar aid program from the United States that got Western Europe drawn from World War II back on its feet.
Von der Leyen was confident that Europe would recover soon: "The many billions that have to be invested today to avert a major catastrophe will bind generations." In this way, the feeling of community among the nations of Europe could be renewed even in the crisis.
The former foreign ministers Joschka Fischer (Greens) and Sigmar Gabriel (SPD) also spoke in favor of a Marshall Plan, albeit in support of Spain and Italy to prevent a possible breakup of Europe. "Europe now needs two things: joint aid in the crisis and a joint reconstruction program after the crisis," Fischer and Gabriel write in a guest article for the "Handelsblatt" and the "Tagesspiegel" (Monday).
"Italy and Spain will not forget Europe and especially we Germans for a hundred years if we (…) let them down now. And that is exactly what we are doing,  criticizes the two former ministers. In their view, the coronavirus has the potential to deepen the cracks that already exist in Europe so massively "that the Union could break apart". In Italy in particular, there has been repeated criticism of inadequate aid from the EU.
The EU threatens to fail dramatically in this biggest test since its creation, Gabriel and Fischer said. "Instead, we are seeing that powers like Russia and China provide effective public aid to emphasize precisely this deficit in Europe. It is obvious that humanitarian and political goals are being pursued at least at the same time. »
The German export ban on medical aids has been lifted and Germany is one of the countries that offer hospital beds to seriously ill patients from Italy, France, and Spain. But at best this is a "drop in the bucket".
The two ex-ministers recalled two aid projects in 1948 that could help Europe at the moment – the Berlin Airlift and the Marshall Plan. The countries hardest hit by the corona pandemic, such as Italy and Spain, would now need an overlapping three-step program: emergency medical and humanitarian aid; medium-term, long-term European loan support and an innovation promotion program for economic and social security. "Germany would be well advised to take part in such an aid program at European level instead of continuing the ideological dispute between Northern and Southern Europe over Eurobonds or Corona bonds," emphasized Fischer and Gabriel.