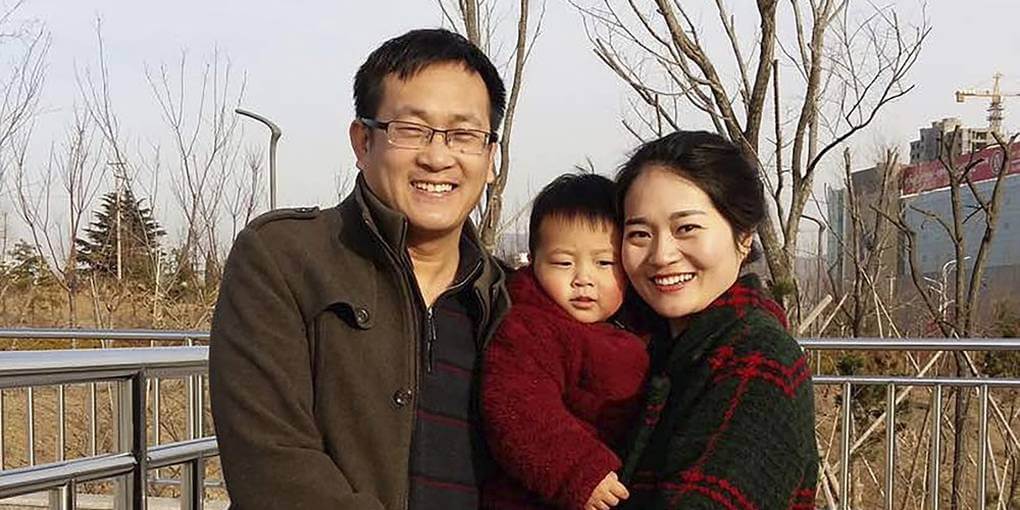 Beijing » Chinese civil rights lawyer Wang Quanzhang has been released from prison after his term ends. His wife Li Wenzu reported on Twitter that her husband called her after the discharge. He was taken to his home in Jinan, Shandong Province.
The lawyer was arrested in 2015 in a wave of persecution against around 300 lawyers, lawyers, activists, and relatives. For three years there hadn't even been a sign of life from him. In 2019, he was sentenced to four and a half years in prison in a secret trial for "undermining state authority". The federal government had repeatedly campaigned for the 44-year-old.
"It is a shameful act that Wang Quanzhang was even convicted," said Doriane Lau from the Human Rights Watch group in Hong Kong. "He has become a government target because he has worked to defend human rights and uncover corruption." There is reason to fear that his dismissal will only convey the "illusion of freedom". The authorities should allow him to move freely.
The European Union urged the Chinese authorities not to put any conditions on his release and to allow him freedom of movement and a return to his family. Already during his trial and while in detention, his rights were "not respected," said international relations spokeswoman Virginie Battu-Henriksson in Brussels. Reports of ill-treatment and torture by the lawyer in detention should be investigated.
Wang Quanzhang worked for the now-closed Fengrui law firm, which also represented the famous artist Ai, Weiwei. The lawyer had repeatedly campaigned for politically sensitive cases, which included freedom of religion or the press or displacement. Chancellor Zhou Shifeng was also sentenced to seven years in prison.
Since party leader Xi Jinping took office in 2012, activists have complained about a further deterioration in the human rights situation in China. In addition to dissidents and civil rights lawyers, minorities such as Tibetans and Uyghurs are being persecuted.
Several international human rights groups last week asked the Chinese authorities to really grant Wang Quanzhang full freedom after he was released, and not to keep him in any form of house arrest or under surveillance. The lawyer must also be allowed to go to Beijing with his wife and son.
The lawyer had said that after he was released from Linyi (Shandong) prison in the provincial capital, Jinan, where his residence registration is located. His wife reported that the apartment in Jinan was actually rented out, but the police drove the tenants away and took her husband there. Wang Quanzhang was said to have to spend 14 days in isolation because of the corona epidemic.
It is common practice that human rights defenders are further restricted and observed even after serving their sentence, Human Rights Watch expert Lau said. ""We have also observed that the pandemic is used as an excuse to persecute those who criticize the government.""
The Society for Threatened Peoples (GfbV) warned of a "significant increase" in human rights violations in China due to the Corona crisis. Since January, more than 900 cases of enforced disappearances, arrests, detention, forced confessions and fines have been recorded. "Under the pretext of fighting the pandemic, brainwashing is also carried out and freedom of religion and the press is further restricted," warned GfbV director Ulrich Delius in Gottingen.