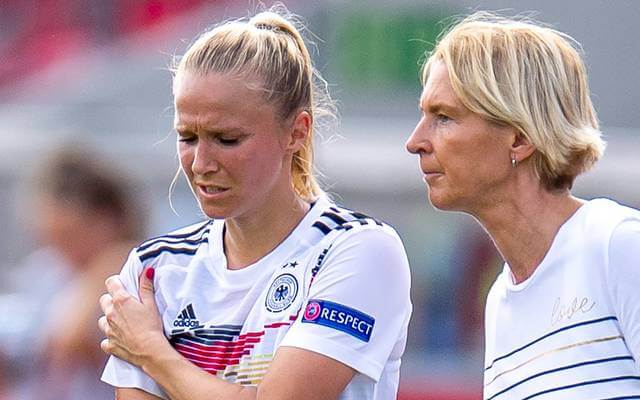 Essen » Turid Knaak has almost forgotten the scandal with DFB goalkeeper coach Andreas Kopke.
"I think he was a bit surprised by the question," says the soccer international about the episode in November when the cup was drawn. The unfamiliar everyday life of the 29-year-old was shown in a single film: Turid Knaak plays in the Bundesliga for SGS Essen and is one of the experienced players in the selection of national coach Martina Voss-Tecklenburg.
Turid Knaak is also a research assistant at the University of Cologne, where she works in the area of ​​special education. For her doctoral thesis, she researches the acquisition of written language by children with learning difficulties. When asked whether such a workload would also be something for the male colleagues, Kopke answered in the ARD sports show at the time: "We train so much, there is no time left." Knaak immediately replied: "We do too" – and a subtle shitstorm in social networks whether the allegedly arrogant or women (football) hostile statements Kopke had flared up.
"It wasn't a big deal for us. We also had no need for clarification afterward», says Knaak and smiles afterward:« I think we train enough. » Which, of course, is especially true when you consciously opt for a two-track career consisting of professional football and an academic career – like Turid Knaak.
"I really appreciate it because each one is a compensation for the other," she says. At the moment, however, the corona crisis has changed her life fundamentally. Instead of leaving her apartment in Grevenbroich near Neuss around half-past seven in the morning and going to the university, correcting exams, preparing lessons, holding seminars or lectures or holding office hours with the students, Knaak Homeoffice is now also called on.
There she works in the mornings for the university and on her doctoral thesis. "I try to keep my rhythm and my daily routine to a certain extent so as not to fall into a rut," Knaak told the German Press Agency on the phone. «I then complete my training sessions in the afternoon. I do a lot of running, sprinting and strength training, »says Knaak and jokes:« I live in the village, there are also enough fields and meadows. »
Her voice then becomes serious again on a subject on which she not only does her doctorate but which is obviously very close to her heart. Already at the Algarve Cup in early March, Knaak explained in a conversation in the hotel lobby in detail her point of view on topics such as literacy in elementary school and reading as an important factor for children, or described her personal perspective, possibly after a career as a teacher at a school work.
Knaak regards the fact that schools are currently closed due to the Corona crisis, especially with regard to children with learning difficulties or socially disadvantaged children. "The current situation is a disaster, especially for students with learning difficulties. These are often also children who receive little support from home and who often lack the help of their parents, »she says. In addition, it is not so easy in every family and every household with digital learning or video-based support. Technical equipment such as a printer is often also missing. »
But Turid Knaak proves that she does not only think outside the box in her double professional life. When Bayern professionals Joshua Kimmich and Leon Goretzka initiated the "#wekickcorona" relief campaign, Knaak was one of the first international players to take part in. "It's not about donating huge sums," she says. "But I want to do my part."