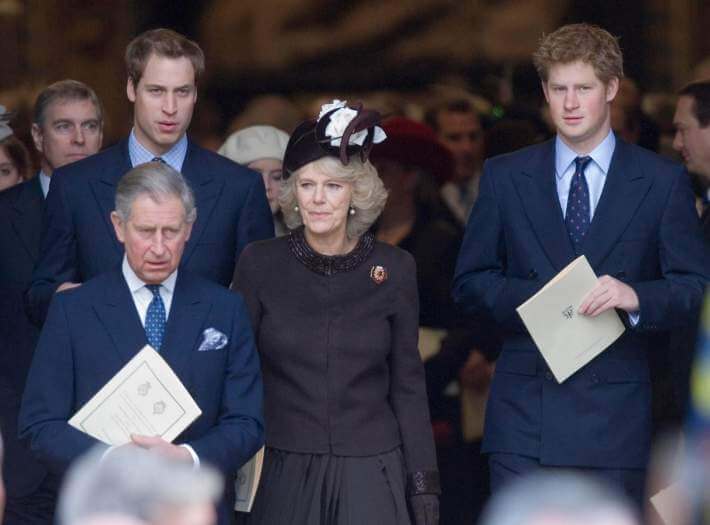 London (TEH) – For a long time he was considering quirky and lonely, she was previously ridiculed as "Rottweiler": 15 years ago, Prince Charles (71) and Camilla Parker Bowles (72) got married. They were only reunited shortly before their wedding anniversary on Thursday (April 9th), because the Corona crisis meant that they had to temporarily live separately in isolation.
A look at the special moments of the royal couple: POLO: In 1970 a polo game in Windsor not far from London started. Charles and Camilla met, it was the beginning of a great love. A little later, Camilla, then in her early 20s, was said to have approached him frankly: "My great-grandmother was the love of your great-great-grandfather, how about us?" Is a quote attributed to her? Apparently it sparked immediately. However, the couple ended the relationship when Charles joined the Navy. They secretly wrote themselves as "F and "Gladys". Diana made no secret of her aversion to "marriage to three". It became embarrassing when secret recordings of an intimate nocturnal phone call appear Charles confessed that he longed to be Camilla's tampon – the British were delighted in the "Camillagate" scandal divorce. Diana died in a tragic car accident in Paris just a year later. When it was clear that Charles would not let the now divorced Camilla go again, the Queen should not have been pleased. Camilla was seen as a counter-image to Diana, who was very many British as the "Queen of Hearts". It took eight years for Queen Elizabeth II to allow her son to marry his childhood sweetheart.
TOTAL INSTEAD OF A CASTLE: On April 9, 2005, fate gave Charles and Camilla a royal happy ending. The Prince of Wales married his former lover – due to legal problems, however, not at Windsor Castle, but in the town hall of the small town. In general, the wedding ceremony was no comparison to the glittering fairy tale wedding of Charles and Diana in 1981 – instead of a carriage, there was at least a luxury car for the newlyweds. BIRTHDAY SHEEP: Charles and Camilla share not only a similar sense of humor, but also their passion for nature. Many Britons pay tribute to the use of the "eco prince" for nature and climate protection. The Duchess of Cornwall has in common with him the love for animals, hunting and country life. It is hardly surprising that Charles gave his wife plants for their garden and two sheep for their 60th birthday in 2007. WEATHER FROGES: The couple regularly withdraws to the Scottish country estate in Balmoral. The two of them are therefore familiar with the weather there.
Sure, Charles and Camilla stepped on the weather map themselves on TV for the 60th anniversary of the 2012 BBC program in Scotland. However, they had to deliver a bad message: "It will be wet, cold and windy". "Thank God it's not a holiday," added Charles with a laugh. GRANDPARENTS: Charles and Camilla are now proud grandparents of a total of nine grandchildren. Camilla has five grandchildren of son Tom and daughter Laura from their first marriage. For Charles, Archie, the son of Prince Harry and his wife Meghan, was the youngest of four grandchildren in May last year. How often he will see him in the future is uncertain. At their own request, Harry and Meghan have not been part of the royal family since April and now live in Los Angeles.KRONE: The biggest task is still ahead of "C&C".
Charles is still the "eternal heir to the throne", but after the death of his mother he would become king of Great Britain and Northern Ireland – at an age where others have long since reti Which throne name Charles would then have is not yet known. It is still unclear whether Camilla would automatically become queen – once an unthinkable scenario, because at her wedding the title of "prince consort" was intended for her King's HouseRoyal Succession WebsiteBCB on Charles' weather forecast The couple's estate and country estatesNew York Times Coronavirus infection report on 'great-grandmother' quote Charles / Camilla biographer on 'great-grandmother' quote, p. 46