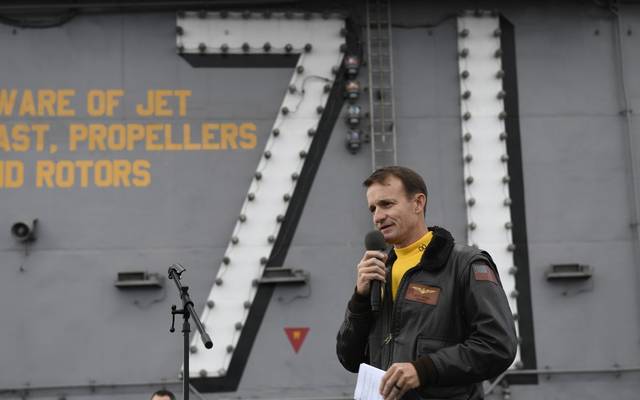 Washington – US President Donald Trump wants to intervene in the conflict over the aircraft carrier captain, who was fired from a coronavirus complaint letter. He is very good at settling disputes, Trump said in the White House.
It had previously become known that acting Minister of the Navy Thomas Modly described the captain's behavior towards his crew as "too naive or too stupid". Captain Brett Crozier had asked for help from the military leadership in a letter that later went public because of a corona outbreak on board the nuclear-powered aircraft carrier "USS Theodore Roosevelt".
""I like to solve problems," said Trump, who, as US President, is also the commander-in-chief of all US armed forces. The minister's statements were "a coarse statement". The captain made a "mistake" in writing the letter, which was not classified as secret, but he believed that both were "good people". In addition, the captain's previous career has been "outstanding", Trump said.
"I'll get involved and understand exactly what's going on," said Trump. He would also talk to Defense Minister Mark Esper about this. "I don't want to destroy anyone because they had a bad day," Trump said. However, he did not want to decide whether to cancel Crozier's dismissal.
Meanwhile, Modly apologized for what he said about the captain. "I don't think Captain Brett Crozier is naive or stupid. I think and have always believed that he is the opposite, »Modly was quoted by CNN. "Captain Crozier is smart and passionate." Modly is convinced that this is exactly why Crozier sent the "alarming email" – to get public attention for the situation on his ship. "I apologize for any confusion that this wording could have caused," Modly said, according to CNN.
The coronavirus Sars-CoV-2 had spread among the more than 4,000 crew members of the aircraft carrier. In his letter, Crozier earlier last week called for the ship to be evacuated to prevent the death of soldiers. Modly had announced on Thursday that Crozier would be immediately removed from his post because he was apparently overwhelmed by the coronavirus and had violated the chain of command with the widely distributed letter.
The US military has now initiated the extensive evacuation of the ship off the Pacific island of Guam. According to US media reports, the virus has now been detected in almost 200 crew members – including Crozier. Around 1,000 soldiers will remain on board to guarantee the functionality and safety of the upgraded and nuclear-powered ship.