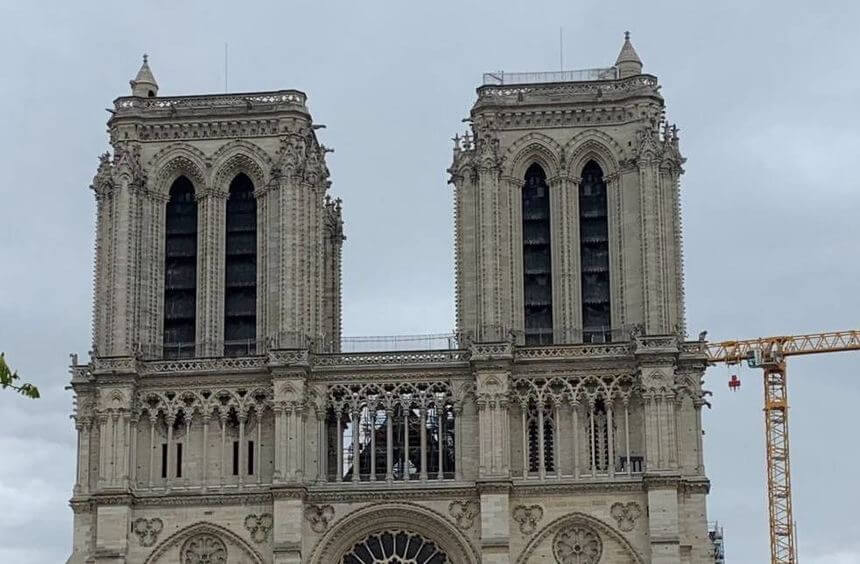 Paris: Where traders usually sell books and pictures in the shadow of the mighty cathedral – there is a yawning emptiness. Your stands on the banks of the Seine are barricaded. The tourists usually crowd here, and the fire in Notre-Dame has not changed that. Shortly after the fire, which began on April 15, the streets and bridges around the world-famous landmark were perhaps even as full as never before. Notre-Dame is still standing, has survived the fire badly damaged – but now the Corona crisis has put the probably most famous construction site in France to a deep sleep.
It was a mild spring evening when the news of the fire in Notre-Dame spread. It quickly became clear that this was far more than a small fire, the cathedral was in danger of collapsing – the crossing tower on the roof did it. It was not until the next morning that it was clear that the fire was extinguished and the church was saved for the time being. The whole world took part, hundreds of millions of donations were collected for the reconstruction.
This is now difficult – because the backup work is still not completed a year later. There is a huge crane on the construction site, windows are cove with foils, the mighty buttresses are supported with wood. "But the problem is still getting the scaffolding on the roof down. Dismantling that without the vault collapsing is still the most difficult, "says the former Cologne cathedral architect Barbara Schock-Werner. It coordinates German aid for reconstruction. "As long as the problem has not been solved, basically all other questions have been put on hold." Before the fire, the scaffolding had been erected on the roof for renovation work. The fire partially melted.
Macron had promised that the cathedral would be rebuilt within five years. There have been doubts about this from the beginning, now more so. In the meantime, the work was also interrupted due to the lead contamination – the lead had melted during the fire.
"I have tears"
On Friday before the fire, Helgard Figures gave her last tour of the cathedral. The now 78-year-old has been leading German tourists voluntarily for the Casa Association through Notre-Dame since 2006. The trained translator has been living in France for decades – on the evening of the fire, she had worried about Notre-Dame in front of the television until late at night.
"It shook me that my tears came."
She has had a passion for Notre-Dame for as long as she can remember. "Maybe also because my parents were art historians and Germanists," says the 78-year-old. From time to time she visits the cathedral – at least from the outside, even if that's not possible at the moment because of Corona. "It is almost a need for me to see the cathedral in this destroyed state and to see it rebuilt." How much Corona will delay the work and now everything will go on – all of this is unclear at the moment. Even the Archbishop of Paris Michel Aupetit cannot say: "I am an Archbishop, not a prophet." Dpa © Mannheimer Morgen, Thursday, April 9th, 2020