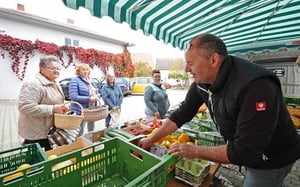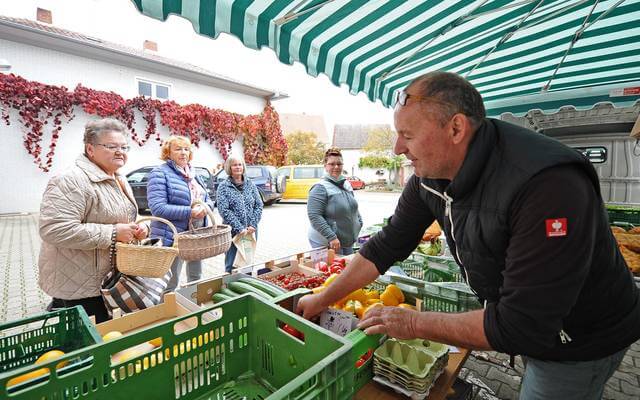 GUNDHEIM – Hubert Kreichgauer returns from the winter break. From April 15, the farmer from Frankenthal will once again sell fresh fruit and vegetables from his small market stall in Gundheim once a week. But not like his first year in Gundheim in front of the town hall or the fire department, but at the old train station. The reason is the significantly better parking situation, reports Mayor Michael Leidemer. This will be exacerbated at the town hall if the bollards to protect the children are set up in front of the kindergarten on the main street. "It all relaxes a bit at the old train station," Leidemer is certain. Also, due to the larger space there, the currently applicable clearance rules for containing the coronavirus could be observed. "Nevertheless, of course, we also have to be careful not to form packs," says Leider. After all, Hubert Kreichgauer's market stand was always used by many as a meeting place for chatting. Can the customers take that away?
Hubert Kreichgauer is satisfied with the encouragement he received in Gundheim last year. And he believes that it could be even a little bit more because of Corona because one or the other is currently more afraid of going to the supermarket, where things are getting tighter and everyone is touching everything. At his market stall, only Hubert Kreichgauer takes fruit and vegetables into his hands. To ensure this, Kreichgauer will rebuild something, he announces, and no longer place the goods as far forward. Besides, a certain distance is maintained with empty tables or benches. He also wants to point out the distance rules with a sign. "In the meantime, people are pretty good at it," Kreichgauer is optimistic that it will all work. For him, however, the new location is initially an attempt. "If it is nothing, then I go up again," announces the farmer, who will receive support from this year. In the past year, he always came to Gundheim alone to sell his goods to men and women. Henceforth his partner Barbara Stahl will come along, as she has done in Blenheim for a long time.
For local director Michael Leidemer, the return of the market stall may be a welcome change for the older fellow citizens who are currently at home most of the time. They would get a lot of support in Gundheim, but maybe they could do something themselves. From 7.30 a.m. to 12 p.m. Hubert Kreichgauer will sell his goods every Wednesday. Due to the current situation, pre-orders should also be possible.
"We are happy that Hubert Kreichgauer is coming again," says Michael Leidemer. Many Gundheimers will certainly agree with him.
Copyright © 2023 The Eastern Herald.