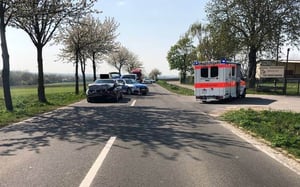 WESTHOFEN – A traffic accident occurs on Wednesday afternoon shortly before 3 p.m. on Landstrasse 386 near Westhofen, in which several people were injured Three vehicles drove in a row on Landesstrasse 386 from Gundersheim towards Westhofen. At the level of the dog place there, the driver of the first car wanted to turn left to get to the dog place.
The handlebars behind the turning braked. The driver in the third car noticed this too late and hit the vehicle braking in front of him. A total of four people were slightly injured the impact and the ambulance brought them to the clinic in Worms. The vehicle causing the accident was no longer ready to drive after the collision and had to be towed. The road maintenance department in Worms took care of the removal of the leaked operating materials.
The property damage incurs estimated at around 8,000 euros. Landstrasse 386 had to be closed temporarily during the accident.
Copyright © 2023 The Eastern Herald.