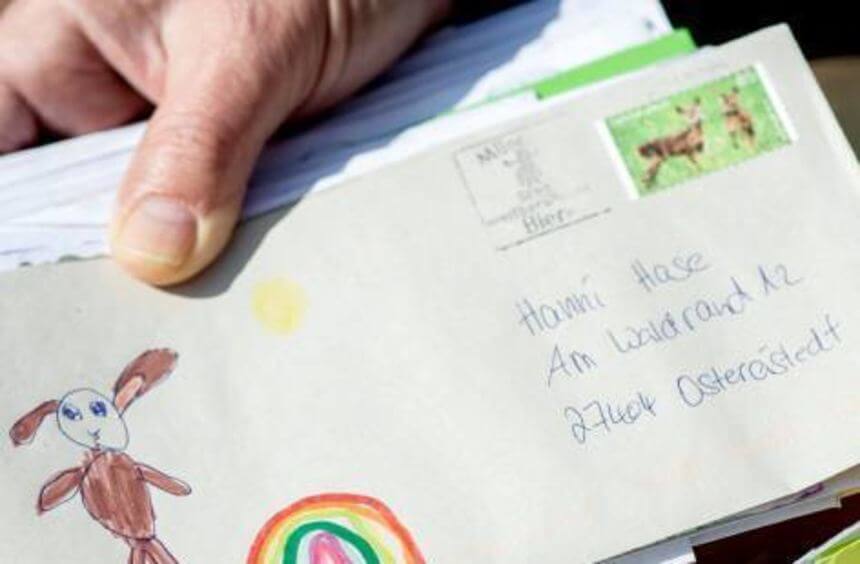 The Easter bunny in the northern German village of Ostereistedt has never received as much children's mail as this year. A record number of about 59,000 letters had arrived at the Easter Post Office, a spokesman for the Deutsche Post said on Thursday. Last year there were 40,500 letters. The amount means that not all children got an answer until Easter as promised. The last 5,000 letters would still be answered next week, said the long-time head of the campaign, Hans-Hermann Dunker (81).
"At first, I was afraid that there would not be as many letters," said the former postal official, referring to the Corona crisis. "But they were all at home and had time to write. That's why the number went through the roof, "he said to the German Press Agency.
In the lovingly decorated and painted letters to Hanni Hase, the children wished the Easter Bunny good health. "I know that there is a strange time right now," said one letter. The children regretted that they are currently unable to visit their grandparents or friends. "Hopefully, despite the quarantine, you will find some nice hiding places in our apartment," said another child.
Because of the quarantine restrictions, Deutsche Post's campaign did not take place this year at the post office in the nearby town of Zeven. The 15 volunteers, mostly active or former postal workers, actually worked in the village community center in Ostereistedt. At the post office, the Easter bunny has the address: Hanni Hase, Am Waldrand 12, 27404 Ostereistedt.
Many letters from Taiwan, Russia and Switzerland came from abroad this year, said spokesman Stefan Laetsch. The Easter Post Office has been teaching children to write letters for 38 years. TEH © Mannheimer Morgen, Saturday, April 11th, 2020