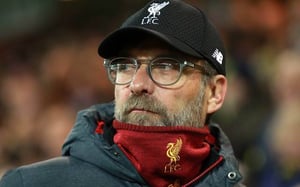 Berlin – The author, filmmaker and mentality trainer David Kadel has recognized the pioneering role played by Liverpool coach Jürgen Klopp on the subject of faith and religion.
"In Germany, it was still a taboo subject in the early 1990s to talk about his faith. Back then, it was mainly foreign players who did this, said Kadel of the German Press Agency.
The 53-year-old wrote the book "Football Bible" in 2012 with contributions by Klopp and Bayern professional David Alaba. In 2016, his film "And the front helps dear God helps" with Klopp, Alaba, Daniel Didavi and Sven Schipplock among others. "Every year more and more people speak openly about their beliefs. And of course, Jürgen Klopp played a major role, »says Kadel.
"When Jürgen Klopp from Glatten in the Black Forest explains in my film why Jesus is the most important person in contemporary history for me, I still get goosebumps because he does it better than many people who deal with the subject professionally", says Kadel. "I believe that belief helps a lot of players classify certain things much better."
Recently, several coaches and players had expressed their beliefs in interviews. «The young guys today are not stupid. They quickly realize that this love, in quotes, is fickle among fans. And that their value is also very uncertain, »said Kadel. A player might be labeled as a "mistake" at some point. "And then it is said that he is of no use, that is no longer worth anything," says the avowed Christian and football fan Kadel.
«Faith is just the opposite. I don't have to do anything with God, I don't have to do anything, »says Kadel. "In the Bundesliga, there is love only for performance, with God there is love just like that, he can't help it."
Copyright © 2023 The Eastern Herald.