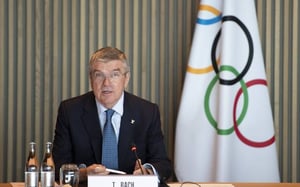 Berlin – IOC President Thomas Bach has rejected the accusation of being too hesitant to postpone ponement of the Tokyo Olympics due to the coronavirus pandemic.
He could understand the emotions well, said the 66-year-old in an interview with "Welt am Sonntag". "In such emotional situations, as a person responsible for responding, you cannot make decisions based on gut instinct," said the official, "after all, it's about the long-term survival of the Olympic Games and the cultural heritage of the Olympic Games."
The only possible short-term decision would have been a rejection, and none of the athletes from all over the world wanted it in the joint conference calls, emphasized the head of the International Olympic Committee.
On March 24, the IOC announced that the Olympic Games would be canceled this summer due to the rapid spread of the coronavirus. A little later it was decided to postpone the games by almost exactly one year (June 23 to August 8, 2021). Bach and the IOC had been accused of delaying a decision about the Olympic Games for too long in view of the global corona threat.
A cancellation of the games was not an issue, according to Bach. "To counter conspiracy theories, it must be said clearly that the IOC was insured against cancellation, which we are not against a delay," said the former fencer. "However, a move requires the approval of the organizing committee, which must be willing to work a year longer, and the Japanese government must be willing to continue to support the preparations."
Copyright © 2023 The Eastern Herald.