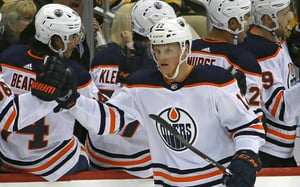 Toronto – Ice hockey pro Colby Cave, Leon Draisaitl's teammate at Edmonton Oilers, has died of a brain hemorrhage. The 25-year-old died early in the morning, the von Cave family said via its NHL team from Edmonton.
The Canadian had suffered a cerebral hemorrhage a few days ago and had a colloid cyst removed in an emergency operation.
The German international Draisaitl then sent recovery requests via Instagram and wrote: "My prayers are with you and your family, Colby." Attackers Cave had scored a goal for the Oilers this season.
Copyright © 2023 The Eastern Herald.