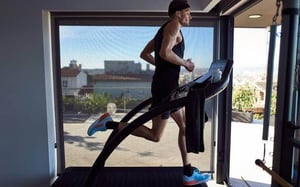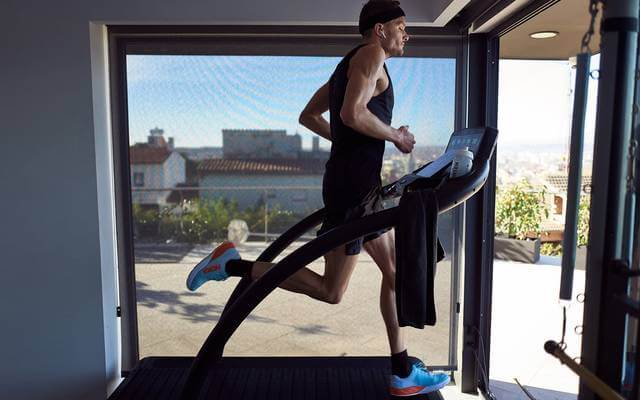 Girona – In the last few kilometers, triathlon superstar Jan Frodeno was more than happy to have made it again.
Otherwise, he enjoys the red carpet at the finish and the cheers of the spectators. This time Frodeno switched off the treadmill after about 8: 33.40 hours and celebrated the donation of over 200,000 euros, which initially came together in his "Tri @ home". Money that should help the front row helpers in the fight against the coronavirus in his Spanish hometown of Girona and the organization "Laureus Sports for Good". "Sometimes you need crazy ideas," stressed Frodeno.
Around eight o'clock, Frodeno's triathlon started in his own four walls. 3.86 kilometers swimming, 180 kilometers cycling, 42.2 kilometers running. But not as usual. "It is a great mental challenge to master these 226 kilometers without moving me no more than five meters from the site," stressed Frodeno. Swimming was in the 13-degree cold pool with counter-current system, cycling on a smart roller trainer, running on the treadmill.
And – except when swimming – with a Frodeno in a chatty mood, who was watched curiously here and there by dog ​​Duke and was well looked after with banana bread from his wife. "This is the first Ironman that I eat more calories than I burn," joked the triathlon superstar. He supplied the recipe with the player.
After around 47 minutes in the pool and a short break to change clothes, we went cycling. Accompanied by around 1000 athletes who were able to ride the virtual route on an online training platform. Including the former cycling star Fabian Cancellara. "Today I'm hunting Jan Frodeno," said the Swiss, who had set up his bike on the reel on a balcony. The 39-year-old was sweating profusely, but Frodeno still had enough strength for a thumbs up. "You give the sport emotions," said the two-time Olympic champion in the time trial.
Cancellara was not the only one to bow before Frodeno. "You get a guilty conscience," said Borussia Dortmund's professional soccer player Mario Götze, who, like several prominent athletes from Boris Becker, Andrea Petkovic and Felix Neureuther to Götze's World Cup goal preparer André Schürrle, was added via live video.
All proceeds from the "Tri @ home" are earmarked for good causes, especially for direct aid in Girona. Because Frodeno knows the conditions in the hospitals there very well from his former nanny. The trained nurse volunteered to help and was also added on video after a night shift. Like Frodeno's parents, who live just a few hundred meters from the Ironman Champion. They are currently not allowed to visit.
Frodeno needed around 4:15 hours for the bike route. In between, buddy and adversary Sebastian Kienle also sent a greeting: «Jan, why are you doing this? I'm sure you had a slight fever last night. » Frodeno embarked on the final marathon at a speed of over 14 kilometers per hour, the pulse pulsating at times under 120 beats. This time, however, it was only conditionally about his exceptional sporting performance.
Copyright © 2023 The Eastern Herald.