'Suicide is considered more as a sociological phenomenon involving fundamental character-building institutions like family, education, religion, politics, law, and governance, playing as a catalyst in an individual's action. Suicide being the stable fact in a society is not simply a psychological turmoil, but it encircles collective misbalances evident to such voluntary deaths. It is practically defined as how social institutions, norms, and governance, i.e., a collective-social self, can impact an individual mind 'singular personal self' to kill oneself.'- Emile Durkheim.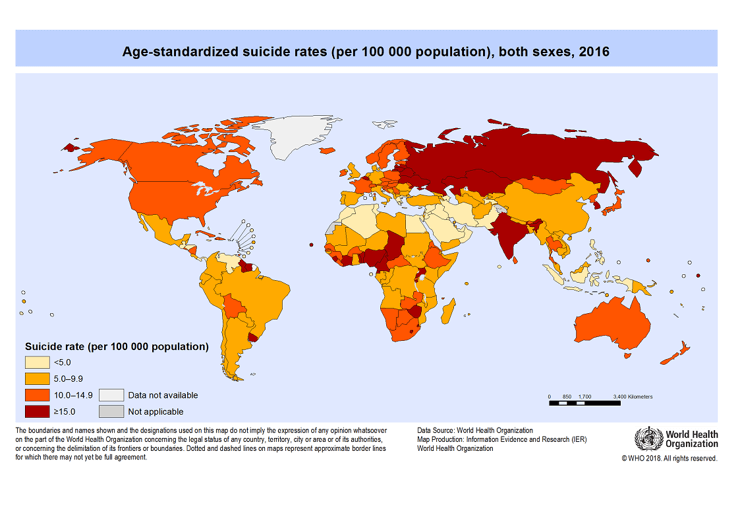 Indian society remarkably shows a stable number of suicide cases continually rising. Predictably, there is always a sociological ground behind every suicidal thought or expression. Even if human beings deny the prior understanding of a familiar environment, organized or disorganized socio-economic upheavals are determined to affect the human mind and body. But the first, reasonable attempt of explaining it on sociological facts and factors was polish off by a profound French sociologist Emile Durkheim. Durkheim's considerable reasoning and prediction of hyper-globalization or hyper-digitalization envisage how an uneven development or disruption can cause mental isolation in the community.
The article will not specifically talk about the current impact of COVID-19, but also the previous maniacal economic policies like demonetization, GST, etc. distressing the common human psyche. A strategic vision of privatizing the public sector cognate more like plundering the ordinary taxpayers, losing strength in public-driven services, thereby leaving the larger lower & middle-income group in a state of precariousness. The past discriminatory events against the minorities, including the abrogation of Article 370, outlawing Triple Talaq, and the very recent CAA NRC protest has somehow awakened the passive agitated pitch among the commoners. If we look into the narration of frequently attacking the freedom of speech in the country, targeting educational institutions has alienated many youth voices, who have been advocating for imperative social justice and egalitarian functioning of the nation. People's participation in politics and administrative decision-making was much seen through the lens of 'sit-in' protests on streets, which were partially non-active or antithetical moves to oppressive government policies.
India is already going through a turbulent socio-economic pace before the activation of COVID at last succumbing to the health condition of the people. The country seemingly battles with poverty, hunger, dire GDP growth rate, financial disturbances, gender disparity, and caste dilemma procreating hyper-critical challenges for mental depression throughout the 'pre-during-post' lockdown phases. The greater the people-environment disintegration, the higher is mental alienation triggering suicidal tendencies.
How should you keep track of suicidal tendencies?
According to the American Foundation for Suicide Prevention, 'If you observe a behavioral change in a person exhibiting to kill oneself that initially begins with social withdrawal, increase alcohol & drug habit, recklessness, frequent thinking about deaths and excessive mood swings require a psychiatric emergency.'
Often people say, 'It was unpredictable that the person would kill himself/herself, I wish I could have realized their pain.' The answer to this regretful thought is that it isn't difficult to identify a genuinely depressed person around oneself. What is necessary, then? The people mostly have to look around with tenderness and empathy. If one notices a person is hopeless, suffering a loss of livelihood, or having the utmost existential crisis would be a sign of attention and warning. In general, if a person sleeps or eats too much or too little, overly agitated or panicky, consistency in social elimination obligates humans to reach out to those isolated souls. It was once said by Mother Teresa that "Do not wait for the leaders. Do it alone. Person to Person.' One has to find a way to look around and speak with an assuring timbre to the afflicted one. Usually, one needs to initiate a conversation, timely appreciation, and minimal encouragement is the key to preventing chronic depression and risking human life, in the later stage.
COVID-19 has remarkably changed human lives not just in India but around the globe. It has caused socio-psychological disturbances to muddle the ordinary living routine. Worldwide health experts consider depression as a 'serious issue.' And suggesting 'a sleep of eight hours, taking vitamins, yoga, travel, eating fruits and thinking positive' tweeted by the Indian Ministry of Health in 2018 are too naive for curing it, informed by Mukesh Jagiwala, a neuro-psychiatrist from Surat.
Dr. Nikhil Pande, a psychiatrist, and psychotherapist informs the Times of India that 'Depression due to social disintegration, fear of exclusion, a slowdown in the rural-urban economy, employment losses, indebtedness, and financial distress has been the major causes of suicide during the pandemic.'
The figures and cases are dreadful for the country?
Suicide being a global phenomenon nearly kills eight lakhs people around the world every year. It indicates a scary picture where every forty seconds a person dies, and predictable shreds of evidence show how it stimulates more humans to commit suicide after every reported case, as construed by World Health Organization (WHO). If we carefully analyze this was verified in a recent suicide incident of the young Bollywood actor Sushant Singh Rajput that has left his fans in a state of melancholy. A fifteen-year-old teenager from Port Blair reportedly committed suicide, leaving a diary mentioning admiring the actor. Two young boys from Uttar Pradesh and Bihar who decided 'to choose death over life' being the die-hard follower were deeply affected by the drastic step taken by the actor. A ten-year-old boy from Siliguri West Bengal suffers a series of shock waves and hangs himself alike from the ceiling fan, hearing the demise of the actor.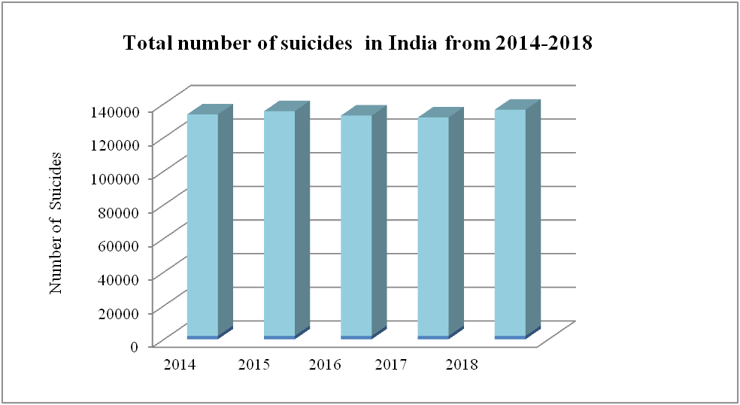 India ranked the highest among the South-East Asian countries with a 16.5 percent rate, also accounting for the third in female suicide cases, as reported by WHO. The world population review notes the Eastern-European countries record most of the cases, among which Lithuania has the highest with 31.9 cases per 1 lakh people.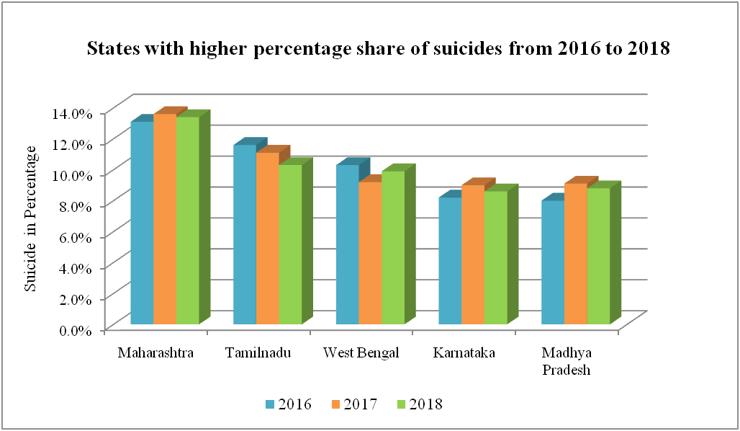 The Caribbean Islands mark the lowest along with Bahamas, Barbuda, and Antigua, nearly 0.5 or 0.8 per one lakh people. A report reveals that 79% of people die out of suicide in weak and developing economies in the world. Suicide has been the third most common cause of death among the age group of 15-19 years old. According to a report by National Crime Records Bureau (NCBR), India, 2018, suggests the majority of the suicide cases are found among the poorest, lower-income group, educated up to the higher or secondary level.
The rise in the numbers is shocking, and imperative strategic governance is obligatory.
The worst condition for our 'food soldiers,' i.e., the farmers, committing suicide in the states of Maharashtra, Karnataka, and Kerala being the hotspot for these voluntary deaths. The RTI data reveals that Maharashtra alone has recorded fifteen thousand suicidal deaths in the past six years.
The crisis of Durkheim's 'organic solidarity' due to emerging globalization did put Rambhavan Shukla, a local farmer, to die in Jaari village in Uttar Pradesh, when he faces a shortage of labor to harvest his crop and sell out in the market. The suicidal deaths account for one hundred and forty, alone in the Nagpur district during the first and the second phase of lockdown imposed to control novel coronavirus. A report reveals how the post-pandemic would give a rise in the suicide rate as one hundred and nine farmers committed suicide during the lockdown period. One of the field survey done by Rythu Swarajya Vedika (RSV), a farmer's association reveals financial debt, a crisis of laborers, slower supply chains for perishable items, etc. reports major suicide deaths of onion and tomatoes growers in Kurnool district in Andhra Pradesh (killing 17 farmers) and watermelon, muskmelon, sweet lime growers in Karnataka. The idea behind organic solidarity is more like a connected chain to operate any business activity involving a range of lenders, growers, laborers, and sellers. The fundamental idea is to follow parallel coordination and compliance with the local bodies and officers, securing the federal structure of the country. The administrative representatives were aware of the socio-economic conditions of the poorest. The state and central government would have designed a 'destitute-friendly policy' and attentive action accordingly. P.C Bodh in his recent book launched 'Farmer's Suicide in India: A Policy Malignancy,' has predicted India as the 'farmer's suicide capital in the world' estimating 75,000 suicide cases from 2016-2020.
Understanding the Youth and the Labor crisis in the country.
On May 16, during the lockdown phase, three different suicide incidents of a migrant laborer working in Surat Gujarat was reported by Indian Express. A migrant worker working in the plywood company from Odisha hang himself in Haryana, after delayed assistance provided by the government to return home. A recent data in June release twenty-eight people died due to suicide below the age of forty-five in Chandigarh alone. A mixed group of people having varied occupations include a private company's staff, senior bank officers, homemakers, and students. Himachal Pradesh records a jump of 60% in the suicide cases, mostly among the weaker section and jobless youth, including twenty-five males and sixteen females in April and May alone.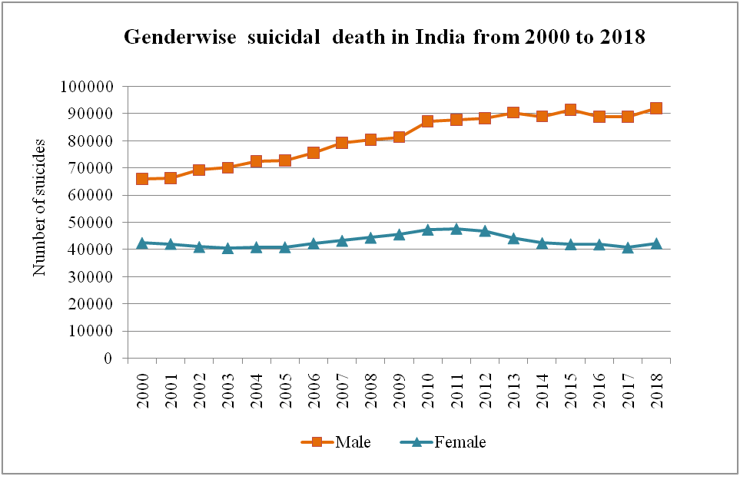 Understanding the nature of the young generation and an open discussion prioritizing their socio-economic and psychological self-development is the key for nation-building. The NCBR affirms that nearly 10,159 students killed themselves in 2018. The IITs in India requires significant counseling reflective plans as MHRD reports 27 individual suicide cases of IIT students from 2014 to 2019. The extreme pressure for excellent grades, overflowing syllabus and examination stress, lack of financial availability for quality education has dismantled the mental stability among students. A strange suicidal reason was recorded recently when a Class 10 students set herself ablaze in Malappuram, Kerala, troubled accessing online classes during the pandemic, a matter that requires urgent academic adjustments.
Future Outlook
Controlling suicidal deaths can be accomplished through appropriate suicide prevention schemes, committed to authenticated information, features, and methods of tracking human behavior should be the core governmental intention. The World Health Organization published a report in 2016, 'Prevention of suicidal behavior,' suggesting three strategic preventive designs:
The first is the Universal preventive model promoting equitable, accessible health care, minimizing drug and alcohol usage, and supporting responsible media reporting.
The second is the Selective preventive strategies that substantially target/trace the vulnerable, homeless, refugees, victims of wars, or people who suffered from abuse or trauma to ensure them a decent standard of living.
The third is the Indicative preventive strategy confirming specific psychiatric patients discharged from such trauma centers or chronic mental problems to control the rising suicide cases.
The current center-state-local governments should propitiate the above universal, selective, and indicative strategy. The national medical journal of India published a report in 2005 that urged the need for a National Policy Revival addressing suicide trends and timely evaluation of initiated schemes. The country needs immediate legislative and judicial intervention to decrease the rate of cases. The government should organize programs or operative virtual/physical desks to address the problem on a mass scale both in the urban and rural areas maintaining the social distancing protocol. Educational and professional Institutions should obligate practical counseling, regular assessment, and treatment of depression (pre-suicidal symptom) as an emergency concern for the youth. Clinical professionals should consider a partnership with the media houses and NGOs to have a collective communication deep-rooted in stimulating unified normative or moral consciousness mitigating a constant state of anxiety and depression, provoking a man to consider suicide as a last resort.
The ever-expanding community activity and growing human desires are unstoppable, which appeals to advanced supervision and specialist governance. Herbert Spencer (English sociologist) and Clemence Royer (French economist) shared complementary thoughts on incompetent progressive social evolution where erroneous welfare schemes and disguised protectionist plans act as a catalyst in multiplying complications of the destitute. Hence, a decisive welfare program for human development and egalitarian division can lower down the risk of suicides in any country. It is necessary to develop means and strategies for inter-connectivity through acculturation, strengthening a valuable local belief system to reflect much on composure, patience, and reconciliation instead of deliberate isolation.
The suicide prevention hotline number aiming to provide immediate assistance in India is 09152987821.
---
* Coauthored by Samsad Parween, Research Scholar, Department of Geography, Aligarh Muslim University.