Novi Pazar Selma Mekic, an Islamic pedagogue, calligrapher and fashion designer, and Maja Krsmanović from Belgrade, also a regionally known and recognized fashion designer, started their cooperation through social networks. The photos and fashion editorial they posted enchanted everyone. Krsmanović is a textile and clothing designer and, as she said for "Azra" with a smile, she is free to look for a husband. These two young ladies, in addition to their love for design, are also connected by Novi Pazar, where Selma was born and Maja's father was born. Novopazarac. But the girls only met during this summer, when Selma suggested to Maja to take photos in their creations.
And since my dad is from Novi Pazar and I have a lot of relatives there, I enthusiastically accepted the invitation so that, apart from visiting relatives, I had more reason to come to Novi Pazar – says Maja, while Selma adds that they "clicked" very quickly. both as friends and as designers.

I suggested that we make a joint fashion editorial in Novi Pazar and thus show that there is absolutely no rivalry between us. We managed to leave a positive impression – adds Selma.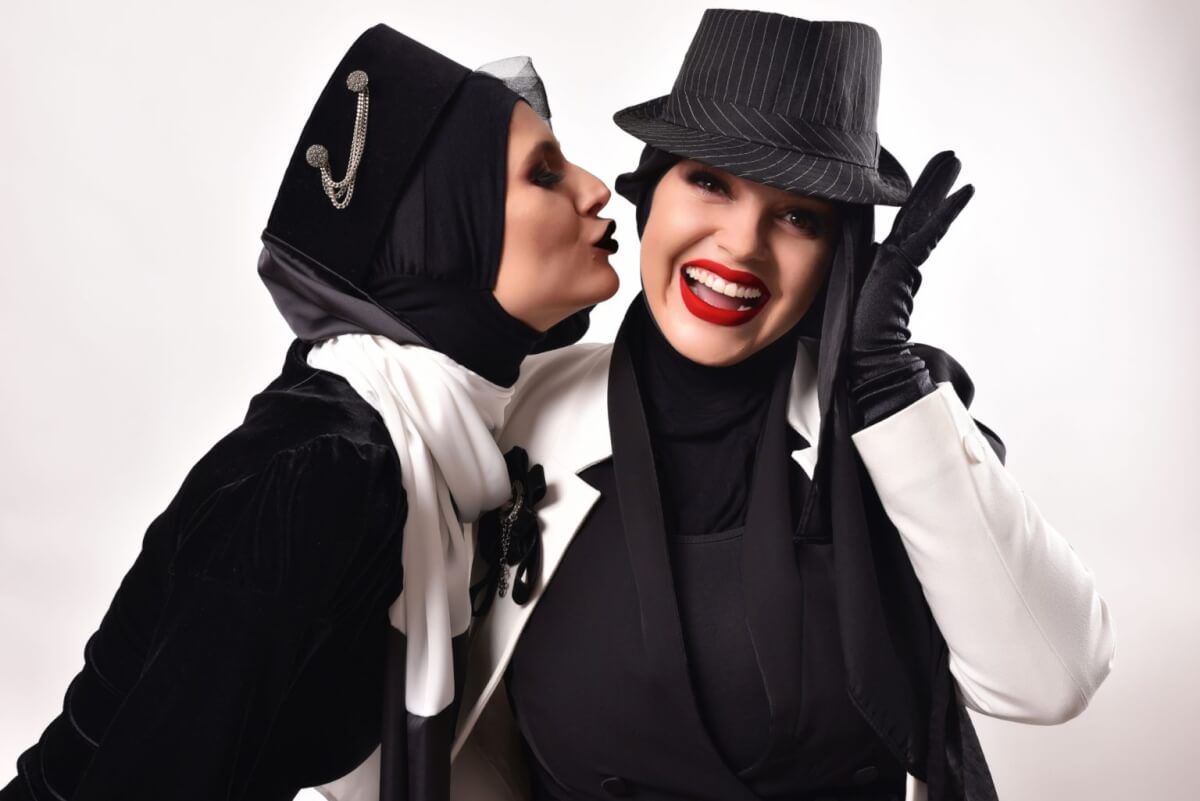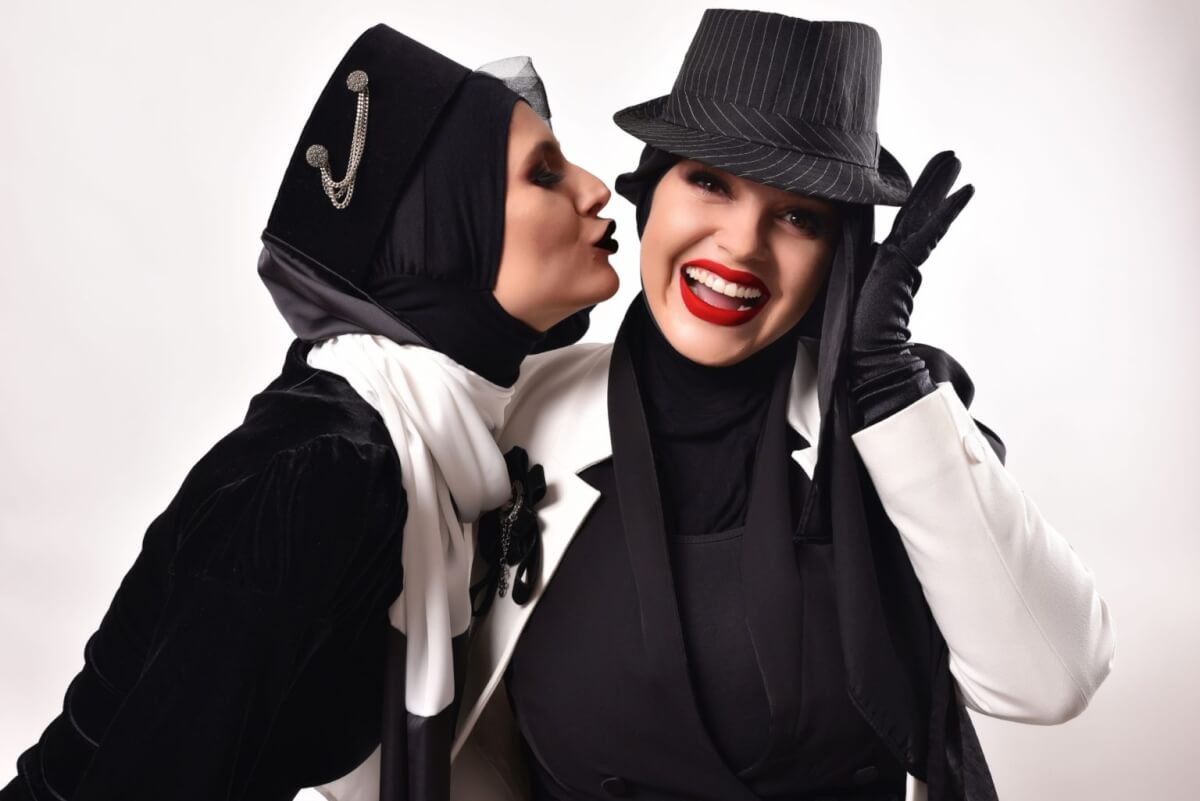 What is most reflected in your cooperation?
Maja: Our wish was to show through a fashion editorial how we complement each other. Primarily in the field of design, and then through our personalities. I think we have done it successfully, so at least the "criticism" has shown so far.
Selma: This is the first time we've collaborated, but not the last. The next joint fashion editorial will most likely be in Belgrade, God willing, as soon as the opportunity arises.
Maja Krsmanovic already has many fashion shows behind her, creations that have been heard about all over the world. Which are the most important?
May: When it comes to fashion shows, apart from Serbia, I have exhibited in Croatia and at Fashion Week in Budapest, Hungary. My clothes were heard in the world by some of the girls from Serbia, as well as from Montenegro. However, the most significant are the ones brought by my sister, model Bojana Krsmanović. She wore the creations at a promotion, ie a gala evening on the occasion of her photography for the prestigious American magazine "Sports Illustrated" in 2016 in Miami, and the same was repeated a year later in Houston. Also, last year she wore it to the traditional "amfAR" gala dinner, which is a big event of the American AIDS Research and Treatment Foundation (amfAR). A really large number of foreign media wrote about that dress, which I am especially glad about, because not only did I sew it, but I did a lot of handwork on it.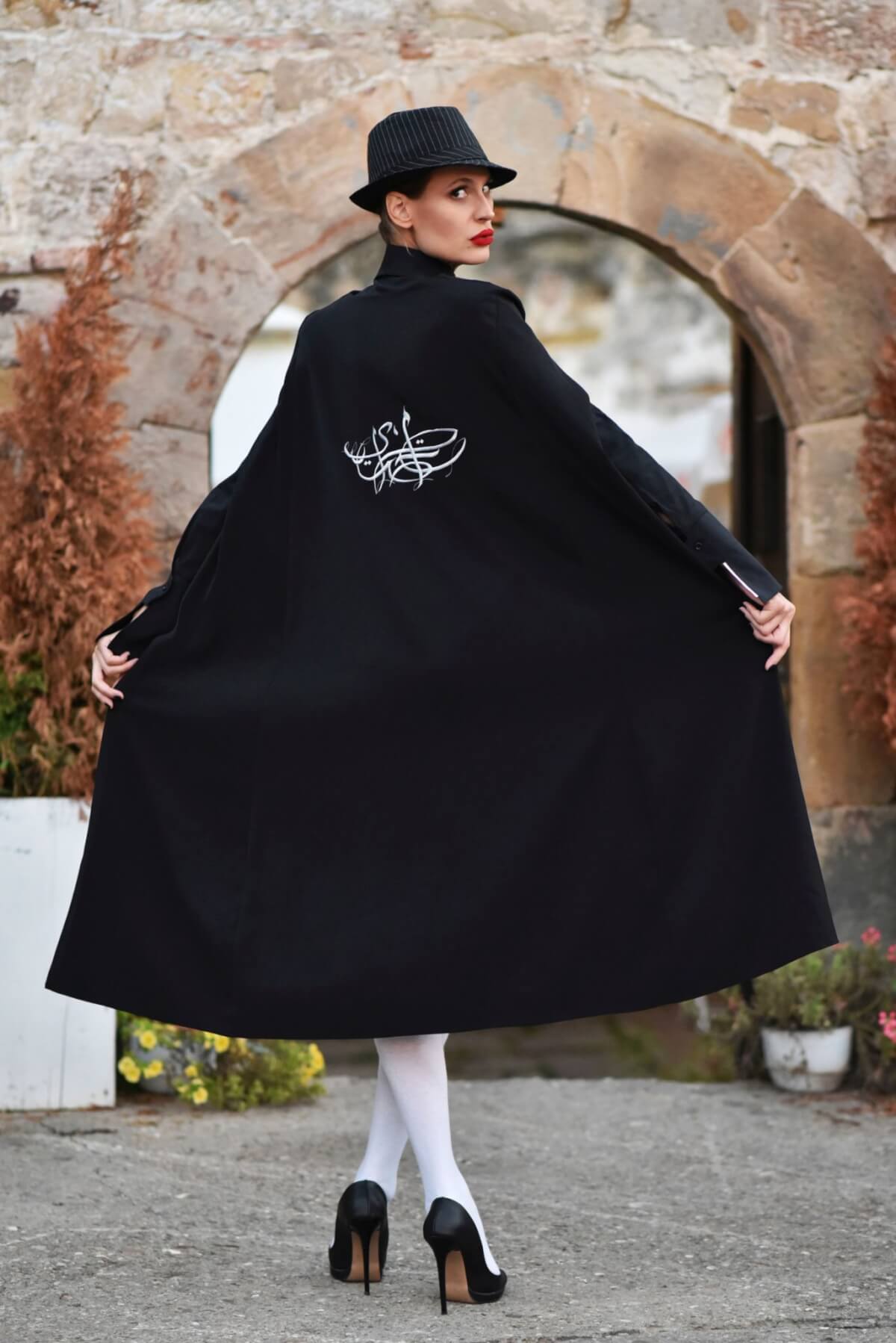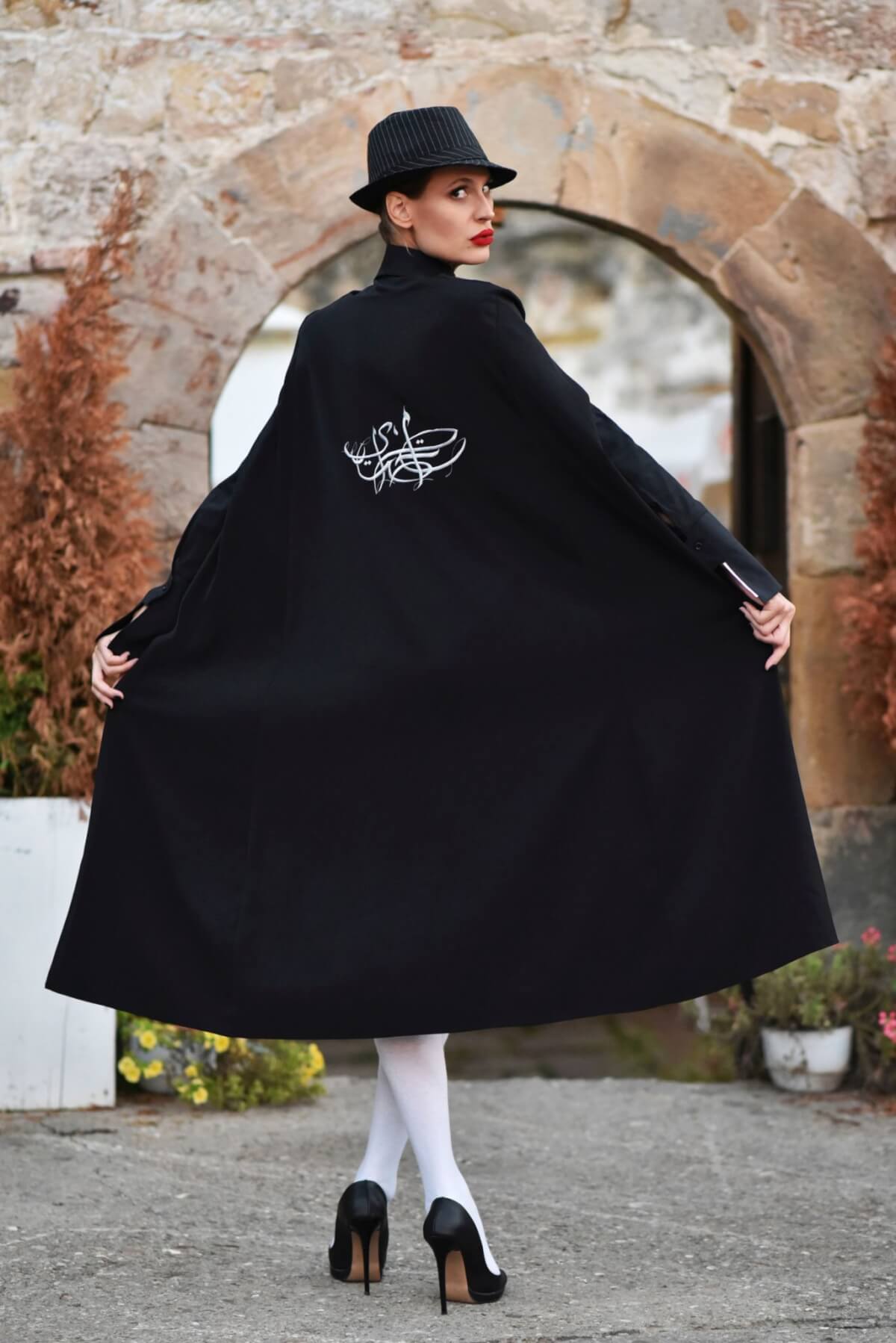 What inspired your works and what dominates them?
Maja: For many years I have been inspired by the costume of the era. Beginning in the late Middle Ages, through the Renaissance, Baroque, Rococo and early 19th century. I would also like to single out modern Gothic.
Selma: My creations are specific in calligraphic design, so I can't imagine any item of clothing without that "stamp", that's what makes my creations recognizable.
What is the specificity of these new creations?
Maja: Inspired by the costume of the era and one of the periods, for me the Middle Ages were the inspiration for our fashion editorial. From the 11th to the 14th centuries, women in the courts of England, Germany, and other countries wore a piece of clothing that covered their head, neck, face on both sides, and chin. In the same way, the heroines of Disney cartoons are shown, namely the villa Maleficent (Grdana) from "Sleeping Beauty" as well as the evil stepmother from "Snow White and the 7 Dwarfs". I can freely call them, especially Maleficent, my muses. In addition to the above, my inspiration was the hijab, which is almost identical to this medieval item of clothing.
I know that many women who wear the hijab deal with prejudices that they "obey" their husbands, fathers, that they have no right to their opinion, even education and the like. My painting with the hijab was in a way also support to these women, and on the other hand, a great homage to my muse Maleficent. It is Selma, not that she is mine (laughs), one of the representatives of women who wear the hijab, and she is so versatile. Educated, eloquent, and above all so much of my own that it goes into eccentricity, which I, as an artist, love very much. It is said, "A suit does not make a man, but it says a lot about him." In my opinion, it is a double-edged sword. We can't express much through clothes. Education, information, attitudes, attitudes towards people… That is why I do not tolerate the labeling of persons, especially women by men only on the basis of clothing. Unfortunately, that is every day.
Whether she is buttoned up to the throat or has a deep cleavage, a woman must be treated, respected, valued identically. My direct message to men is to think about this.
In the fashion editorial, we wore dresses of my new brand "Maya & Bo", scarves of Selma's design, as well as a beautiful vest/dress she designed, accessories (cocker necklace, bracelets, and brooch bow) of my "Mysticalby Maja Krsmanovic" brand. We also used jackets that are our private property and so we got top styling.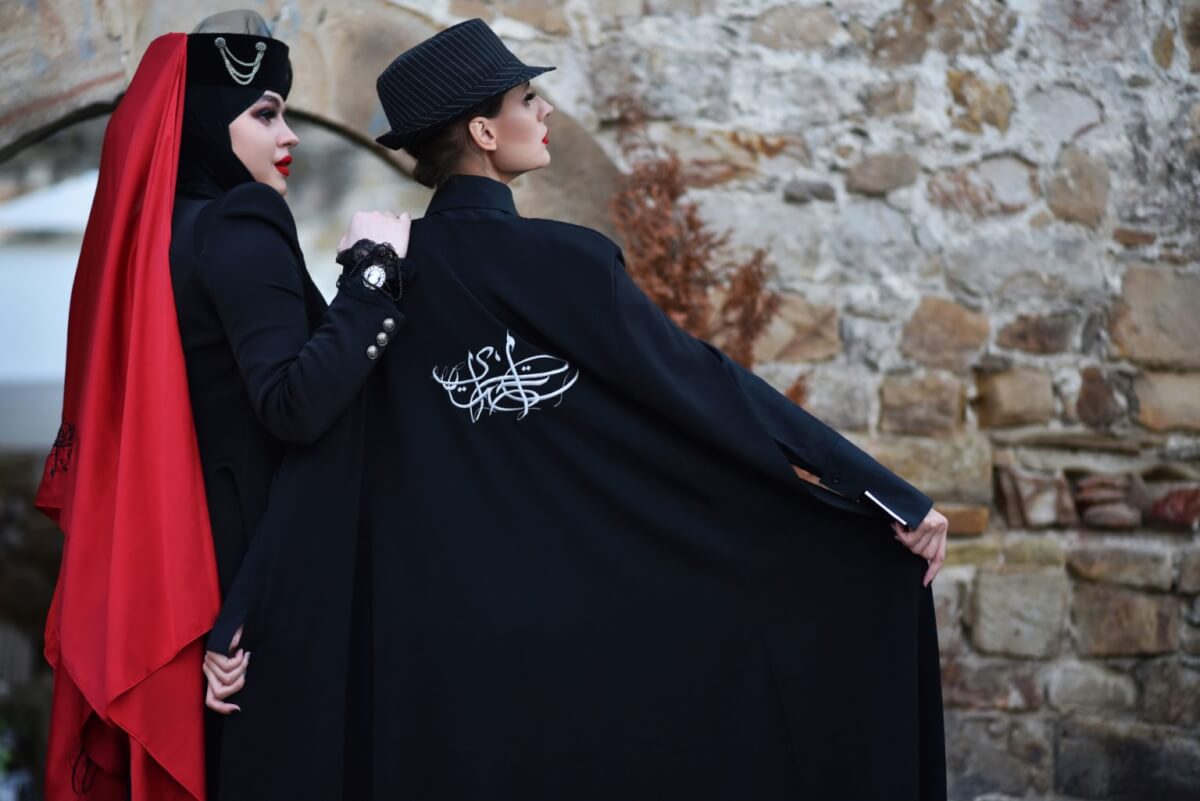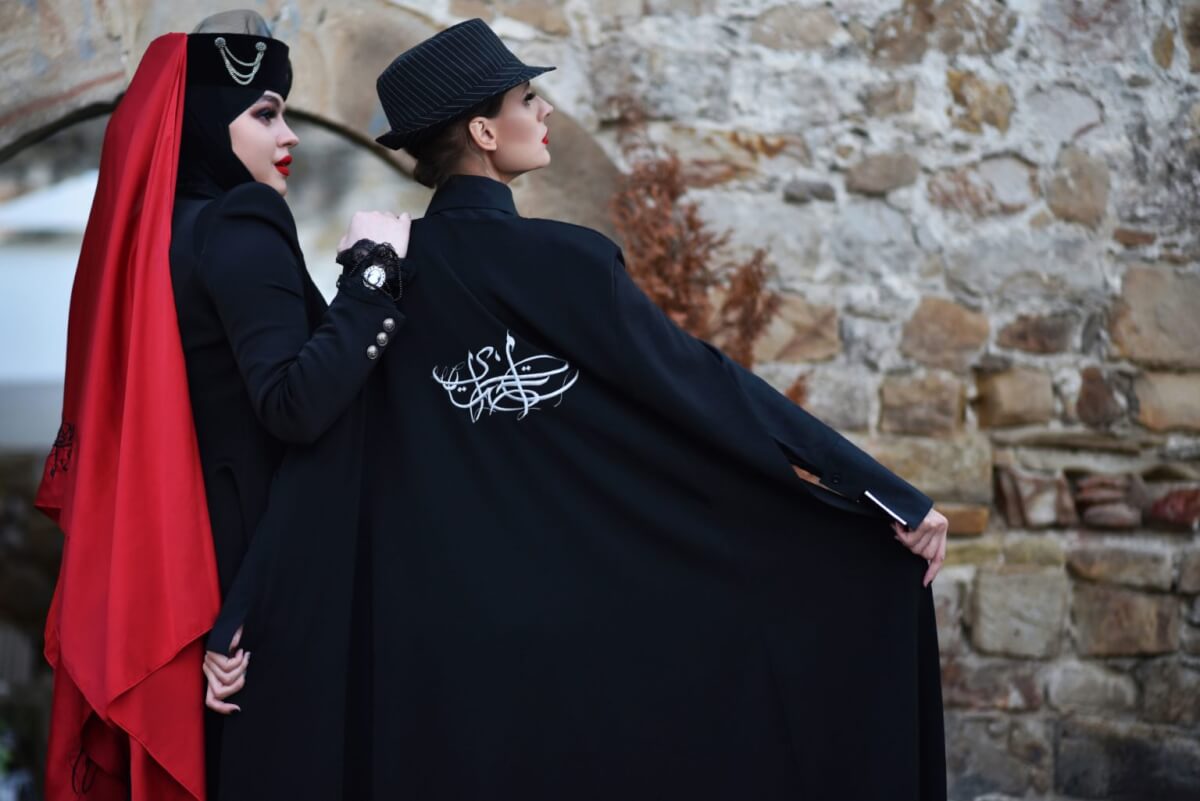 Selma: The specificity and point of our joint creations is that we complemented each other, given that our styles are completely different. Maya is inspired by the epoch and gothic, while I am inspired by Arabic calligraphy, which is the main art in the history of Islam.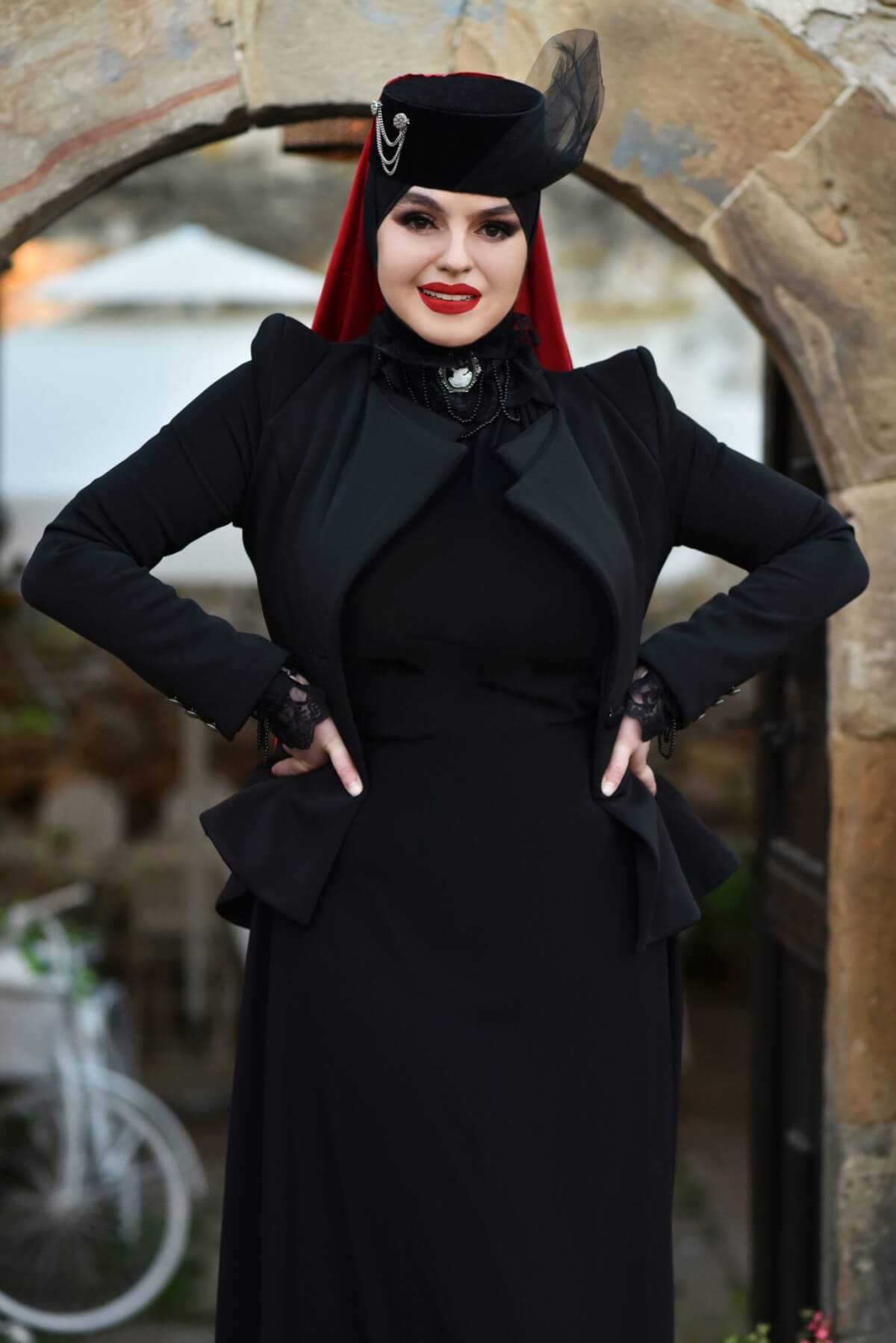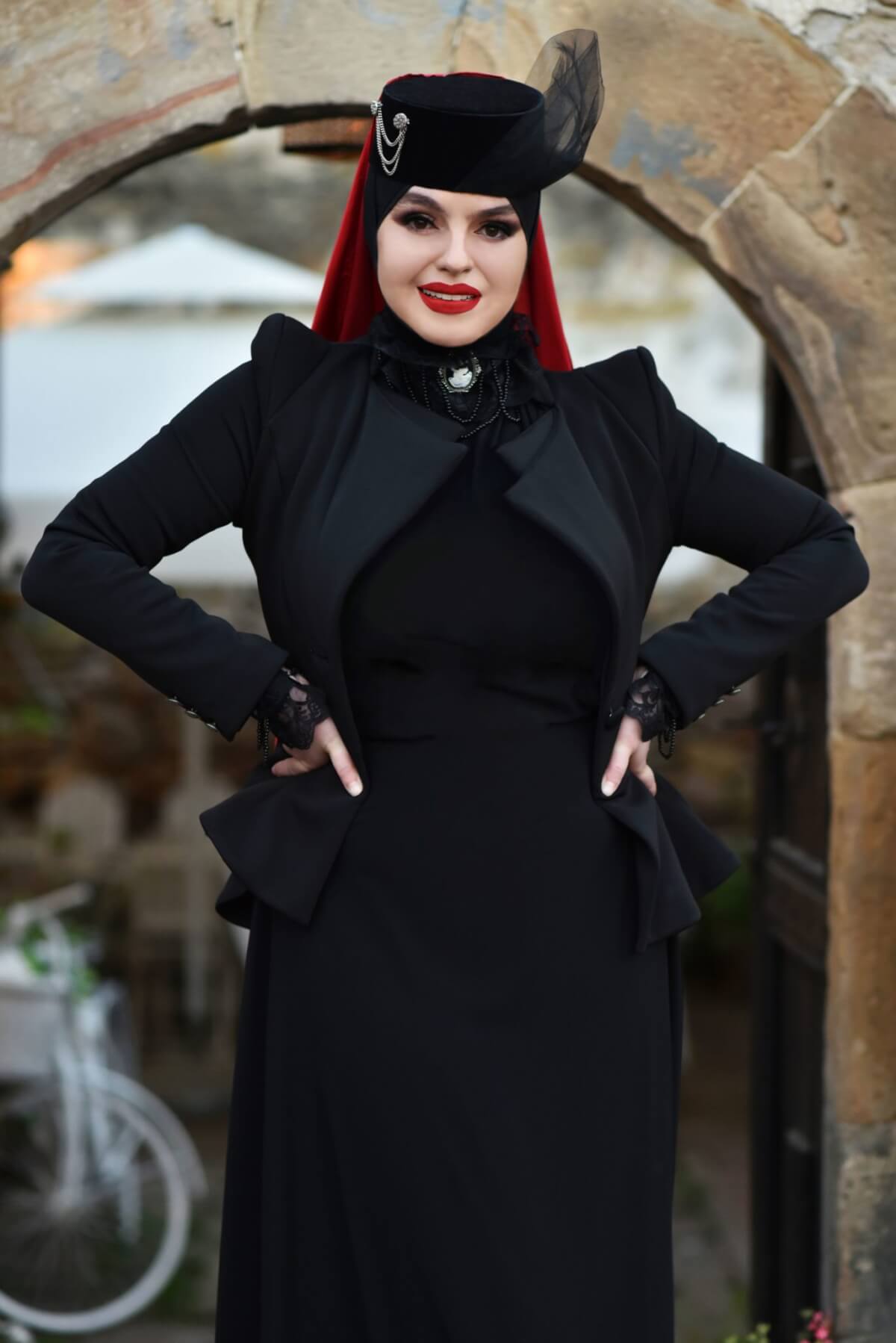 How many today's women, especially in our area, follow fashion and world trends. Which do they choose first: what do they feel most comfortable in, or do they resort more to what is not "for every day"?
May: Extremely follow. In my opinion, too. When I say too much, I mean uniformity, uniformity, indefiniteness. The modern textile and fashion industry is too focused on "Fast Fashion". Between the two basics of the collection, which are spring-summer and autumn-winter, fashion houses around the world are launching "intermediate collections". It often happens that they are subsequently supplemented with new models of garments that they believe will be a complete hit on the market. Thus, women, wanting to keep up with current trends, resort to becoming a mass, and thus an impulsive consumer. Of course, that is the goal of fashion houses and they succeed in that. I don't like it, but everyone has the right to dress the way they want. I would like our women to turn to domestic designers and buy our goods. So they would be far more original, authentic, even if it wasn't "everyday" clothes because as soon as they buy mass-produced clothes, they are clothes in which they feel more comfortable. Of course, it is the price that dictates what will be sold.
Selma: Women in our area pretty much follow fashion and world trends, and whether they choose what they feel most comfortable in or what is not for every day, it is an individual matter, depends on the characteristics, but also of course on the opportunity in question. There are no rules.
How is the love of design born? Is aesthetics something that is an innate talent or does it evolve and build over time?
Maja: My love for design was born when I was five or six years old. That's when I got Her Majesty the Barbie. In my opinion, the most ideal doll ever made. Platinum long hair, blue eyes, youthful appearance, and slender body. Of course, I immediately wanted to make her clothes, and my mom helped me with that. As the number of Barbies increased, so did my Barbie shows. At the age of eight, I started drawing, making paper dolls and clothes for them. It was already easier to do than to sew clothes for Barbies. I soon started drawing creations that I didn't want to make paper dolls from, but I wanted them to "stay" on paper.
Aesthetics is something that is innate, but it is "honed" through education and training. Also, it is very important to constantly work on ourselves, in order to upgrade, given that everything around us can "take" us and become a new inspiration that will be applied through work.
Selma: I also showed a love for design from a young age, drawing women with hats, long gloves, and ball gowns. Unfortunately, I did not study design, but due to my great love for that profession, I managed to influence design waters in the third decade of my life. Although, I'm sure love of design can be born in some later years as well.
Maja especially collaborates with her sister, model Bojana Krsmanović. What does that part of the job look like?
Maja: Uhh, of course. I think for the public our relationship seems far more harmonious than it really is. Bojana is often photographed in my creations, I also mentioned that she took some to important world events, and we recently founded a joint brand "Maya & Bo". It is a collection of summer women's dresses, many of which can be worn during the day and in the evening, only, for example, the shoes are changed, the clothing combination is supplemented with a blazer, bolero, etc.
When we started designing the collection, Boba pleasantly surprised me, because she gave me some ideas, and I, as a trained designer, accepted them without vanity. I still don't believe I did it (laughs). Basically, I take the lead in this project, so there are more disagreements.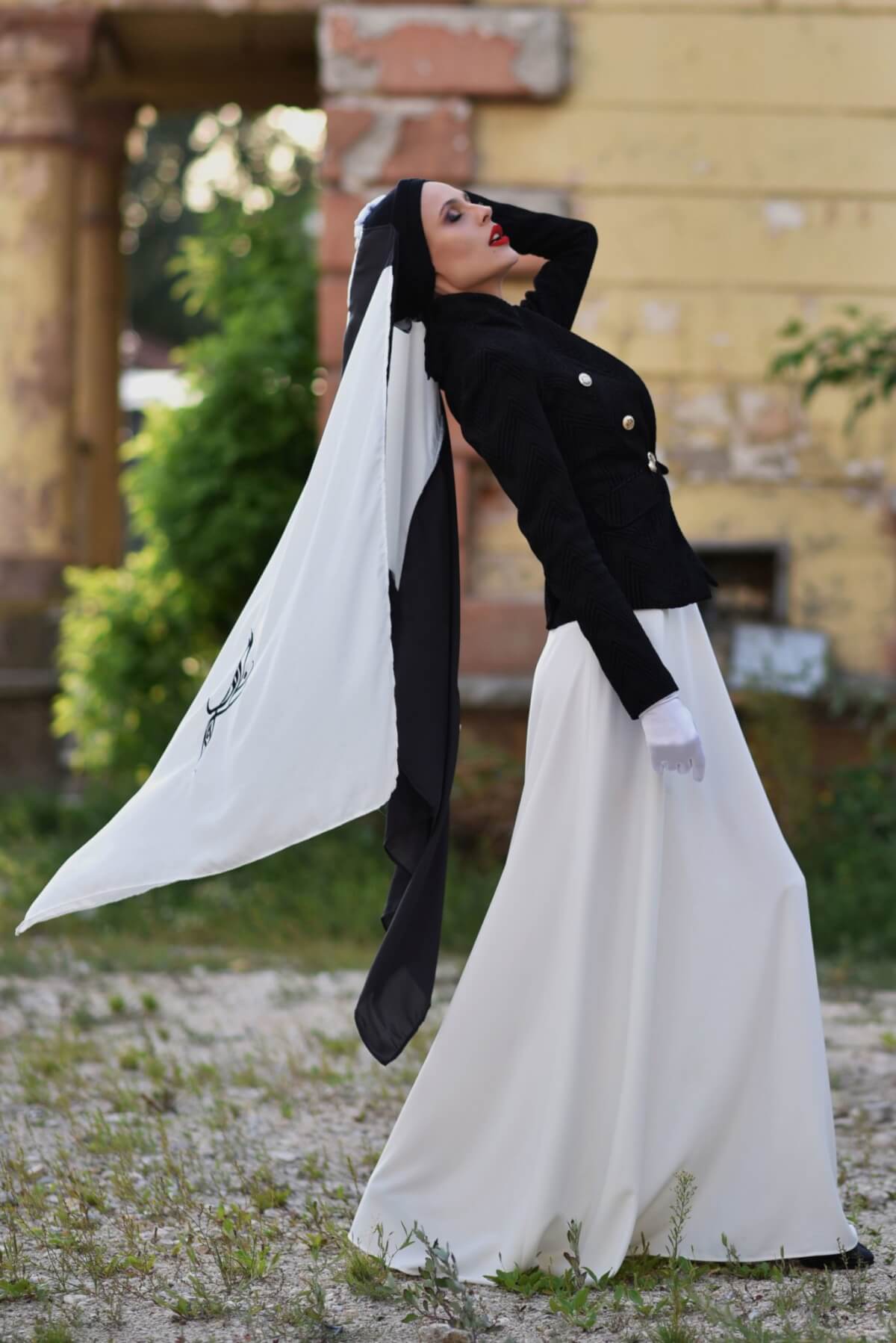 Is it possible to make a living from that job nowadays?
Maja: Whenever I worked for fashion houses as a designer or arranger, I had a regular income, ie a salary, and since I started on my own, it requires a lot of investment, and I am not able to do it and therefore it is a huge, lion fight. I have no income on a regular basis. We will see in time how it will be with the newly formed brand.
Selma: Nowadays for design it is very important to offer something that is authentic, to be able to send anywhere in the world, to be represented in the media, to be active on social networks, and to know how to present what you do, to offer a product that is commercial, while again maintaining some level. And of course, to have money. Although, if I had waited to have a lot of money, I probably wouldn't have ventured into design waters at all, because I don't have sponsors or a "good back". What matters to me is that I always have my money and I don't have a superior. Being your own boss really has no price, especially for people like me who don't like restrictions. And the fact that I do what I love, and therefore I do not see design and calligraphy as a job but as a pleasure.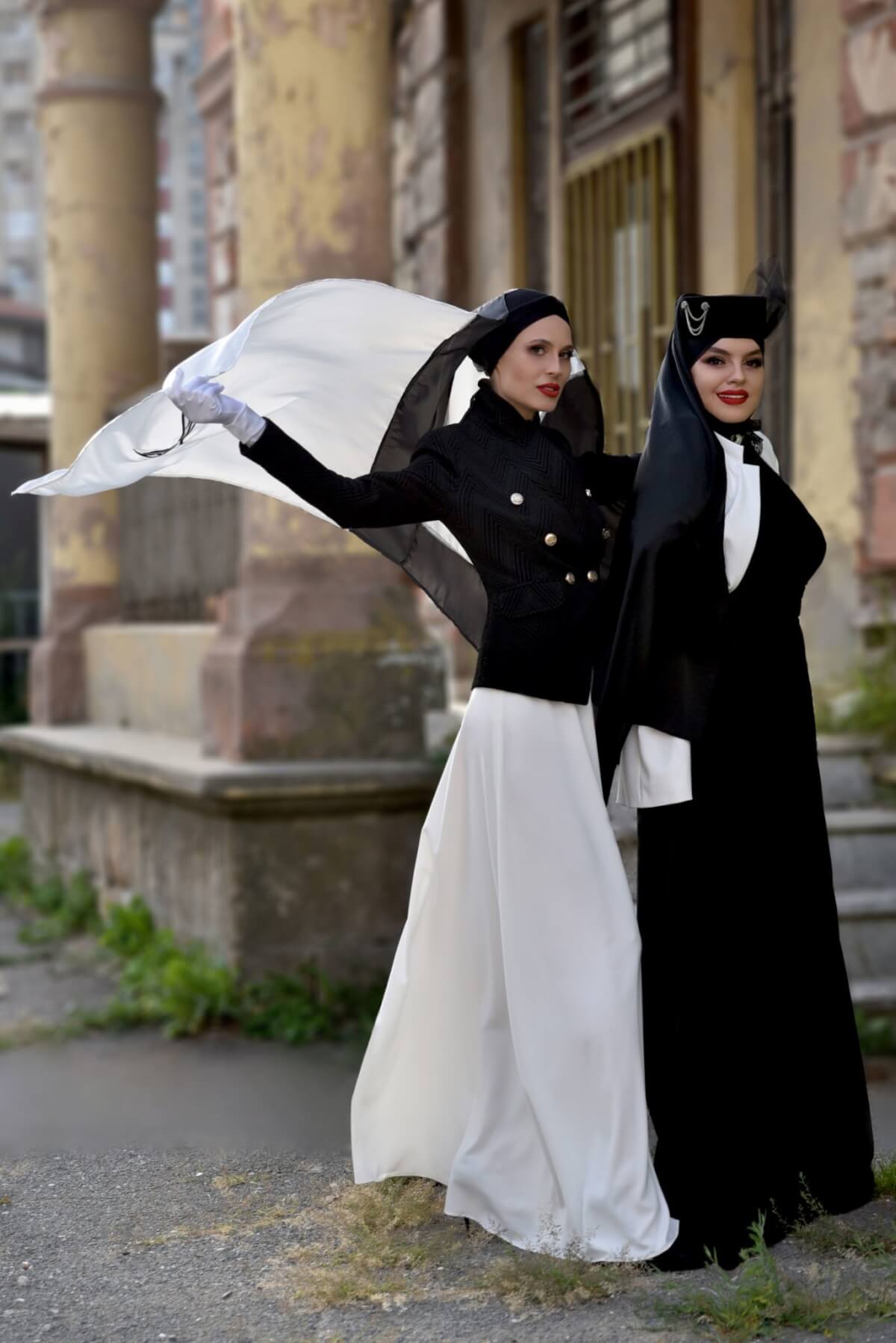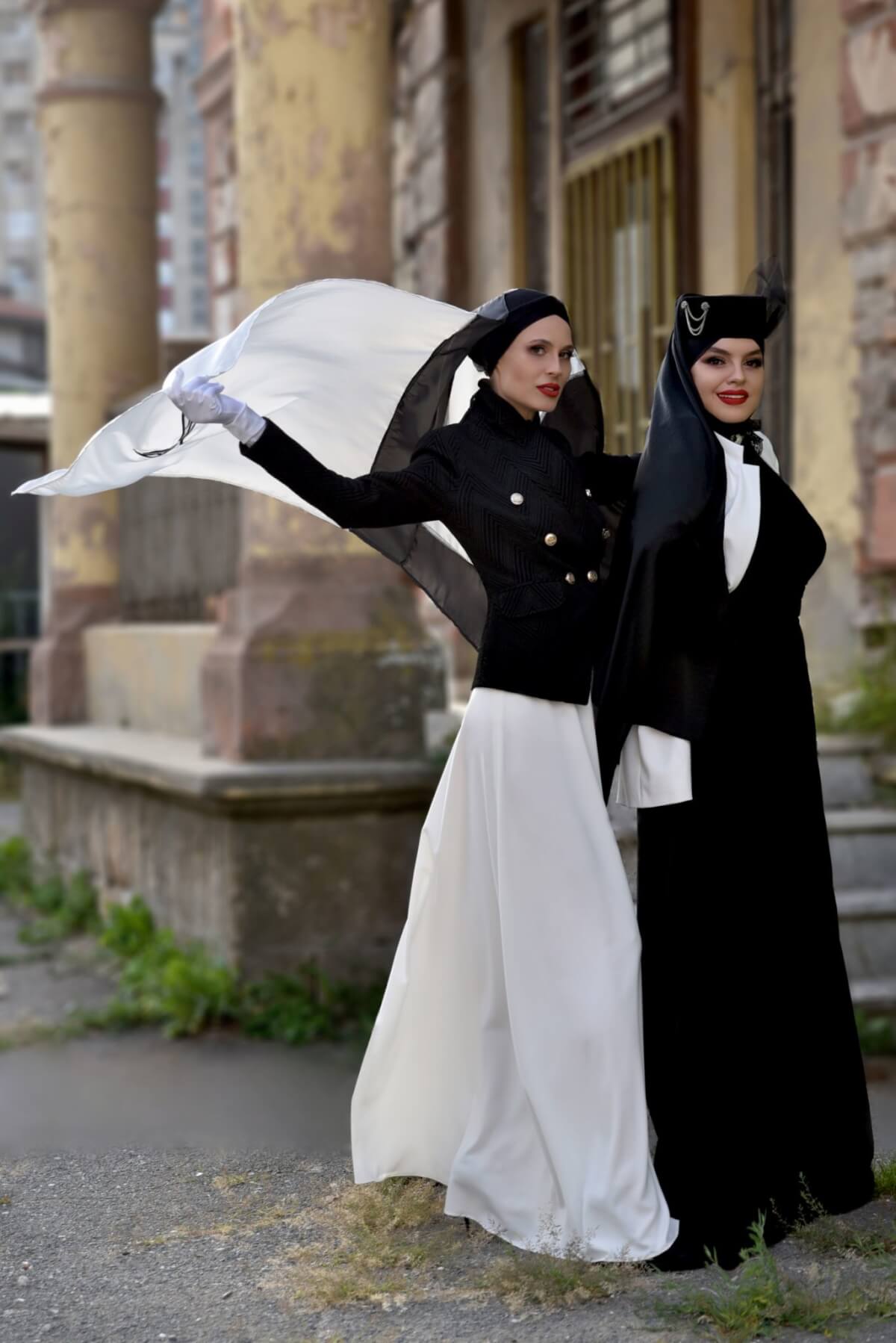 Do you have any tips for the fall/winter 2020/2021 season?
May: My advice and what will be in trend do not match. I am an animal protector (especially stray dogs and cats) so my advice now and forever is: "Women, please don't wear real fur!" I am aware of how many fur coats, jackets, vests and boots with real fur details each winter they buy, so I'm a staunch opponent of that. Especially today when the production of artificial fur has been brought to perfection. My advice is, in fact, more asking what not to wear. When it comes to the trend for autumn/winter 2020/2021, I honestly could not single out anything as something that I like. Too accentuated shoulders, so much so that the female figure seems completely disproportionate, almost grotesque. Stitched jackets, blazers, vests, patterned dresses with large collars reaching to the shoulders, pants, blazers reminiscent of the masculine silhouette of the 80s.
Selma: The advice is: wear what you like and what you feel best about. It is a rule that I follow for any season and any year. Personally, I don't follow many trends. I wear what I like and I like to experiment. I wear both more expensive and cheaper clothes, and no matter how I build my brand, it doesn't play a big role to me whether I'm going to wear branded things or those that aren't. The most important thing is to know how to present what you are wearing, so I will paraphrase one saying: it is not up to the dress, it is up to the woman. So it is very important in today's time where trends of exclusively expensive brands are imposed, to influence women, especially young girls, break their lower value complex and show them that it is not the price of the dress that matters, but that they can be noticed in the trend. promote world stars on the red carpet.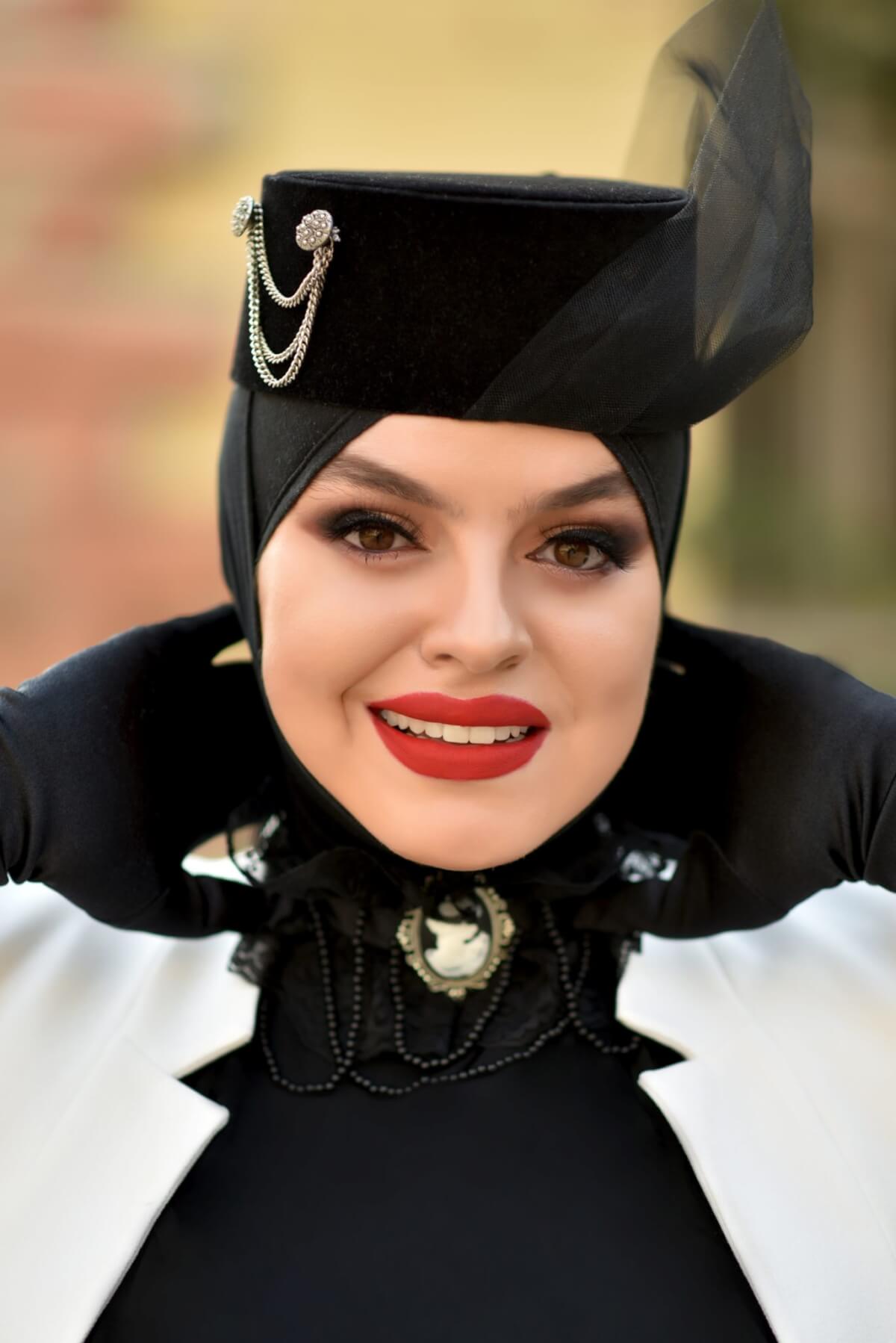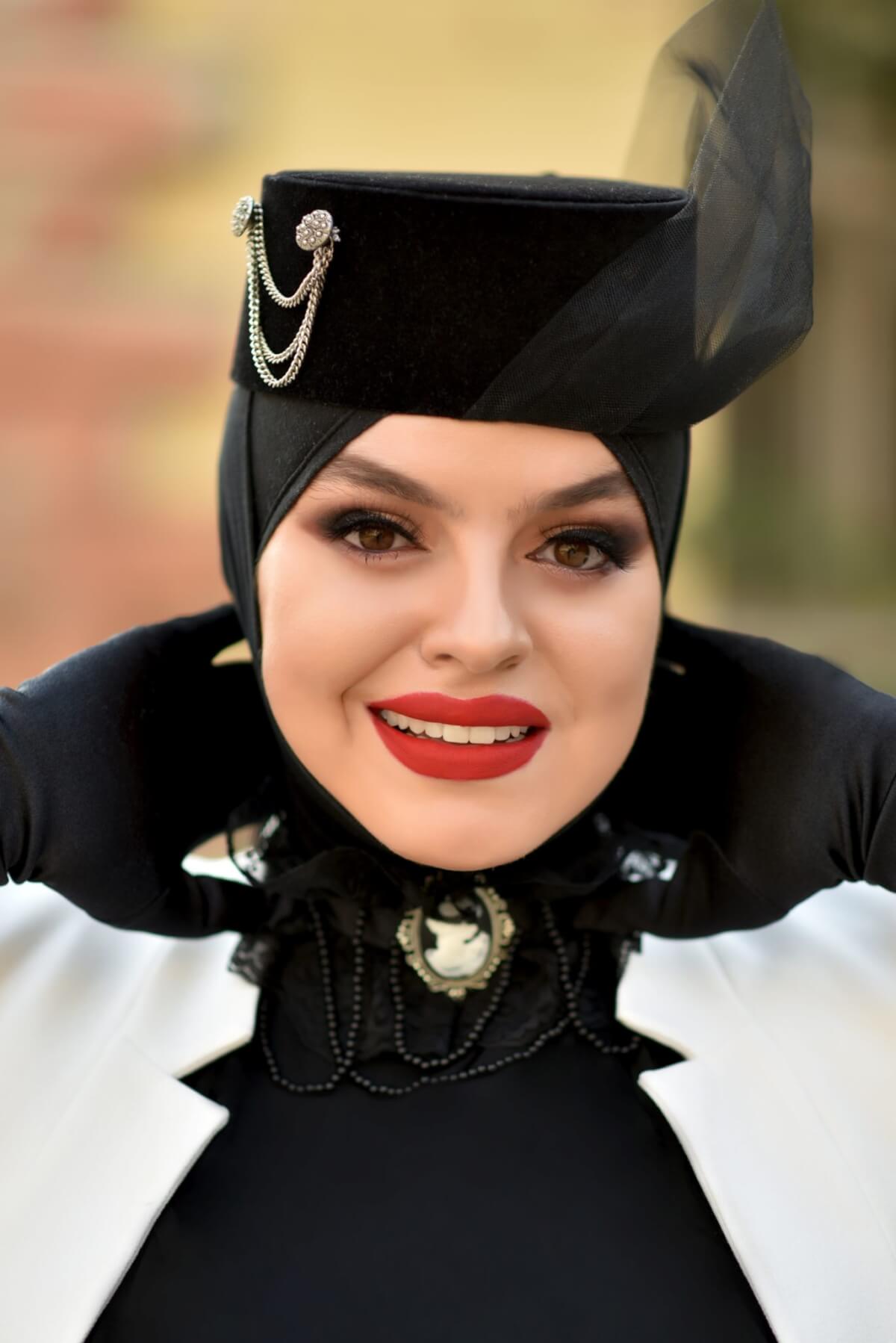 How much has the Coronavirus pandemic disrupted the fashion world?
Maja: Corona has disrupted all activities, including the textile and fashion world. Due to the economic crisis due to the pandemic, the purchasing power of the people decreased and thus it affected all economic branches.
Selma: The Coronavirus pandemic has disrupted the fashion world just like other industries. I sincerely hope that everything will return to normal as soon as possible and that there is nothing more behind all this. I've been getting suggestions to design masks with calligraphic work, but I really don't want to, because I can't be inspired by something I don't like. And those are masks. Be it the ones against the Corona, or the ones worn by people to hide their real faces.