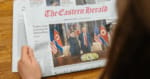 Goloseevsky District Court decided to arrest a former policeman who, while drunk, became the reason Road accident in Brovary The 4th of October. This was reported by the press secretary of the prosecutor's office of the Kiev region, Alexander Bogacheva reports "Ukrainian truth"…
"Today the Goloseevsky District Court of Kiev has chosen a preventive measure in the form of detention," the message says.
On October 4, in Brovary, Kiev region, a drunken police officer committed a fatal accident. His car hit two women at a crosswalk one of the victims of the received injuries died, the second was hospitalized.
Thousands of people die in car accidents in Ukraine every year. Experts say that the causes of accidents are the poor condition of roads and road infrastructure, as well as non-observance of traffic rules by both drivers and pedestrians.
In 2018, more than 24 thousand road accidents with injured were recorded in Ukraine, in which 3.3 thousand people died, more than 30 thousand were injured. In 2019, the statistics worsened: 26 thousand road accidents with injured, almost 3.5 thousand dead, and almost 33 thousand injured.
In 2016, more than 4.5 thousand people died on the roads of Ukraine. Three-quarters of them are men, mostly of working age.