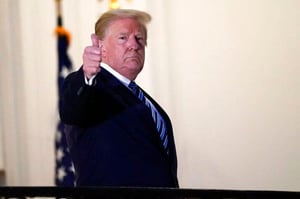 Public health and epidemiologists are shocked after US President Donald Trump told his people not to "fear" the coronary heart disease and took off a mask despite being infected yesterday. The president's words and rhetoric run counter to his government's recommendations over the epidemic that has killed more than 210,000 people in the country.
Trump was discharged from Walter Reed Hospital yesterday, where he stayed for three nights after being diagnosed with coronary heart disease late on Thursday. The president was given oxygen when oxygen saturation in his blood dropped. He was also given various drugs, including steroids and antivirals.
The president returned to the White House shortly after declaring on Twitter that Americans should not fear the virus or let it control their lives. Trump posed for pictures on the steps of the White House, tearing off his mask.
However, it is not clear whether Trump has fully recovered from the illness or whether he is now being diagnosed with it. Timings of when the president was first diagnosed have been circulating, but it is generally said that serious illness can occur as late as the eighth to tenth day after infection.

Epidemiologists are close to vomiting
Some had hoped that Trump's illness would change his attitude towards the epidemic, which he has made every effort to downplay so far. He would even finally encourage people to wear a mask. His comments and actions yesterday stifled all hopes of such a thing. Not only did Trump take off his mask, but he entered the White House without a mask.
"Which White House employee should want to come to work tomorrow ??? Epidemiologists just need to vomit, "tweeted Eric Feigl-Ding, an epidemiologist with the American Scientists' Association, yesterday.
Dozens of other public health experts agreed.
"I can hardly say, this is crazy. This is just so completely irresponsible, "said Harald Schmidt, an assistant professor of health care at the University of Pennsylvania.
William Schaffner, an infectious disease specialist at Vanderbilt Medical School in Tennessee, said Trump's message to the nation was dangerous because it urged the president's supporters to ignore the recommendations of the authorities to ensure their safety.
"This leads to more reckless behavior that leads to more virus infections that leads to more illness and more illness leading to more deaths," Schaffner said. according to the New York Times .
Seems contrary to the recommendations of health authorities
White House spokesman Judd Deere said yesterday that all necessary precautions had been taken to ensure the safety of Trump, his family, and his staff.
"Access to the president in person will be severely restricted and appropriate protective equipment will be used when people are close to him,"

— Deere said in response. Washington Post .
Doctors would continue to monitor the president's well-being to ensure his full recovery.
However, this arrangement goes against the recommendation of the US Centers for Disease Control and Prevention (CDC) that people who are diagnosed with Covid-19 wait at least ten days from the onset of symptoms to see other people.
It also made a car trip that Trump took outside Walter Reed Hospital on Sunday. Trump sent his bodyguards with him to greet his supporters outside the hospital, exposing them to infection.
Trump tweeted at noon that he said the flu season was about to begin. That many die every year from the flu and sometimes more than a hundred thousand people. That is despite the vaccine.
"Are we going to close our country?" The president asked and replied: "No, we have to learn to live with this, as we are learning to live with Covid, in most groups much less deadly !!!"
Flu season is coming up! Many people every year, sometimes over 100,000, and despite the Vaccine, die from the Flu. Are we going to close down our Country? No, we have learned to live with it, just like we are learning to live with Covid, in most populations far less lethal!!!

— Donald J. Trump (@realDonaldTrump) October 6, 2020
The US Centers for Disease Control and Prevention estimates that the flu has caused 12 to 61 thousand deaths a year since 2010.
Copyright © 2023 The Eastern Herald.