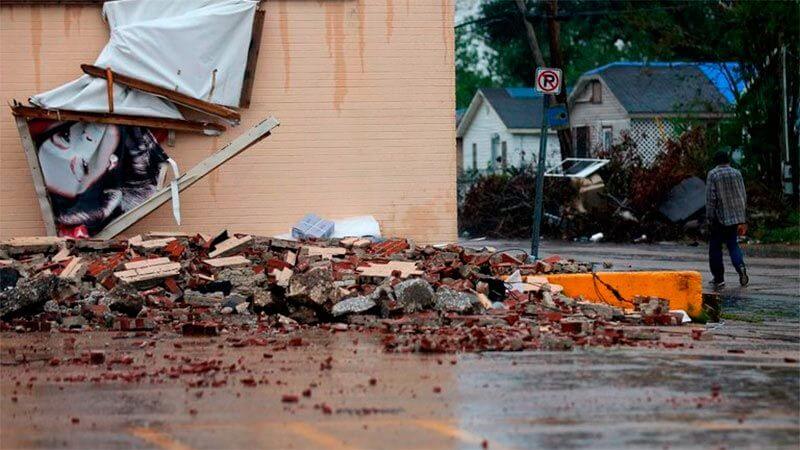 Hurricane Delta, with winds exceeding 150 kilometers per hour, impacted the state of Louisiana, in the United States and thousands of people living on the coast and already affected by Hurricane Laura last August, abandoned their homes.
Meanwhile, some 75,000 residents of the town of Lake Charles, were preparing tonight to leave their homes helped by about 2,400 members of the National Guard.
Delta impacted as a Category 2 hurricane off the coast of Louisiana, with winds of 155 kilometers and, upon landfall in the town of Creole, it became the 10th cyclone to hit the United States this year, which is a record. meteorologists indicated.
The National Hurricane Center (NHC) warned of the risk of strong storms and floods, prompting authorities to issue evacuation orders, according to the AFP news agency.
The state of Louisiana mobilized the National Guard while the population of the state's coast fled their homes.
"I don't know if we'll have a house when we get back," said Kimberly Hester, a resident of Lake Charles, where Delta will pass.
This city of about 75,000 inhabitants is known for its oil refineries and is in the midst of the expected hurricane path.
The NHC warned of "very dangerous storm surge" on the US Gulf Coast, with flooding of up to 10 feet.
The hurricane has already passed through the Mexican Yucatan Peninsula as a tropical storm without causing major damage and without reported victims.
The state of Louisiana was hit by Category Four Hurricane Laura last August.
Governor John Bel Edwards asked residents to be extremely cautious with Delta and announced that 2,400 National Guard personnel were mobilized to help.
In the city of Lake Charles, many houses were still covered in tarps from damage from previous cyclones, and Edwards warned that Delta could blow up debris from previous storms like missiles.
Traffic was jammed yesterday in both directions of the Lake Charles Freeway due to the number of people leaving the city.
Terry Lebine, who had already evacuated to the town of Alexandria, about 100 kilometers to the north, as Laura approached, was now preparing to escape again.
"It is exhausting," he told AFP. "I have my 81-year-old mother in a state of health that is not the best. We had hardly returned home after Laura and we already have to go again because of Delta. We were home for two or three weeks," he says.
Delta is the 26th storm of an unusually active Atlantic hurricane season. In September, the meteorologists ran out of names to designate them and had to use the Greek alphabet.
As the temperature of ocean waters rises due to climate change, hurricanes became stronger and scientists say that the number of category 4 and 5 storms, the most dangerous, will likely increase.