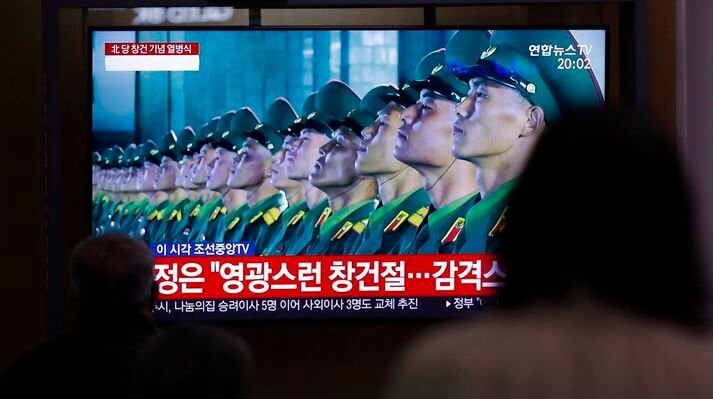 Long-range missiles were among the weapons on display at a North Korean military parade held tonight, Saturday night, to celebrate the 75th anniversary of the founding of the North Korean Workers' Party.
In North Korea, it is customary for the latest weapons to be displayed at such military demonstrations, and experts say that the missiles, which were displayed last night, could drift between continents.
This is the first military parade in the country in two years, and missiles, like those shown at the military parade tonight, have not been shown at military parades since US President Donald Trump and North Korean leader Kim Jong-Un first peace talks in 2018.
Neither foreign nor foreign news outlets were allowed to follow the event, so scholars have had to look at news and footage released by North Korea's state media.
Kim said in a speech at the event that the country will continue to "strengthen" its military for "self-defense and deterrence."
He also said he was grateful that no North Koreans had contracted Covid-19 disease.
"I wish all those who are battling this evil virus worldwide good health," Kim said.
Experts say it is highly unlikely that the virus did not reach the country, but drastic measures have been taken in North Korea to prevent it from entering the country. The state border was closed in January to prevent the creature from entering neighboring China, and reports have surfaced that authorities have allowed border guards to shoot at anyone approaching the border.
Last month, Kim apologized for being shot dead by a 47-year-old South Korean by North Korean forces. He was found by the country's forces in the sea under North Korean jurisdiction and was shot dead and then set on fire.
If you still got here …
… means that you liked the article or are concerned with the subject. We want to come up with as many articles as you can read to the end. Now you can tell the journalists directly what you want to read and in what format. We keep journalism NOW open to all. Simply visit
contact us
and let us know about it. We have no oligarchs or politicians behind us and no one dictates to the publisher how to write about one subject or another. Your support will help us maintain this independence. Any contribution, no matter how big or small, is extremely valuable to us.
Support NOW with only $10 per month
. Thank you.