Voters in several key states could still secure the re-election of US President Donald Trump, despite the fact that Democrat candidate Joe Biden has now been holding a decisive national lead for weeks. The odds are still in Trump's favor, but his chances are not out of the question.
If national opinion polls are accurate, Biden is set to win a landslide victory over Trump in tomorrow's presidential election. Biden's lead is now 7.8 percentage points, according to the Five Thirty-Eight polls, 7.2 percentage points above the Real Clear Politics average, and nine percentage points according to The Upshot. It is almost certain that Democrats will receive more votes nationally than Republicans in this seventh of the last eight elections.
However, the US presidential election does not depend on which candidate gets the most votes nationally, but who can secure the most votes. The president is not directly elected, but each state gets voters in proportion to the population. The candidate who wins 270 votes gets elected as president, regardless of how many people voted for him nationally. The Electoral Council elects the President in December.
---
By landing victories in several key states tomorrow, Trump can still win re-election, despite the fact that the election prediction website Five Thirty-Eight gives him only a 10% chance of standing as a winner. Relatively little needs to change for the election results to go from being a landslide victory for Biden to a narrow victory for Trump in the Electoral Council.
The electorate is crucial
There is almost no real competition between Trump and Biden in most US states. Biden thus finds victory in populous and liberal states such as California and New York, but a large part of the southern states are certainly on Trump's side.
Democrats believe they will definitely win in sixteen states and probably in three more . Republicans know fifteen states and are likely to win seven more states. In that sense, it is possible Biden will have 212 more voters than Trump 125.
Instead, the outcome of the presidential election depends on the situation in some key countries, where the differences between the candidates are narrower. Although Biden has fared better in opinion polls in many of them in recent weeks, the difference between them and Trump is generally smaller in these countries than nationally.
The electoral system is the main reason why Five Thirty-Eight still gives Trump a modest chance of victory in his election prediction. Trump's support is spread across the country in a more favorable way than Biden for the system. Thus, Trump is the most victorious, even if Biden gets up to two percentage points more votes nationally.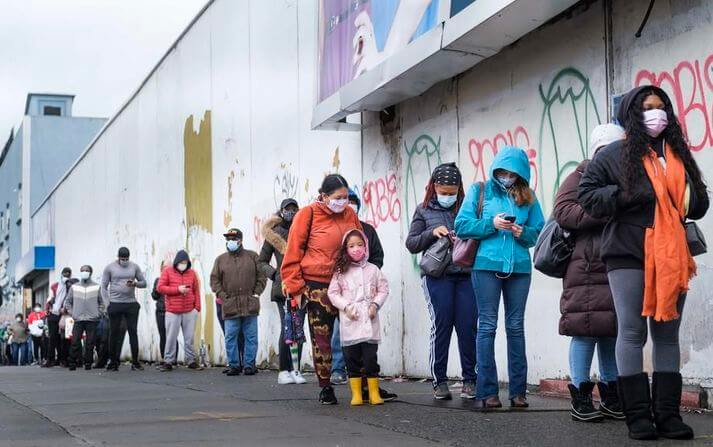 Florida and Pennsylvania are the keys to Trump
Five Thirty-Eight defines thirteen states and one constituency within one of them as key states in this election. Six of the most popular candidates in the media and media are Michigan (16 voters), Wisconsin (10), Pennsylvania (20), Arizona (11), Florida (29), and North Carolina (15). Together they have 101 voters.
If the results in other states are the same as in 2016, Biden would only need to win 38 seats in those states to secure the presidency, according to a review by Vox. For example, he was able to win Florida and one of the other five states or defeat Trump in Pennsylvania, Michigan, and Wisconsin.
Trump, on the other hand, would have to work in Florida and three other states in this group to get the 66 voters he might be missing. He is most likely to work in North Carolina, Pennsylvania, and Arizona.
The premise for this, however, is that Trump will keep other states that he won in 2016 and Biden will defend states that Hillary Clinton won. If Biden succeeds in overthrowing Trump in states such as Ohio, Georgia, or Texas, in particular, it will probably mean that Trump will be completely defeated. Opinion polls suggest that competition between them in these countries is fierce, but that Trump has a narrow lead.
Final Morning Consult state polls.https://t.co/GeM5vHtrTs pic.twitter.com/zJlFfLcxrA

— Nate Silver (@NateSilver538) November 2, 2020
Tougher competition in key countries than nationally
There is not much that can be done for Biden in the key states in the final sprint for Trump to choose him significantly.
Biden seems to be doing well in Wisconsin and Michigan, but according to average polls, he was around eight percentage points ahead of Trump there yesterday. In Arizona, Biden led with 2.9 points and 1.9 in North Carolina. In Florida, Biden's lead over Trump was 2.1 points. In Pennsylvania, the state that could decide the final outcome, Biden had a 4.8 percentage point lead.
If the results in all of these states are in line with the polls, Biden is likely to win a landslide victory, both in the national vote and in the Electoral Council.
There was a lot of talk about an error in opinion polls after the 2016 election when they underestimated the support of white voters without a university degree in the Midwestern states rather than systematically. Underestimating Trump's polls now, Biden's prospects are no longer as promising.
Nate Silver, the editor of Five Thirty-Eight and author of the site's prediction model, says Biden's advantage in Pennsylvania for example trust but not decisive. If he loses the state, Biden would no longer be counted with the palm in his hands, but he should go downhill. Correlation is often erroneous in cross-country surveys, so Biden would be likely to lose more states like Florida.
"Without Pennsylvania, Biden has some way to go, but there is no other state he can be particularly confident in," he said. Silver writes in an article on the website.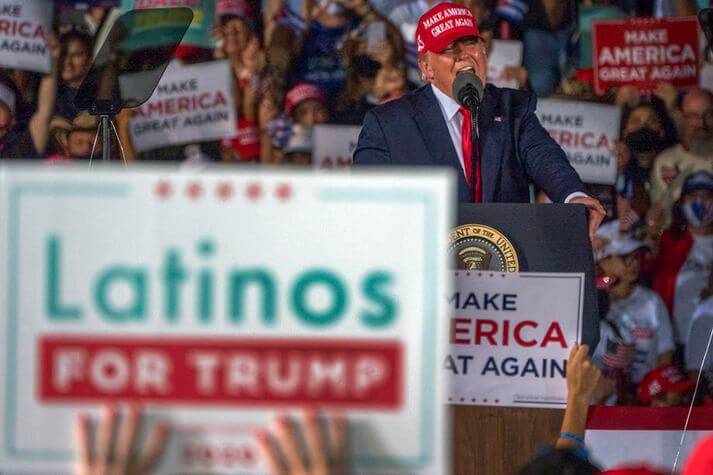 2020 is not 2016
Analysts, however, point out that in order to win, Trump must rely on an even bigger error in opinion polls than in 2016. Nate Cohn, editor of The Upshot at the New York Times, says that Biden had won even though opinion polls were as skewed as they were four years ago .
Not only does Trump have to hope that polls underestimate his support in key northern states even more than they did then, but polls in the south of the country, the so-called sunbelt, also need to be skewed. They have been relatively accurate in recent elections.
Cohn points out that polling companies have already taken into account the factors that led them to underestimate Trump's support at the time. Biden's current position is also stronger than Clinton's in 2016. His national advantage is greater and also in key countries.
In 2016, polls moved toward Trump in the run-up to the election, even though most of them still expected Clinton to win. No such movements have been observed in opinion polls so far.
Four years ago, a large factor of uncertainty was the high proportion of undecided voters. Both Trump and Clinton were unpopular with dry voters, but the majority of undecided voters ended up voting for Trump. Far fewer say they are undecided in this election, and Biden has proved to be a much more popular candidate than Clinton.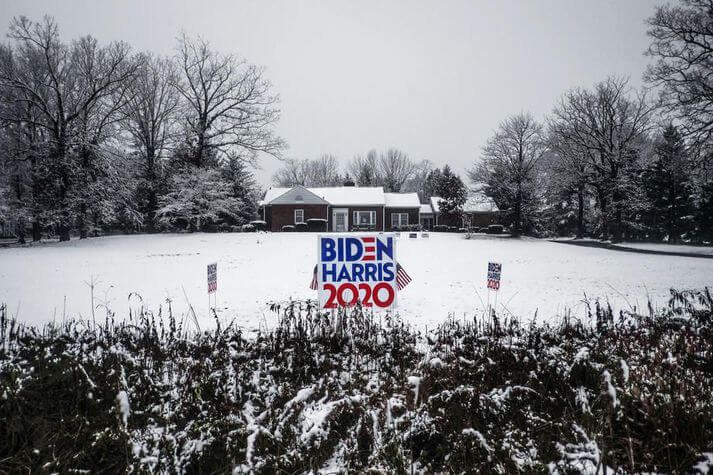 Uncertainty about votes and counting
Other major uncertainties are more likely to play a key role in this year's elections, first and foremost the coronary virus epidemic and its impact on the conduct of the elections.
A number of states decided to allow more voters to vote outside the polls or by mail. For months now, President Trump has been particularly vocal in his opposition to al vote, arguing unequivocally that they will be followed by massive electoral fraud that will cost him his victory.
The president's rhetoric has caused a great deal of controversy over who will vote by mail. Democrats are thus much more likely to vote by mail than Republicans who would rather go to the polls on election day. It is known that postal votes are relatively more likely to be declared invalid than others, but Republicans have also filed a number of lawsuits to limit postal votes and their counting.
A huge number of Americans have already voted, and in some countries, the turnout is already as high or higher than in 2016.
It has been warned that this large difference in how the parties' voters cast their ballots can cause a large fluctuation in the support of candidates as the count progresses. Votes cast on election day are usually counted first and so Trump could have an advantage in many places after the first numbers. As the count progresses, Biden could step down or take a decisive lead.
Trump is said to be taking advantage of this and declaring victory on election night while he seems to be doing well in many key states. As a result, he can then try to demand that the counting of postal and by-election ballots be restricted or stopped.
Silver, editor of Five Thirty-Eight, says that his forecast model indicates that there is a 4% chance that the difference between Trump and Biden will be less than 0.5 percentage points in one or more key countries and a recount would have to take place. In that unlikely case, Trump and Biden could be equal in the Electoral Council.
"Mostly I was worried about the resolution that would be created if there was a recount or a draw. The odds are against it, but it's very much under control," says Silver.