Election day has passed in the United States and today the Americans decide whether Donald Trump will remain as president or Joe Biden will take over and become the 46th president of the United States. This year's elections are in many ways different from those held before, not least because of the record number of votes cast before election day.
The United States covers six different time zones, so it is not an easy task to find out when the results are available. Many people will no doubt be watching tonight and below you can find a handy timeline where you go over what time you can expect something to be in the news.
Unusual elections
With this timeline, however, the caveat is that there is a good chance that the election results will not be available tonight, as can usually be expected. This is due to the huge number of postal votes that have been received before election day, about 60 million of the just under 100 million votes that have already been cast. Fifty countries, however, have different rules about when postal votes are counted and this could affect when final results are available.
An example of this is the summary the statistics page FiveThirtyEight can be expected It is possible that only sixteen of the fifty states of the United States will have counted almost all the votes tonight. According to FiveThirtyEight, 24 of them will have counted the most votes, but not all and ten states, in addition to Washington DC, only some will have counted.
Among them is Pennsylvania, which is one of the key states that is considered to be the most decisive factor in the outcome of the election, but Biden and Trump are both very keen to attract the twenty voters available there. It should also be mentioned that California, with its 55 voters, is in this group. It is therefore not at all certain that the results will be decided tonight.
The numbers can be misleading at first
The BBC also points out that the figures received first can be somewhat misleading as some states first count the votes cast on election day. It is believed that Trump may have an advantage there as his supporters are more likely to turn out at the polls to vote. To complicate matters further, some states are counting the votes cast before election day first, and it is believed that Biden will have an advantage there as Democrats have been more diligent than Republicans in voting.
THE
FORECAST
IS
FINAL!https://t.co/qvcuDxpYK0

Don't forget to vote! pic.twitter.com/5MAL6zlP4k

— Micah Cohen (@micahcohen) November 3, 2020
It is therefore not necessarily possible to expect decisive results, but it is nonetheless worthwhile to keep track of these timings below.
As mentioned earlier, there are six different time zones in the United States, but for simplicity, this is based on the clock on the east coast of the United States.
18.00 US time
Polling stations close in Indiana (eleven voters) and Kentucky (eight voters). No results are expected from the Indians, as people there are known to consider the votes slow. It is considered likely that Trump will take both of these states.
19.00 US time
Now the fun begins. Polling stations close in Florida (29 voters), South Carolina (nine voters), Virginia (thirteen voters), Georgia (sixteen voters), Alabama (nine voters), New Hampshire (four voters), and Vermont (three voters).
In Florida, electoral commissions have worked hard to count postal votes, so there is a possibility that some indication of a result there will be published soon. The state is very important in this election with its 29 voters. The first numbers indicate that Biden has an advantage, it looks like a good night for him, but if Trump is in a good position, it looks like an exciting night.
Georgia is generally a safe state for Republicans, but this time it is in a group of states that could swing over to Democrats. Decisive results are not expected soon, however, as the electoral commission in Atlanta, the most populous city and the stronghold of Democrats usually takes a long time to count the votes there.
19.30 US time
Polling stations close in North Carolina (fifteen voters), Ohio (eighteen voters), and West Virginia (five voters).
The first numbers are expected in North Carolina at this time, as by-election votes are often counted first. There, many Democrats voted for Election Day, so it looks like Biden will lead there, at least to begin with. Democrats, however, are hopeful that Biden will win the election in fifteen.
Ohio has been a key state in recent years. Trump last caught up with the state, and Democrats are watching closely. There have been countless by-election votes in recent weeks, so it is not unlikely that the first figures will be promising for Biden. That may change, however, when the Cleveland vote is counted, as Trump is popular. Those votes usually arrive late on election day.
20.00 US time
The first numbers should come from Texas with its 38 voters. The state has been one of the main strongholds of Republicans in recent years, but Democrats have applied in recent times. If the numbers are in Biden's favor, there is a possibility that a historic victory is on the cards for the Democratic candidate this year.
Polling stations in Pennsylvania (20 voters) close at 8 p.m. As mentioned above, this year is one of the most important countries in the election. However, it is considered unlikely that the results of the state elections will be available on election day, as it is expected that it will take many days to count all al votes that have been received.
21.00 US time
Figures should come from Arizona with its eleven voters, as well as from Colorado (nine voters), New Mexico (five voters), and Wisconsin with ten voters.
22.00 US time
Are you still awake? Utah (six voters), Nevada (six voters), and Iowa (six voters) could show the cards and the first numbers along the way. If Iowa has turned things around with Biden, it can be expected that the night was not good for Trump. Trump is likely to run for office in Utah, but Nevada is thought to be leaning toward Biden.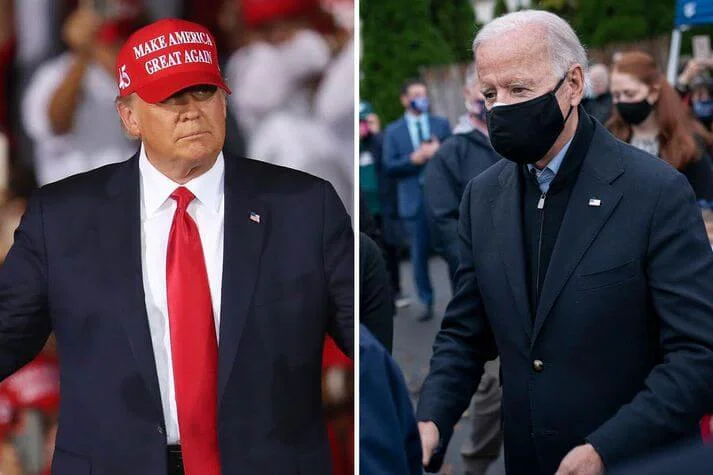 23.00 US time
California (55 voters), Oregon (seven voters), Washington (twelve voters) are closing their polls, but Biden is expected to make it to the West Coast as she goes. Hawaii also closes polling stations at 11 pm.
If either candidate appears to have a decisive lead before figures are received from these countries, it can be assumed that the results here can go a long way in determining whether the major media in the United States consider themselves in a position to cover over the winner. It might be worthwhile to stay awake for four, but it's entirely your responsibility.
01.00 US time.
Alaska with its three voters closes polling stations. Are the results available? It's impossible to say.
Copyright © 2023 The Eastern Herald.