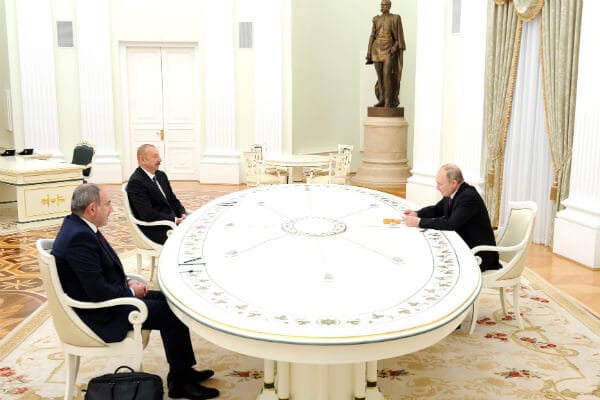 Russian President Vladimir Putin made a statement after a meeting with Azerbaijani President Ilham Aliyev and Armenian Prime Minister Nikol Pashinyan on Monday, January 11.
The heads of both republics arrived in Moscow at the invitation of the Russian side. Negotiations with Pashinyan and Aliyev began at about two in the afternoon and lasted four hours.
Following the meeting, the Russian leader expressed satisfaction with the fact that the parties had managed to end the bloodshed.
"I want to express my satisfaction that we still managed to end the hostilities, bloodshed, and as we just spoke about the results of the work of today, the peacekeeping mission is fulfilling its function, and the situation as a whole is gradually returning to normal," the Russian leader said. at a meeting with Aliyev. "And the fact that today we have signed a joint statement, which is based on the desire to resolve the situation in the long term, in my opinion, it is extremely important," Putin added.
The sides said in a joint statement that the working group to resolve the situation will hold its first joint meeting by January 30 of this year. During this meeting, the main directions of activity should be agreed upon. Also, the heads of state decided that priority should be given to such issues as the establishment of rail and road communications, which should be carried out by agreement between the Republic of Azerbaijan, Armenia, and the Russian Federation.