Have you finally decided to buy a quality wristwatch?
As you already know, in today's world of smartphones, smartwatches, and rapidly changing trends, wearing a wristwatch is quite more than just sharing functionality, wearing a wristwatch reflects your style and character.
As time shows, watches also provide an opportunity to highlight your individual character. For example, for women, watches are a standard part of jewelry, but also a specific detail in putting together trendy clothing combinations. For men, on the other hand, watches are a presentation of character, position in society, and defining style. Therefore, we can conclude that in both cases, choosing a wristwatch is a careful and special process for each individual, but still different from each perspective, depending on your style and character. To help you choose a watch, we will introduce you to a few general rules that you need to consider when choosing a watch according to your criteria.
If you should narrow your collection to 5 models, we present you the types of watches to make it easier for you to choose a watch and orient you to your style and taste:
DRESS WATCHES
Simplicity.
Minimalism.
Warehouse.
Unobtrusiveness.
These four expressions represent to you the essence and character of dress watches. Today's dress watches have their heritage dating back to the early 20th century when men moved their watches from their pockets to their hands. From the very beginnings of wristwatches, today's dress watches have retained some of their key features. And the lady and the gentleman are recognized precisely by the way they wear their wristwatch at more formal events.
Key features of dress watches
Slim body – so it can fit under a dressing or shirt,
A small diameter of the case – anything above 42 mm is too much (it also depends on the size of the wrist),
Leather belt – black or brown leather is considered (necessarily the same shade as the shoes and belt),
Not loaded with complications – possibly a date and a second hand come into play,
Elegant and unobtrusive style.  
On what occasions to wear a dress watch?
When you attend a formal event – from a traditional wedding to a black-tie event – the simple classics and unobtrusiveness of dress watches seem to be the best choice for you.
Also, very important information is that the dress watch should be proportional to your wrist as otherwise, it will attract too much attention.
Our selection of dress watches
The Tissot Le Locle Powermatic 80 is everything a dress watch should be, and it is in line with the latest trends – simple and unobtrusive with a black leather strap.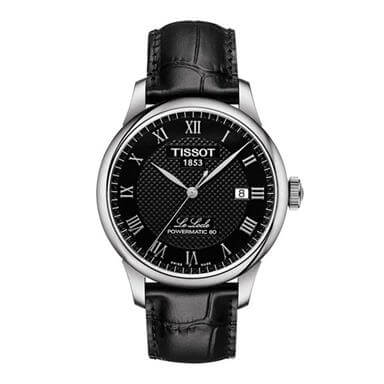 Due to its relatively large diameter of 42 mm, it also works great in men with larger wrists.
Jacques Lemans Jubilee Classic is small and thin enough to fit under any toilet.
A gold case with a white dial and a black strap emphasizes its simplicity, which is perfect for all formal occasions.
SPORTS WATCHES
Ever since there are sporting events, there are also those who want to measure them with the wrist of their own hand.
As you know, many manufacturers and brands can thank their success precisely for the watches they have developed for athletes.
Today, on the other hand, sports watches have gone beyond their primary purpose. They are every day today and can be seen on all outfits, even on business-casual occasions, thanks to their functionality and easy adaptation to different styles.
Key features of sports watches:
Case size – the case is large and legible,
Less weight – to make the watch suitable for various sports activities,
Rubber, silicone, or rubber strap – comfort and breathability come first,
Sports complications – most often a chronograph, tachymeter, and even heart rate monitoring.
When could you wear sports watches?
Today, the definition of a sports watch is much broader than 50-60 years ago – you no longer need to be a race rider or a professional cyclist to find a purpose in a good sports watch and decorate your wrist with a high-quality and distinctive style example. Thus, modern sports watches have become a material confirmation of the modern casual lifestyle.
Because of their versatility, precision, and multi-purpose, sports watches say a lot about their owner, his priorities, style, and lifestyle.
Our selection of sports watches:
JAEGER LeCoultre RENDEZ-VOUS NIGHT & DAY WOMEN'S WATCH.
JAEGER LeCoultre RENDEZ-VOUS NIGHT & DAY WOMEN'S WATCHJAEGER LeCoultre RENDEZ-VOUS NIGHT & DAY WOMEN'S WATCH is a modern Swiss sports watch. Due to its silicone strap, this women's chronograph is extremely light, so it goes well with sports and business-casual outfits in which it will pick up any combination. There are numerous online option of shopping sites but if you're in New York then it is worth visiting Bit Luxuria to buy Jaeger-Lecoultre luxury watches for your woman .
Casio G-Shock contains everything that a sports watch should contain – it is large, it contains a chronograph and tachymeter, 100-meter water resistance, and various other complications.
Due to the silicone strap, it is very light so it is extremely appreciative of sports activities such as running, swimming or cycling.
DIVING WATCHES
Diving watches (or more popularly, diver watches) are probably one of the most popular modern men's watches.
And there's a very good reason for that – James Bond is probably most credited for introducing this specific type of wristwatch, and he wore it on a tuxedo. But in addition to men, diving watches are becoming increasingly popular with women as well. It is often the case that a man's diver simply disappears from the box, and suspiciously appears on the hand of his member of the fairer sex. The reason for this is his adaptability to the style of both men and women. You don't believe it? Ask the next watch lover you meet.
Introducing our selection of diver watches
Stainless steel case and bracelet, black background (digit) with white markers and clear hands, the secondary of which is orange, and water resistance of 100 meters.
Nautica NST 10 is a men's diver with perfect characteristics as from the textbook.
The Garmin Fenix® 5S Sapphire is a rather atypical diver for women.
But it is certainly an ideal diving watch – 100 meters of water resistance, a bracelet and a stainless steel case, a large enough case and a clear display for reading … With it on hand, you will definitely feel safe under the sea and be unmistakably oriented.
KEY FEATURES OF DIVER WATCHES
Water-resistance – certainly and as expected a key feature.
Rotating (clockwise) ring (bezel) – to measure dive and oxygen.
Stainless bracelet and case – preferably made of stainless steel or titanium.
Clear contrast of hand colors – so you can read the time clearly and in great depth.
Complications – preferably only the date and chronograph.
WHEN COULD WE WEAR A DIVER WATCH?
Although primarily designed for underwater use, today's diving watches are perfect for everyday use – from sports activities, through business casual to formal occasions. Its functionality will bring you into situations where you will be able to combine it into countless clothing combinations in which it will not go unnoticed.
PILOT (AVIATOR) WATCHES
Defining and choosing the right pilot watch has always been an enigma for watch lovers. Unlike other types, pilot watches do not have an exclusively distinctive style – their features can vary from model to model. But some conditions still need to be met – clear readability, hands that glow in the dark, and the necessary chronograph. Today, pilot watches are synonymous with the unisex model – they work great for both women and men. From amateur aviators to professional pilots, everyone wears watches that we can more or less place in the pilot watch category. This type of watch can really impress someone special. If you are a fan of this model of watch, here are the features that will surely help you choose:
CHARACTERISTICS OF PILOT WATCHES
Medium to large size : due to clearer readability, passes all over 42 mm,
Without unnecessary complications : date and chronograph are key,
Luminescence : both hands and markers for clear legibility in the dark,
Strap : preferably leather or canvas
WHEN TO WEAR A PILOT WATCH
As with divers, pilot watches no longer have their own narrow target audience – pilots. Today, they are a favorite for a wide audience of both sexes. Their universality and casual style suit all occasions, and if paired with multiple straps, you can also wear them to formal events. Business-casual, sports, business style … Pilot watches suit all occasions and breastfeeding combinations that will raise your outfit to a new level.
We present you our selection of pilot watches:
The Timex Waterbury Chronograph is a fantastic choice for both women and men. Large diameter (42 mm), chronograph with large pushers for easy starting and stopping, leather strap, light hands, and markers … Whether you are in the air behind the wheel or in the office at the desk, this pilot watch will fulfill its task, and that is a timeless style.
WAR CLASSES
Military watches are designed for the needs of soldiers and officers in World War II to withstand the conditions of war, but also to see what time it is in the dark. Therefore, the military watch is undoubtedly functional, resistant, and indestructible. Today, the military watch represents a determined, solid and distinctive character that will be found on the hand of every man who cherishes his style. With a sufficiently diverse collection of belts, you can turn a military watch into an everyday sports watch or a decent watch ideal for a business meeting. We can say with certainty that this model of watch is one of the more adaptable fashion accessories.
---
CHARACTERISTICS OF WAR WATCHES
Small or medium size  
Complications : preferably without complications, we advise a possible date,
Housing material : solid, stainless steel or titanium,
Contrast and luminescence : preferably black background (digit) and white hands glowing in the dark
Belt : leather or canvas (NATO) belt, sufficiently breathable and suitable for all weather conditions.
WHEN TO WEAR A WAR WATCH
Today, military watches are quite diverse, so you can wear them on all occasions – from outdoor adventures to business meetings in the office. Jeans, a t-shirt or a casual shirt, and a light jacket – a military watch can be combined with most clothing combinations, and even with modern suits that will show your unmistakable style. As with men, the military watch can also be combined with women's combinations, with which this type of model could not be repulsive to women. With carefully selected pieces, we can say with certainty that a military watch is a real trump card on the wrist for every self-confident and strong-willed woman.
If you find yourself in the description of this model, we believe that Timex Weekender ™ Oversized is the best choice for you. If you remember the basic characteristics of military watches, you will notice that this model of Timex watch has everything that this watch needs: it is small in size (40 mm), so it passes in both women and men, there are no unnecessary complications, its case is steel, and the number black with clearly marked markers and hands that glow in the dark.