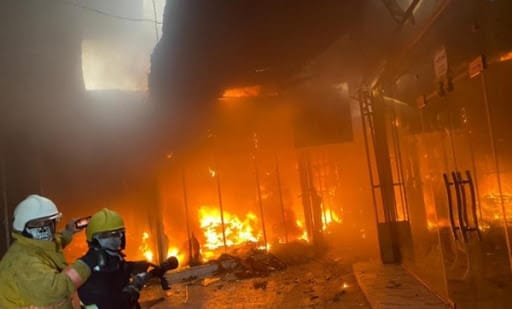 The series of fires continue in Iraq, but this time away from hospitals, as civil defense teams managed, today, Sunday, to put out a fire that broke out in a hotel in the center of Karbala.
A civil defense statement stated that civil defense teams rescued 78 inmates after a fire broke out inside the four-story hotel with a number of shops on the ground floor located in Sidra Street in the center of Karbala, according to what was reported by the Iraqi News Agency (INA).
He also pointed out that a number of firefighting vehicles participated in putting out the fire, in addition to rescuing and removing the guests through the windows and the roof of the hotel.
He added that "the civil defense ambulance teams provided pulmonary resuscitation services for the injured inmates after a number of them were severely suffocated as a result of inhaling the toxic products of the fire before securing their transportation to the nearby hospital to receive the necessary treatment there, with the death of a girl in the hospital as a result of suffocation."
He also explained that "the incident was ended and an investigation was opened at the police station responsible for the geographical area, based on the report of the forensic expert to determine the causes of the fire."
Last Thursday, the Iraqi security forces arrested a sixteen-year-old boy who tried to set fire to Al-Furat Hospital in the Kufa district of Najaf governorate.
Iraqi media revealed that the boy tried to burn oxygen bottles in the hospital, and he is known from the arenas of the October demonstrations, as he was caught trying to set fire to the hospital emergency with incendiary materials he was carrying.
It is noteworthy that at least 92 people died and dozens were injured last week, after a fire broke out in the Coronavirus isolation ward in a hospital in the Iraqi city of Nasiriyah, according to officials.