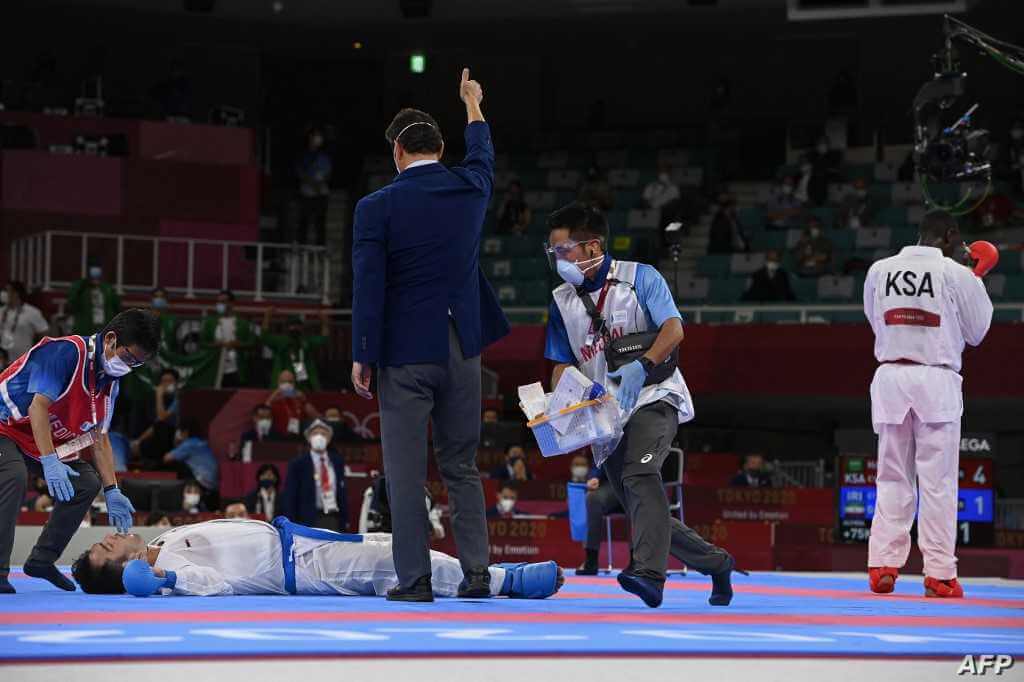 Social networking sites in Saudi Arabia were filled with protests against an arbitration decision in the Tokyo Olympics that deprived a Saudi player of the gold medal and awarded it to his Iranian competitor.
While the Saudi karate player Tariq Hamdi was on his way to gift his country the first gold medal in its history, the referee awarded a technical error against him in the final when the confrontation was within his reach.
Hamdi, 23, was heading to the gold medal, leading 4-1, when his Iranian opponent, Sajjad Kanjzadeh, kicked and threw him to the ground, and the matter required the intervention of doctors.
After the referees consulted among themselves, they decided to dismiss Hamdi, and the gold was awarded to the Iranian player and the silver to Hamdi.
The decision of the fight referee did not like the Saudis, who considered that they deserved the gold.
Saudi Sports Minister, President of the Saudi Olympic Committee Prince Abdulaziz bin Turki Al-Faisal announced that Hamdi will be honored in the Kingdom with the gold medal "because he is the hero in our eyes."
لأنه البطل في عيوننا جميعاً 🇸🇦🇸🇦

فسيتم تكريم بطلنا الأولمبي طارق حامدي بجائزة الميدالية الذهبية وقدرها (5 ملايين ريال) نظير تميزه وإبداعه وتمثيله المشرف للوطن أمام نجوم العالم
في #طوكيو2020 🦅👏🏼

تستاهل يا بطل والمستقبل أمامك بإذن الله 👏🏼👏🏼 pic.twitter.com/jL6X2yy2RG

— عبدالعزيز بن تركي الفيصل (@AbdulazizTF) August 7, 2021
For his part, Saudi sports journalist Issa Al-Jokam considered that the referee was Hamdi's opponent in the match, referring to the commentator's speech, which explained the arbitration situation and said that the exclusion decision was "unfair."
الخصم كان الحكم ..
أما النزال .. فكان محسوم بالنقاط قبل قرار الطرد .
والصورة .. تتكلم
نحن ليس من أهل الاختصاص .. ولكن المعلق كان مختصا وقدم شرح وافي للحالة التحكيمية وقال أن القرار ظالم .#طوكيو_2020 #طارق_حامدي pic.twitter.com/LuLOCItHvD

— عيسى الجوكم (@EssaAljokm) August 7, 2021
Saudi karate player Imad Al-Maliki said that he received many questions about the arbitration situation and considered that the Iranian player deliberately did not get up, and said that "the gold was stolen from us."
لكثرة الأسئلة قوة الضربة يحددها الدكتور والحكام.. ولأن الإيراني يعرف بأنها فرصته الوحيدة قرر عدم النهوض وترك الأمر للحكام وهذا ما حصل..

بوجهة نظري من الشاشة.. لا ارى انها تستحق طرد طارق وأرى أن الذهب سلب مننا

— #عماد_المالكي (@emad_almalki1) August 7, 2021
Many Saudi tweeters considered that the match was politicized because the referee is Turkish.
تسييس الرياضة ..
المعلق يقول من خبرتي بيفوز #طارق_حامدي لأن الإيراني هو من قام بالتهجم عليه و طارق كان في حالة دفاع وبأسوأ احتمال يعطي طارق انذار ويفوز …
لكن صارت المفاجأة من حكم #تركي لصالح لاعب #ايراني ضد بطل #سعودي #أولمبياد_طوكيو_2020 pic.twitter.com/54yzPc0tAw

— مبارك آل عاتي (@mobarakalatty) August 7, 2021
For his part, the Iranian player, Kangzadeh, expressed in press statements after the fight, his happiness with the gold, but added that he was "sad" because he won his medal in this way.
"I'm happy with the gold but sad because I won like that."
He added: "If you ask me if I agree or not, of course, I do not agree, because I like the gold medal. But I am satisfied with the level of competition I have given, and I accept their decision (the judges). I have no objection. I think I played well. Saying, "That's all I can."