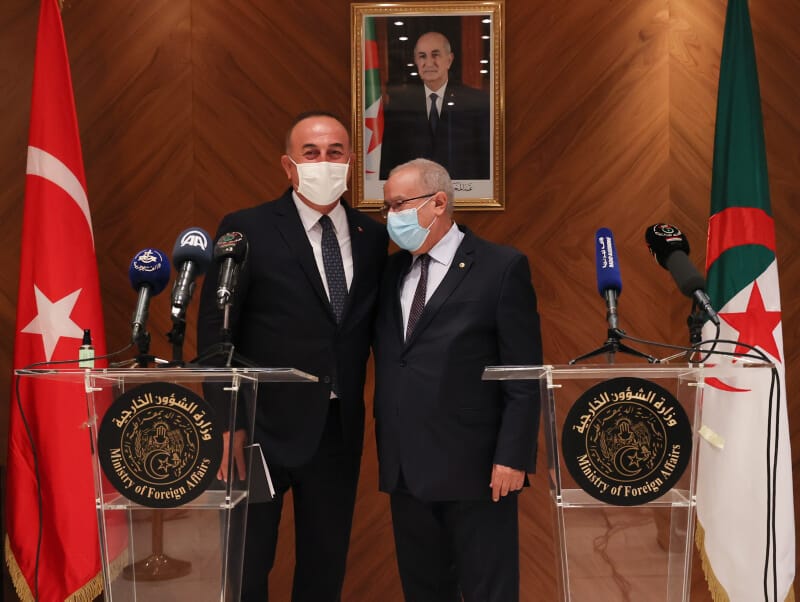 Turkish Foreign Minister Mevlut Cavusoglu announced that Turkey and Algeria have identical views on regional and international issues such as Libya, Tunisia, and Africa.
This came during a press conference held on Saturday after a meeting with his Algerian counterpart Ramtane Lamamra, on the sidelines of an official two-day visit to Algeria.
Cavusoglu congratulated Lamamra on his reappointment to the post, noting that the latter would serve Algeria with his experience.
He stressed that, in cooperation with his Algerian counterpart, he will make important contributions to achieving peace and stability in the region.
He said Turkey and Algeria are battling fires and other natural disasters.
The Turkish minister expressed his condolences to the Algerian side for the victims of the recent fires.
He pointed out that during the meeting with Lamamra, he discussed the bilateral relations in all their aspects.
He added, "We have set a roadmap for the work that we can do together in the coming period."
He explained that President Abdelmadjid Tebboune's expected visit to Turkey will witness the holding of the high-level Cooperation Council meeting and the meeting of the Joint Economic Committee.
"We will also complete the agreements that we continue to negotiate to sign as soon as possible," he added.
Cavusoglu stressed that efforts will continue to increase bilateral trade between Turkey and Algeria to $5 billion.
He stressed that the two parties are determined to expand economic cooperation in all fields.
He stated that the number of Turkish companies investing in Algeria has exceeded 1,300, expressing his thanks for the official support from the Algerian authorities in this regard.
Cavusoglu said he also discussed with his Algerian counterpart the regional and international issues, such as Libya, Tunisia, and the Sahel.
He added, "I would like to say with pleasure that the views of Algeria and Turkey are identical on these issues."
He stressed that Turkey believes that the Algerian role is very important and useful to ensure peace and stability in the region.
And Abizaid: "We agreed to work together on all these issues that we talked about."