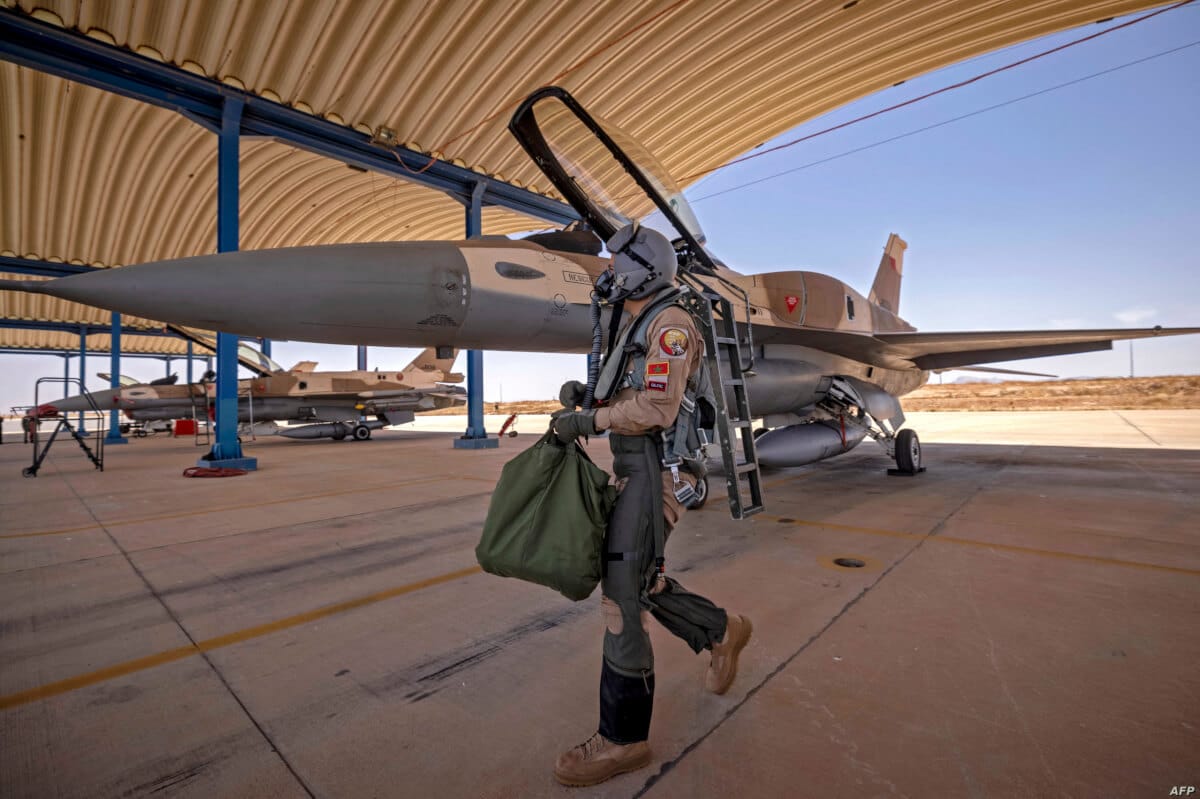 Morocco is seeking to modernize its air force capabilities, and Moroccan officials have identified the use of drones in combat as a "key dimension of military modernization efforts," according to Oxford University defense expert Samuel Ramani.
"The United States has been more effective in promoting Morocco's access to stealth technology, specifically American drones, precision-guided munitions as well as laser-guided munitions, " Ramani told Defense News.
Reuters reported in December that Morocco was about to sign a deal with the Trump administration to purchase four MQ-9B SeaGuardian drones. This deal was to be followed by the purchase of 12 "Bayraktar TB2" medium-altitude and long-endurance drones from the Turkish Bayraktar B company, at a value of $70 million.
Ramani said: "The United States and Turkey are working together to enhance Morocco's capabilities in stealth weapons, as 12 Bayraktar TB2 drones will soon arrive in Morocco."
As for Morocco's stealth capabilities, Ramani said improved relations between Israel and Morocco helped in this regard. Morocco signed a US-brokered normalization agreement with Israel in December, a move that defense experts expect will help Rabat in its quest to boost unmanned capabilities.
The Moroccan army already operates three Heron drones, which were received from France and produced by Airbus Defense and Space in cooperation with Israel Aerospace Industries.
Confronting terrorist threats
The site stressed that the presence of a strong Moroccan army is in the interest of the United States, which aims to more effectively confront regional terrorist threats with the country.
"The sale of the arms packages helps advance [Morocco] security and U.S. interests in this strategic corner of Africa," said Theodore Karasik, senior advisor at Gulf State Analytics, a US-based geopolitical consultancy.
"The current US administration has a different foreign policy: it relies heavily on soft power and rarely on kinetics, and then there is a shift or cancellation of [counter-terrorism] missions as terrorism continues to hold key sites in North Africa and the Sahel," Karasik added.
In March 2019, the US State Department authorized Morocco to purchase 25 new F-16 fighter jets and upgrade 23 of its older models. Then, in June 2020, Morocco signed a contract with the US company Boeing to purchase 24 AH-64 Apache helicopters.
"Transfers of F-16 fighters to Morocco is another major dimension of the military modernization effort," Ramani said. "These F-16s are being used for counter-terrorism purposes, unlike the drones, which appear to be intended to mitigate the threat from Western Sahara." He added that the Apaches will help combat immediate security threats and will serve as a prototype for the development of indigenous weapons.
More recently, Morocco and the United States signed a 10-year defense cooperation roadmap in October, which aims to guide cooperation for past military modernization efforts. The agreement also aims to improve interoperability.
A senior assistant at the Center for Strategic and International Studies, Aram Nerguizian, stated that Moroccan arms purchases in 2020 reveal Morocco's tendency to modernize its military system.
In particular, in 2019 Morocco went ahead with the acquisition of 36 AH-64E Apache attack helicopters (24 new, 12 optional), and more than 2,400 BGM-71-4B-RF missiles, Nerguizian explained. TOW 2A to enhance integrated defense capabilities, and approximately 25 F-16C/D Block 72 combat aircraft with additional air-to-ground munitions, as well as sustainability support, to enhance systems integration and fighter lifecycle maintenance.
Diversify the sources of weapons
"Unlike other regional militaries, there has been a logical focus on enhancing air-to-ground offensive and partnering with ground forces. Increasing and maintaining credible air-to-air mission groups will remain a major challenge," he added.
Morocco is also looking to diversify its arms supplies. Rabat has signed several agreements with Russia and China to purchase military equipment, including short and medium-range missiles.
The Moroccan expert in military and security affairs, Mohamed Choucair, pointed out that "the Moroccan military strategy is based on diversifying the sources of arms from abroad."
Although the United States is the main supplier of arms to Morocco, this did not prevent Morocco from obtaining the weapons it needs from European countries, such as: the acquisition of the Mohammed VI intelligence satellite from France, the purchase of frigates from Belgium and Italy, as well as the ongoing negotiations to obtain Naval frigates from Italy.
Ramani indicated that Morocco has shown interest in the Turkish "T129 Atak" helicopters, and has considered buying the Russian S-400 air defense system in addition to Chinese tanks and missile launchers.
However, Ramani emphasized that Morocco still relies heavily on US military technology, with US weapons accounting for about 62 percent of its stockpile.
Each year, Morocco conducts several military exercises, including the African Lion, which was conducted earlier this year to improve interoperability with US forces and increase operational readiness.
Part of that includes training Moroccan pilots on the latest combat aircraft in the United States, Choucair said. "In addition, military experts are visiting Morocco to train the Moroccan armed forces on American weapons," he added.