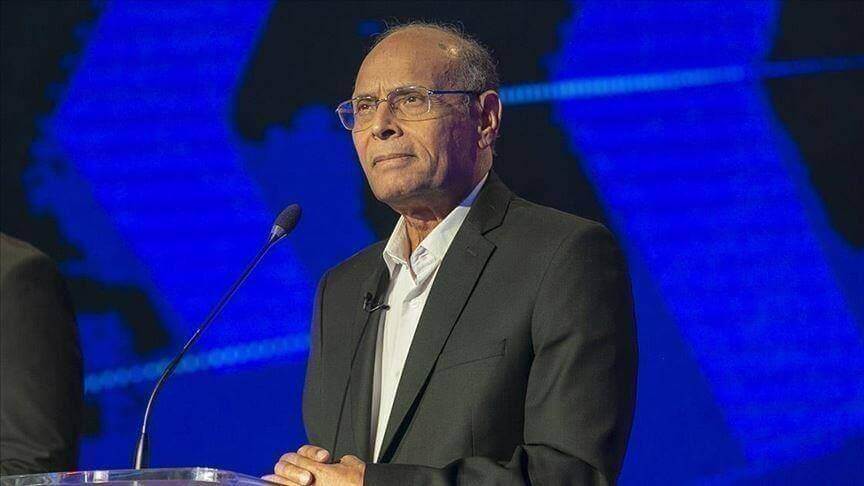 The "Arab League" expressed its "absolute solidarity" with the former Tunisian President Moncef Marzouki in the face of the decision to withdraw his diplomatic passport, and the intention of his country's authorities to try him on charges of "espionage and treason."
This came according to a statement by the league concerned with defending the values ​​of the "Arab revolutions" and the peoples' right to their choices, which is headed by Al-Marzouki, appended by the signatures of his two deputies, Tawakkol Karman and Ayman Nour.
The league said, in a statement issued on Saturday evening, that it expressed its "absolute solidarity" with its president following the Tunisian authorities' "illegal decision to withdraw his diplomatic passport and their intention to prosecute him on charges of (espionage and treason)."
The Arab League considered that the decision "and the accompanying campaigns of incitement and treason… reflect a state of great confusion (…) and great annoyance about the important role that Marzouki plays in confronting the coup and defending the constitution and democracy," as he put it.
The league stressed that these campaigns "will only increase Marzouki and the Arab League in strength and determination to triumph the values ​​of the Arab Spring, dedication to defending democracy and popular sovereignty, and motivation to confront the plans of counter-revolution."
And the "Arab League" is a non-governmental organization that was established on July 26, 2014, and brings together several Arab personalities, with Tunis as its main headquarters.
And last Thursday, Tunisian President Kais Saied said, "The diplomatic passport will be withdrawn from everyone who goes abroad and begs him to strike Tunisian interests," referring to Marzouki's travel with a diplomatic passport to France and the statement about the Francophone summit.
Saeed called on the Minister of Justice to "open a judicial investigation into this issue, because there is no room for conspiracy against the internal and external security of the state."
This came against the background of Marzouki's press statements, on Tuesday, in which he said that he sought with French officials to "thwart" the holding of the Francophone summit, which was scheduled to be held in his country next month (before it was postponed for a year), considering that its organization in a country that "is witnessing a coup is support for the dictatorship." As he put it.
Since last July 25, Tunisia has been experiencing a severe political crisis. Saeed began a series of exceptional decisions, including freezing the competencies of Parliament, lifting the immunity of his deputies, abolishing the constitutionality monitoring body, issuing legislation by presidential decrees, heading the Public Prosecution, and dismissing the Prime Minister, Hisham Al-Mashishi.
The majority of political forces, including "Ennahda", rejected Said's exceptional decisions, and considered them a "coup against the constitution", while other forces supported them, seeing them as a "correction of the course of the 2011 revolution", in light of the political, economic and health crises (the Corona pandemic).