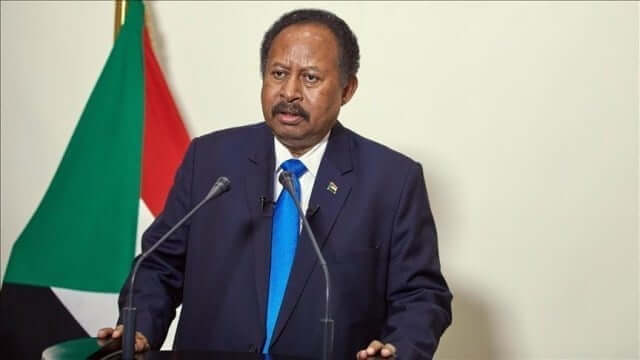 The office of the Sudanese Prime Minister, Abdalla Hamdok, confirmed, on Tuesday evening, that the latter and his wife "returned" to their residence in Khartoum, "under heavy security," with ministers and political leaders remaining "under arrest."
This came in a statement by Hamdok's office, which was published on his documented Facebook page, shortly after a local Sudanese media announced his return to his home in Khartoum with a "heavy military deployment around him to protect him."
In the same statement, the office stated, "Prime Minister Abdalla Hamdok and his wife were returned on Tuesday evening to their residence in Khartoum under heavy guard," without providing details of his condition or situation since his arrest.
He added, "The Prime Minister's Office confirms that a number of ministers and political leaders are still being detained in unknown locations."
At dawn on Monday, the army arrested party leaders, ministers, the prime minister, and his wife, and its leader, Abdel Fattah al-Burhan, announced the dissolution of the Sovereignty Councils and the Transitional Ministers and pledged to form an independent government of competencies, as well as declaring a state of emergency, dismissing governors, and non-compliance with some provisions of the constitutional document on managing the transitional phase.
And earlier on Tuesday, the newspaper "Sudan" reported, on its website, "the release of Hamdok, his return to his home in Kafouri (area), and a heavy military deployment around his house."
The website of the newspaper "Al-Mashhad Al-Sudani" confirmed the same thing, noting that "the strengthening of the military guard on the house in order to protect Hamdok."
Also on Tuesday, Al-Burhan denied, during a press conference, the arrest of Hamdok, and said that he "is with me in my house to preserve his safety, is leading his life normally and will return to his home."
And on Monday, Al-Burhan tried to justify his decisions by saying, in a televised speech, that "the incitement to chaos by political forces pushed us to do what preserves Sudan," considering that "what the country is going through has become a real danger."
Several political forces, in separate statements, considered the army's action a "military coup", and called on citizens to demonstrate and implement comprehensive civil disobedience.