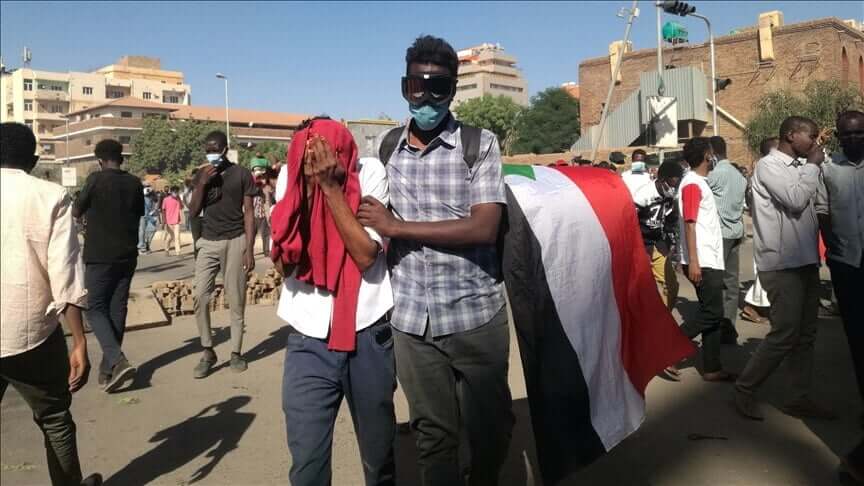 On Sunday, Sudanese police dispersed crowds of protesters before they reached the presidential palace in the capital, Khartoum.
Thousands of demonstrators, who gathered in "Jackson Square" in the center of the capital, tried to reach the southern gate of the presidential palace, but the police confronted them with tear gas canisters.
The reporter added that the demonstrators in the Presidential Palace Street responded by throwing stones at the police.
Demonstrations broke out earlier today in the capital, Khartoum, and other cities; To demand democratic civilian rule and to protest the recent actions of the army chief and head of the Sovereignty Council, Abdel Fattah Al-Burhan.
Hundreds gathered in Jackson Square before their number rose to thousands; In response to calls from the "resistance committees" (consisting of activists) to stage demonstrations dubbed "the November 21 million".
The demonstrators, carrying national flags, chanted slogans, "The people want to drop the proof," "The people are stronger, and apostasy is impossible."
Eyewitnesses told The Eastern Herald that thousands also demonstrated in the cities of Atbara (north), Rabk (south), Madani (center), El Fasher (west), and Port Sudan (east).
The demonstrators raised banners saying, "Just retribution for the martyrs," "Down with military rule," "Apostasy is impossible," "No negotiation," "No partnership," and "No bargaining."
The presidential palace witnessed a closed meeting between the ousted Prime Minister Abdullah Hamdok and Al-Burhan, and the Deputy Chairman of the Sovereign Council, Mohamed Hamdan "Daklo", before signing a new "political declaration" that ends the political crisis in the country.
Earlier on Sunday, a military source revealed to The Eastern Herald that Hamdok's house arrest had been lifted, indicating that he had arrived at his residence east of Khartoum.
Since last October 25, Sudan has been experiencing a severe crisis, with the proof of the state of emergency, the dissolution of the Sovereignty Councils and the transitional ministers, and the dismissal of the governors, following the arrest of party leaders, ministers, and officials, in exchange for continuous protests that reject these measures as a "military coup".
In return for accusing him of carrying out a military coup, Al-Burhan says that the army is committed to completing the democratic transition process, and that it took measures on October 25 to protect the country from "a real danger," accusing political forces of "inciting chaos."