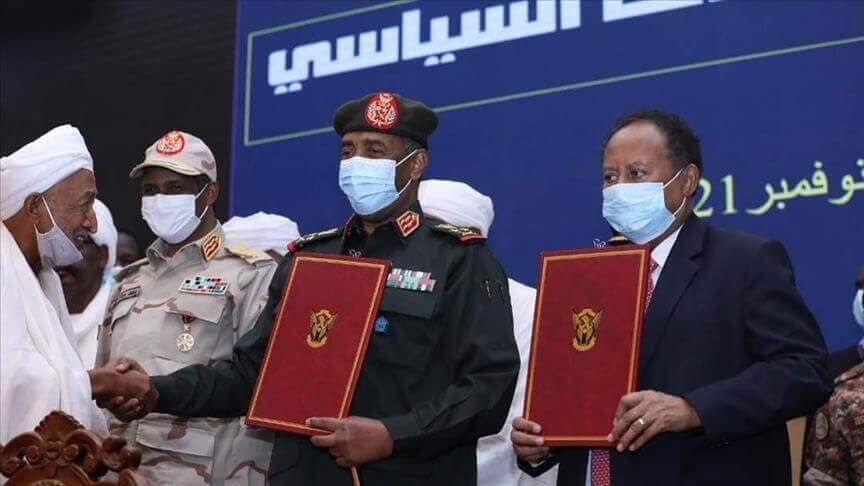 Ethiopia welcomed, on Tuesday, the political agreement signed between the President of the Sudanese Sovereign Council, Abdel Fattah Al-Burhan, and Prime Minister Abdalla Hamdok.
The Ethiopian government stated, in a statement seen by The Eastern Herald, that it "welcomes the power-sharing agreement between the civilian and military components of Sudan."
She added that "returning Hamdok to the position of Prime Minister of Sudan and enabling him to form his government is commendable."
It also expressed its "appreciation for the return of all the institutions of the transitional period (in Sudan) and the affirmation of making the constitutional declaration the legitimate governing document."
She expressed her hope that "the new power-sharing agreement between Al-Burhan and Hamdok will bring peace and stability to Sudan in particular and to our region in general."
And on Sunday, Al-Burhan and Hamdok signed a new political agreement requiring the latter to return to his position about a month after his dismissal, among several measures taken by the former on October 25, 2021, which political forces described as a "military coup."
The political agreement also included the release of all political detainees in Sudan, and the two parties pledged to work together to complete the democratic path, with the 2019 constitutional document as the main reference during the next stage.
In return for countries and regional and international organizations welcoming the agreement, isolated ministers, coalitions and political parties in Sudan announced their rejection of it, considering it an "attempt to legitimize the coup" and prevent the establishment of a democratic civil state.
On more than one occasion, Al-Burhan stressed that he had taken the October 25 measures to "protect the country from a real danger," accusing political forces of "inciting chaos."