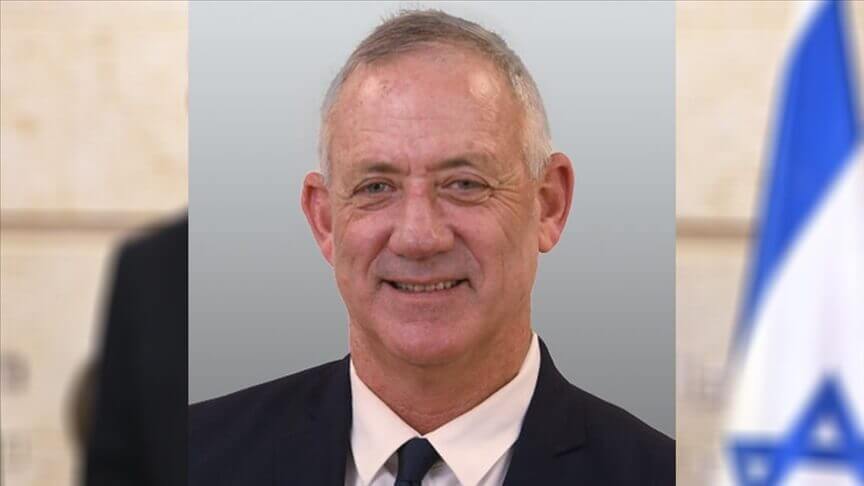 On Tuesday, two Moroccan associations launched a campaign rejecting the visit of Israeli Defense Minister Benny Gantz, expected tomorrow to the country.
This came according to two separate statements by the association of the "Moroccan Front in Support of Palestine and Against Normalization" and the "Moroccan Authority in Support of the Nation's Issues" (non-governmental).
The Moroccan Front's statement said, "It is launching a media and field campaign rejecting the visit of the Zionist Defense Minister to Morocco."
The Front called on the bodies supporting the Palestinian cause and the citizens of the country, to participate in a protest sit-in in refusal of Gantz's visit, on Wednesday, in front of the country's parliament in the capital, Rabat.
For its part, the "Moroccan Authority in Support of the Nation's Issues" said it was launching a media and field campaign rejecting Gantz's visit to the country, without further details.
The two organizations launched a hashtag on social media under the title: "No welcome to the killer Gantz," according to the two statements.
According to Israeli media reports, the Israeli Defense Minister is expected to arrive in Morocco, on Wednesday, for a two-day visit.
This is the first visit of its kind, as no previous Israeli defense minister has visited Morocco.
On November 15, the Hebrew Channel 12 (privately) reported that Gantz will make a "security visit" to Morocco this week, and will meet with the Moroccan defense and foreign ministers, without indicating a specific date.
The Hebrew Walla website (exclusive) also revealed that Gantz will publicly sign during the "historic visit" a memorandum of understanding related to security cooperation between the two countries, without revealing it.
Last September, Moroccan Foreign Minister Nasser Bourita announced that Rabat was awaiting important visits by Israeli officials, including the ministers of economy and defense, after the visit of Yair Lapid, the Israeli foreign minister, to Rabat last August.
At the end of last year, Israel and Morocco announced the resumption of diplomatic relations between the two countries after their suspension in 2002. Since then, the Israeli liaison office in Morocco has been opened during Lapid's visit to Rabat last August.
The Moroccan liaison office in Tel Aviv was reopened and a direct flight between the two countries was launched.