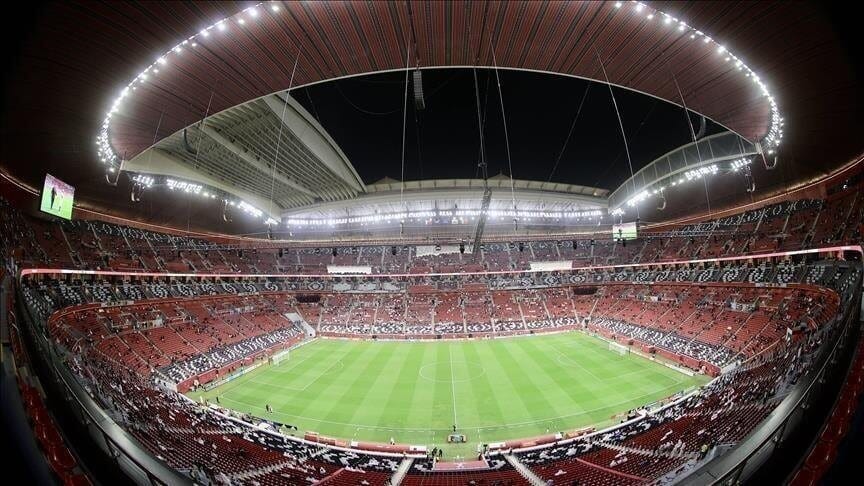 Former Saudi football star Nawaf Al-Tmyat appeared in a shirt in which the Israeli flag appeared "scribbled" during his participation in an exhibition match in Qatar, an Israeli newspaper Times of Israel reported, on Sunday.
An exhibition match was held on Friday between the "Legends of the Arabs" and "Legends of the World" teams at Al Thumama Stadium before the Arab Cup final.
Al-Tmyat, who played with "Arab legends", was seen with an "obliterated" Israeli flag on his shirt, according to a report by the "Times of Israel" newspaper.
The shirts for the friendly match bore the flags of all 211 member states of the International Football Association "FIFA", including Israel, according to the same source.
There was no immediate comment from the Saudi player or "FIFA" about the incident.
There are no diplomatic relations between Saudi Arabia and Israel, and Riyadh requires the normalization of relations with Tel Aviv to end the Israeli occupation and establish a Palestinian state on the 1967 borders, with Al-Quds Al-Sharif as its capital, according to the Arab initiative proposed by the Kingdom in 2002.
This incident came after 3 Algerian players withdrew from the same match, in protest against the presence of 60-year-old Israeli coach Avram Grant in the opposing team.
The three Algerian stars, Rabah Madjer, Rafik Halliche and Rafik Saifi, were absent from the ranks of the "Arab Legends" team after their names were listed.
Grant previously managed the English football giant Chelsea, and served as the coach of the Israeli national team from 2002 to 2006, according to the same source.
The three players refused to reveal the reason for their absence from the match, while FIFA did not face it when covering the exhibition match, according to Radio Monte Carlo International.
There are no diplomatic relations between Algeria and Israel, and the Arab state has always been supportive of the Palestinian cause.
It is noteworthy that the match ended with the victory of the "Arab Legends" over the opposing team by penalty kicks, after the end of the original time of the match in a 5-5 tie.
On Saturday evening, the Algerian team defeated its Tunisian counterpart in the Arab Cup final in Qatar, with two goals to nothing, to win the title for the first time in its history.