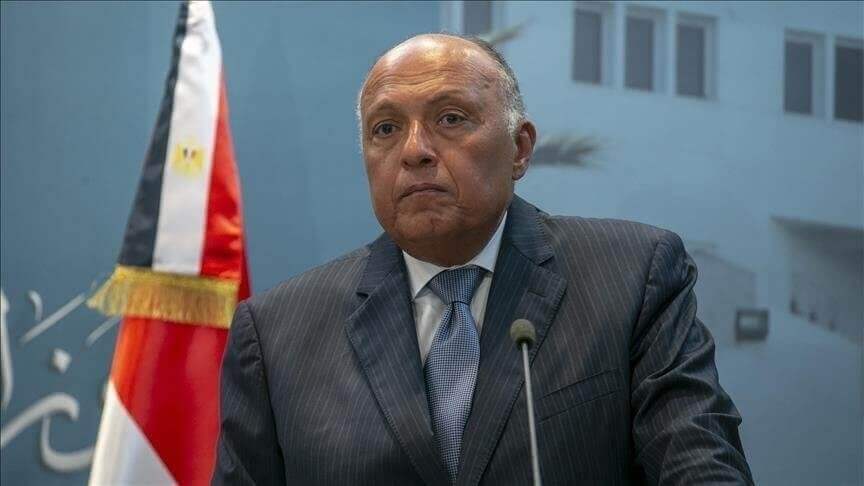 New Delhi:  Egypt requested, on Saturday, European economic and political support; To face what she called the "negative" repercussions of the Ukrainian crisis that erupted on February 24.
This came during a phone call made by its Minister of Foreign Affairs, Sameh Shoukry, to his French counterpart Jean-Yves Le Drian, whose country is currently chairing the European Union, according to a statement by the Egyptian Foreign Ministry, which The Eastern Herald reviewed.
During the call, the two ministers discussed the latest developments in the Russian-Ukrainian crisis and its negative repercussions on the international economy.
According to the statement, Shoukry explained, in this context, the steps Egypt has taken to contain these antiquities.
He called on France, within the framework of its presidency of the European Union, to "provide economic and political support to Egypt within the framework of the union as well as within the framework of international financial institutions, in support of Egyptian efforts to deal with the crisis", without details of the nature of that support.
On March 23, the Egyptian government announced the start of consultations with the International Monetary Fund regarding a "new program that may include additional financing", in light of the "negative" repercussions of the Ukrainian crisis.
On March 22, Cairo announced a package of measures, including allocating about $7.2 billion for social protection, early disbursement of a previously scheduled increase in employee salaries, tax exemptions, and reduced the exchange rate (the pound) to exceed the dollar price of 18 pounds, after it was stable near 15.50 pounds. for more than a year.
Meanwhile, Shoukry made another phone call with his German counterpart Annalina Birbock, according to the same statement.
The two sides discussed "the developments of the Russian-Ukrainian crisis, and ways of joint action to enhance Egyptian capabilities to face the negative economic repercussions associated with the crisis."
On February 24, Russia launched a military operation in Ukraine, which was followed by angry international reactions and the imposition of "tough" economic and financial sanctions on Moscow.