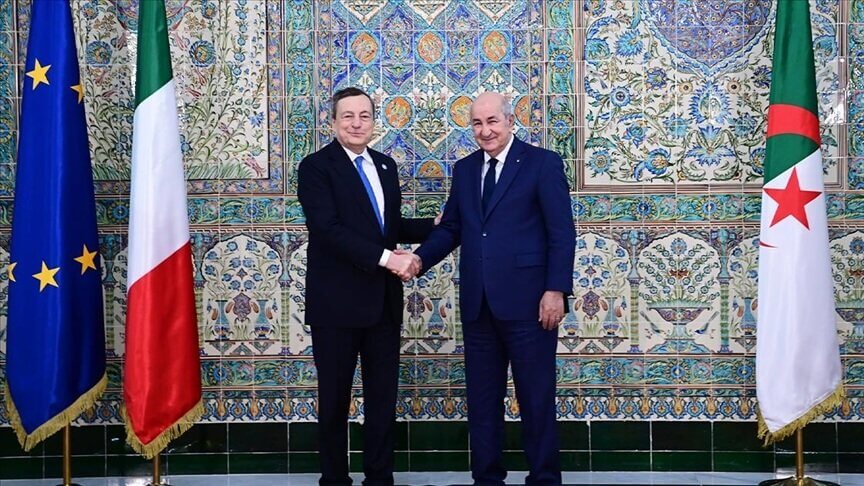 Algeria / TEH: Italian Prime Minister Mario Draghi's visit to Algeria culminated in the signing of an agreement to increase gas supplies to Rome, an understanding on revising prices according to global market data, and promises from the European country to pump investments in several sectors.
On Monday, Italian Prime Minister Draghi arrived in Algeria on an official one-day visit, where he was received at Houari Boumediene International Airport by his Algerian counterpart Ayman Ben Abdel Rahman.
Draghi's visit comes as part of Rome's efforts to increase gas supplies by diversifying sources and reducing dependency on Russia, following Moscow's military attack on Ukraine.
Russia is the largest supplier of gas to Italy, providing 40 percent of total imports, followed by Algeria, which supplies about 21 billion cubic meters through the Trans-Mediterranean pipeline.
The concern is rising in Europe that Russia may close gas pipelines in retaliation for the sanctions imposed on it, a threat that will have devastating effects on the economy of the old continent.
Additional 9 billion cubic meters of Algerian gas
After talks with President Abdelmadjid Tebboune, the Algerian state hydrocarbon company "Sonatrach" signed an agreement with the Italian company "Eni", to supply Rome with additional quantities of gas amounting to 9 billion cubic meters annually.
Eni said in a statement on its official website that the first additional quantities of gas through the "Transmad-Enrico Matai" pipeline will be available as of the autumn months.
The Transmed – Enrico Matai pipeline connects Algeria with Italy through the Mediterranean, and part of it passes through Tunisian territory.
The Italian company's statement indicated that "Sonatrach will gradually provide additional quantities of gas, starting from the current year (no date specified), amounting to 9 billion cubic meters annually in the years 2023 and 2024."
The signing took place in the presence of President Tebboune, Prime Minister Draghi, as well as the CEOs of Sonatrach and Eni, Taoufik Hakkar and Claudio Descalzi.
Gas ​​prices according to global market data
In the same context, Sonatrach announced that the new agreement signed with Eni to pump additional quantities of gas to Italy, allows to review prices according to market data for the years 2022 and 2023.
A statement by the Algerian company issued after the signing process with the Italian party stated that "this agreement allows the two companies to determine the levels of natural gas sales prices in line with market data for the year 2022-2023, in accordance with the contractual terms related to a price review."
Sonatrach's statement did not include details of the prices of gas marketing contracts between the Algerian and Italian companies.
Sonatrach had renewed the gas supply contract to Italy's Eni in 2019 for a period of 10 years, without disclosing price details.
Injecting investments in several sectors
In a statement to Draghi, after talks with the Algerian president, he confirmed that his country will make more investments in clean energy sectors such as solar energy and green hydrogen.
Draghi noted that Algeria and Rome will strengthen their partnership and investment files during the fourth high-level bilateral summit between the two countries, which will be held in Algiers on July 18-19.
He added, "I will also meet with the Algerian president at the end of next May during his official state visit to Italy."
During his meeting with the Italian community and businessmen at the headquarters of his country's embassy in Algeria, Draghi confirmed that Rome will inject investments not only in the energy sector, but also in many other fields.
In this regard, the Italian official clarified that his country intends to invest in Algeria in the sectors of manufacturing helicopters and ships, and to increase wheat production and food industries.
According to Mario Draghi, this level of cooperation has always been dreamed of by the Italian and Algerian parties.
The effect of the Algerian move
The expert and professor of international relations at the State University of Algiers, Taoufik Boukaida, believes that "the political stalemate that was often promoted by political media that this Algerian step contradicts the nature of the relations it links with Russia has been overcome."
Boukaida explained in an interview with The Eastern Herald online magazine, that Russia "understands the Algerian position on the grounds that Algeria will only supply additional gas to traditional partners, and that it also has the right to work to win new markets at this sensitive stage."
He explained, "Therefore, I think that Algeria has nothing wrong with this point, and I am certain that Algeria, during the meetings and consultations it held with the Russian side, clarified its position well and that the increase in gas supplies does not mean that it is a hostile act and contrary to the relations between the two countries."
Boukaida pointed out that Mario Draghi's visit to Algeria "was successful after the two parties signed an agreement to increase gas supplies to Italy, which Sonatrach will gradually guarantee to reach 9 billion cubic meters, with a plan to increase production, and Algeria will become, in the coming years, the first supplier of gas in the world." Italia".
He commented: "In my opinion, this is a gain for both parties. Algeria has obtained a guaranteed market for this energy resource, and a gain for Italy, as Algeria is the reliable partner and is the first supplier of gas to it."
Draghi was accompanied on his visit to Algeria by Ministers of Foreign Affairs Luigi Di Maio, Energy Roberto Cingolani, and CEO of Eni, Claudio Descalzi.