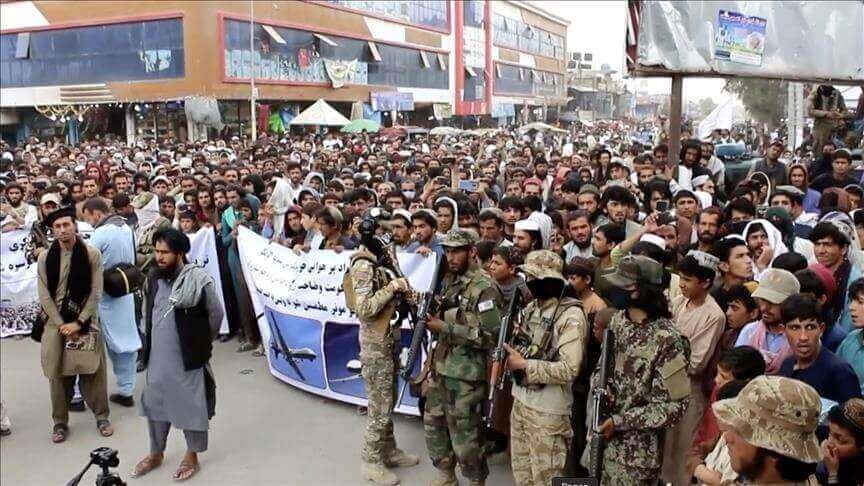 Tehran/ TEH: On Tuesday, the Iranian Foreign Ministry summoned the Afghan envoy to Tehran, in protest against the attacks carried out on Monday against Tehran's embassy in the capital, Kabul, and its consulate in Herat (west).
Afghan media, including Khama Agency (private), stated that the Iranian Foreign Ministry called on Taliban officials to provide full security for the missions, announcing the cessation of Iranian diplomatic and consular services "until further notice."
Protests erupted in front of the Iranian embassy and consulate in Kabul and Herat to protest against the "ill-treatment" of Afghan refugees in Iran, whether from the police or the people.
Video clips and photos showed Afghan protesters throwing stones at Iranian diplomatic headquarters and burning their doors, in addition to burning tires in the streets.
Following the protests of Afghan people in Kabul, Khost, and the burning of the door of Iran's consulate in western Herat province (File Photo/Khaama Press)
For his part, Iranian Foreign Ministry spokesman Saeed Khatibzadeh commented on the protests, saying, "The Afghan government is responsible for ensuring the security of Iranian diplomatic missions in Afghanistan."
And last Sunday, the acting Afghan Foreign Minister Amir Khan Mottaki summoned the Iranian ambassador to Kabul Bahadur Aminian, to discuss the issue of Afghan refugees in Iran.
In recent weeks, videos allegedly showing Afghan refugees being tortured in Iran were published on social media, angering many Afghans, while Iran denied the accusations.
And last week, Iranian Foreign Minister Hossein Amir Abdollahian said that the number of Afghans in Iran had jumped to five million from about four million before the Taliban took power last August, according to The Eastern Herald online magazine.